This was a week that saw almost all of the conference front runners stumble and Wisconsin elevated itself back into contention. Unfortunately, much of that stumbling was done by the Buckeyes.
Still, we've had it pretty good in recent years. The last time Ohio State lost consecutive games, we were all waiting for Evan Turner to return from a back injury.
The B1G meat grinder is in full swing, with important games every week. This week, things got crazy, with overtime games, half-court buzzer-beaters, and unexpected upsets. (I see you, Fighting Illini.)
The quest for Thad Matta's fourth consecutive conference championship may have taken a severe blow this week, but Ohio State continues to learn things that can help it in March. Is LaQuinton Ross' light finally on? Can the Amir Williams/Evan Ravenel beast stay out of foul trouble against a team with star post players? Is Shannon Scott regressing? Where is Lenzelle Smith's jump shot?
These are important questions that will be answered in the B1G's home stretch.
Let's get to this week's rankings:
T-1. INDIANA (21-3, 9-2)
Just when you thought you had the B1G figured out, Thursday happened. The No. 1 Hoosiers blew a double-digit lead in the second half and fell at Illinois, 74-72, on a buzzer-beating layup by Tyler Griffey. It's hard to imagine what Cody Zeller was thinking on the play.
That one play at the end spoiled a 14-point, nine-rebound performance by Zeller. Will Sheehey added 13 off the bench and Christian Watford added 12, as Illinois had trouble with Indiana's inside game. Victor Oladipo, however, was held in check. He scored nine points on 3/7 shooting.
Indiana shot 50% (53% outside the arc) and outrebounded the Illini but still lost. Those 14 turnovers hurt, especially the last one, which led to the game-winning possession.
Unfortunately, the Hoosiers bounced back in Columbus. Tom Crean won at The Schott for the first time, 81-68. Oladipo scored a career-high 26 points. Zeller added 24 more and Watford tallied 20.
Indiana's bigs took advantage of Williams and Ravenel getting into early foul trouble, owning the paint and shooting 53%.
The Hoosiers host Nebraska Wednesday and in-state rival Purdue on Saturday.
T-1. MICHIGAN STATE (20-4, 9-2)
Yes, I know how wishy-washy ties are. But Michigan State keeps climbing and yet I'm not quite sure the Spartans are better than Indiana overall. They're close.
Sparty finds itself in a familiar spot — first place in the B1G — after a pair of wins, which accompanied the carnage that befell the other conference leaders.
Down 20-18 at halftime, the Spartans outscored Minnesota, 43-30, after the break to beat the Golden Gophers, 61-50. Gary Harris led Michigan State with 15 points, despite playing with a bad back.
Keith Appling chipped in 14 points, four rebounds, three assists and three steals before leaving with a wrist injury. Adreian Payne added 11 points and seven boards. Sparty turned the ball over only five times.
Saturday, the Spartans went into West Lafayette and emerged with a 78-65 win at Purdue. Branden Dawson led the team with 20 points, and Derrick Nix and Appling each kicked in 17, as the Spartans shot 49%.
Sparty hosts a crucial battle of the Mitten State tomorrow and visits Nebrasketball Saturday.
3. MICHIGAN (21-3, 8-3)
Tim Hardaway Jr. did his best Jon Diebler impersonation Tuesday night in Michigan's 76-74 overtime win over Ohio State.
Although it seemed like everything he threw up went in, Hardaway was 7/14 (6/9 outside the arc) in leading Michigan with 23 points. Trey Burke added a seemingly quiet 16 points. Aside from a couple of dagger threes, it didn't really seem like he did that much. His eight assists were probably more damaging in the end.
The Wolverines shot 58% (14/24) as a team from the arc, hitting twice as many triples as Ohio State. Alas, if only Lenzelle Smith Jr. had smaller feet.
Michigan couldn't capitalize on the victory over the Buckeyes, however. Their trip to the Kohl Center Saturday resulted in a 65-62 overtime loss to Wisconsin. TTUN was two seconds from a big (and B1G) road win, but then Ben Brust did his best Evan Turner impersonation.
Michigan scored only two points in the extra period, and Burke's triple attempt at the end rimmed out, much as it did in Columbus earlier this season. Burke led all scorers with 19 points, but it took 21 shots to get there. He added five rebounds, four assists and two steals.
Hardaway added 18 and Mitch McGary completed a good week with 12 points and eight boards off the bench.
The Wolverines stay just ahead of the Badgers due to their overall body of work. Their schedule lightens up after they visit the Spartans tomorrow. They host Penn State on Sunday.
4. WISCONSIN (17-7, 8-3)
Don't look now, but Wisconsin has climbed back into the B1G race. The Badgers had an eventful week, starting with a 74-70 win over Iowa in a double-overtime thriller on Wednesday. Traevon Jackson's triple with 21 seconds to play forced the extra session.
Ben Brust's 18 points led four Badgers in double figures. Jared Berggren (16), Ryan Evans (15) and Jackson (13) also hit doubles. Wisconsin hit seven of eight free throws in the final half minute of the second overtime.
On Saturday, Brust was the hero twice. His almost half-court shot beat the buzzer to force overtime and his late trey in the extra session was the difference. He finished with a team-high 14. Berggren added 13 and Sam Dekker chipped in 12 off the bench.
The Badgers won on the glass, 39-37, and shot 44% from the field to Michigan's 40%.
Wisconsin visits Minnesota on Valentine's Day, ahead of Ohio State's visit on Sunday.
5. OHIO STATE (17-6, 7-4)
In case you were still wondering…well, yes, it was a foul. Regardless, the Buckeyes had an opportunity to steal a road win in Ann Arbor. Scoring only two points in overtime is not ideal for winning an overtime game.
Deshaun Thomas, who was seemingly a forgotten man for the final 10 minutes of the game (regulation and overtime), led Ohio State with 17 points at Michigan, but it was an inefficient 17 points. Tank was just 6/15 from the field and 2/5 from three. He added four assists and four rebounds.
LaQuinton Ross grew up before our eyes, scoring 16 off the bench, with five rebounds — all on the offensive end. Amir Williams showed up too (nine points, four rebounds, four blocks). Aaron Craft added 11 points, seven boards and three steals.
Thomas led the Buckeyes with 26 points Sunday against the Hoosiers, with Craft adding 16 and Ross netting 11. A 3/13 game from the arc and a lack of an inside presence ultimately foiled Ohio State and negated any residual good feelings from the 2-point overtime road loss in Ann Arbor.
The Buckeyes allowed three 20-point scorers in a game for the first time in 14 years.
The B1G meat grinder continues for the Buckeyes with a home game against Northwestern Thursday and a trip to the Kohl Center to face the Badgers Sunday.
6. MINNESOTA (17-7, 5-6)
It was a tough week for Minnesota, which has lost contact with the conference leaders after losing twice.
The Gophers outrebounded Sparty, 36-27 (11-5 offensively), but shot just 37% (29% on 5/17 shooting from three) in the loss in East Lansing. Andre Hollins scored 11, but required 11 shots to do it. No other Gopher reached double figures.
Sunday the Illini came to Williams Arena and stole a road win over the Gophers, 57-53. Austin Hollins scored 16 points and Trevor Mbakwe notched a double-double with 13 points and 10 boards.
Three-point shooting was the difference in this one. The Illini outscored Minnesota, 33-15 from the arc, shooting 48% (11/23) to the Gophers' 29% (5/17).
After they host the Badgers Thursday, the Gophers visit Iowa on Sunday.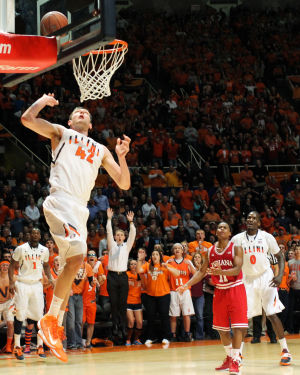 7. ILLINOIS (17-8, 4-7)
Mired near the B1G basement for weeks, the Illini shocked us all with their win over Indiana on Thursday. D.J. Richardson, who finished with a game-high 23 points, was the man during the decisive late 15-3 run.
Richardson scored eight of his team's final 12 points, including a pair of triples to pull Illinois within striking distance. Brandon Paul returned to the starting lineup and responded with 21 points. Griffey added 14 off the bench, but none were bigger than the layup with under a second remaining.
With Sunday's road win at Minnesota, the Illini are showing signs of finally coming together. Griffey's 16 off the bench led the way, with Richardson (13) and Paul (10) also reaching double figures.
The two impressive wins catapulted Illinois up several spots in this week's rankings. It will be interesting to see if this is a one-week thing or if the Illini are finally buying in to John Groce's system.
After hosting Purdue on Wednesday, the Illini visit in-state rival Northwestern on Sunday.
8. IOWA (15-9, 4-7)
The Hawkeyes are turning narrow losses into an art form. Iowa led in the last minute of regulation at Wisconsin, missed a layup and a free throw in the first overtime, and eventually fell to the Badgers in double OT.
Mike Gesell scored 14 to lead Iowa and Aaron White added 13. Iowa hit just 34% from the field and 22% (5/23) outside the arc.
Iowa bounced back Saturday by treating visiting Northwestern to a 71-57 beating. Roy Devyn Marble led all scorers with 21 points on 8/13 shooting, with five rebounds and five assists. The Hawkeyes shot 48% and held the Wildcats to 35%.
Josh Oglesby added 10 points off the bench.
The Hawkeyes visit Happy Valley Thursday and host the Golden Gophers Sunday.
9. PURDUE (12-12, 5-6)
The Boilermakers laid an egg from the arc (0/10) but still beat Penn State on the road Tuesday, 58-49. Purdue rode Ronnie Johnson's 16 points and A.J. Hammons' double-double (15 points, 12 rebounds).
Donnie Hale added 10 off the bench and Purdue hit 51% of its two-point attempts. The Boilers also grabbed 40 rebounds.
Upon reaching .500 in conference play, the Boilermakers promptly lost again. Terone Johnson led Purdue with 20 points and brother Ronnie added 15 in the loss to Michigan State.
The Boilers hit 48% of their shots and equaled Sparty's 26 rebounds, but missing 12 of 34 free throw attempts and hitting only 1/5 from three hurt.
Purdue visits Illinois Wednesday night and Indiana on Saturday.
10. NORTHWESTERN (13-11, 4-7)
The Wildcats got punted at Purdue in their lone game of the week, tumbling in our weekly rankings. Reggie Hearn was the only player in double figures for Northwestern, with 13 points on 13 shots (1/6 outside the arc).
It won't get any easier for Team Purple with a trip to Columbus Thursday. In-state rival Illinois visits Evanston Sunday.
11. NEBRASKA (12-12, 3-8)
When the winning team shoots 33% and both teams hit more free throws than field goals, the game is an affront to the sport of basketball. And Nebrasketball's 67-53 win over Penn State in Lincoln on Saturday night was such an insult.
Dylan Talley scored 16 points and grabbed seven boards, leading the Huskers to its third B1G win of the season and second over the Nitts. Brandon Ubel added 14 and nine. The teams combined to make 29 field goals and 55 free throws.
No player in this game made more than four shots from the floor.
After their visit to Bloomington Wednesday, the Cornhuskers host Sparty on Saturday.
12. PENN STATE (8-15, 0-11)
The Nittany Lions are well on their way to a perfect 0-18 B1G slate after stumbling twice more this week. They continue to be last in these rankings and it's not even close.
D.J. Newbill scored 17 points in the loss to Purdue, but didn't get much help from his teammates — eight players combined to score only 32. Penn State made only 2/20 (10%) outside the arc on its home floor.
Newbill again tallied 17 points to lead Penn State in the weekend loss in Lincoln, but he was 4/14 from the field and turned the ball over five times. Jermaine Marshall added 16.
The Nittany Lions shot 29% from the floor and 20% from three. To say that Penn State-Nebraska was a dumpster fire of a game is insulting to dumpster fires. The Nitts made 14 field goals and had 13 turnovers.
After a Valentine's Day game against Iowa, the Nittany Lions will take a beating in Ann Arbor on Sunday.
NEW FRIENDS
Maryland (17-7, 5-6)
The Terrapins spent the week battling teams from the Old Dominion, beginning with a 60-55 road win at Virginia Tech Thursday. The Terps scored six of the game's last eight points to clinch it. The return home to face Virginia didn't go as well. The Cavaliers shot 54% (58% outside the arc) to drop the Terps below .500 in the ACC, winning 80-69 in College Park.
Maryland would be ranked somewhere between Iowa and Northwestern.
Rutgers (12-10, 3-8)
Rutgers fell at home to No. 11 Louisville on Wednesday, 68-48. A 23-2 run by the Cardinals blew the game open. The Scarlet Knights' losing streak reached six on Saturday, as they lost, 69-63, to Georgetown.
The Knights are in free fall right now and would be in the B1G's bottom three.