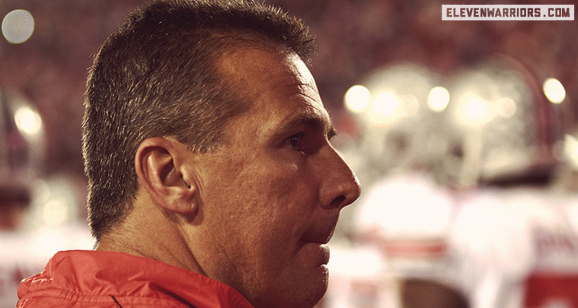 Urban Meyer did not hesitate. The questioner, recognizing where the direction of college football is going, asked if Meyer was declaring war on Alabama, the current king of the sport. 
Meyer's response was swift and to the point. There is only one team Ohio State is focused on, and it is not to the south. Michigan will always be the bully on the block when it comes to the Buckeyes, but a new source of contention has entered Ohio State's consciousness. And there's no mistaking who it is – the Crimson Tide.
Since the November 2011 day he was hired, Meyer has been keyed on leading Ohio State back to college football's mountaintop. That road goes through Alabama, Florida, Georgia, Louisiana and Mississippi. In other words, the SEC. It's a fact not lost on Meyer, who a few short years ago used the league as a personal playground and point of affirmation for his meteoric rise up the coaching ranks.
When five-star safety Vonn Bell picked the Buckeyes over Alabama and Tennessee, he said Meyer was "going to bring the SEC" to Columbus.
"Urban Meyer's on a mission right now to win a national championship," Bell said. "We're gonna try to beat 'Bama and everything, so we're gonna meet them at the national championship."
Ohio State certainly has the look of an SEC North squad. They've loaded up on speed at the skill positions, athletic linemen and physical, hard-hitting linebackers. Back-to-back top 5 recruiting classes has Ohio State on firm footing and appropriately positioned to challenge the SEC and its seven consecutive national championships.
"I think there's a little bit of a chase going on after the SEC," Meyer said. "That's fine. You've got to give credit where credit's due. If there's a perception that we're chasing them, that's fine. I wouldn't disagree with you. We want to increase our speed on our team a little bit."
Coaches from around the country, in the North, Southwest and West, have tried closing the talent gap for a decade, and in many cases, they have. Ohio State, Texas, Oregon and USC have stockpiled players that were every bit as good as their SEC brethren. But when it comes to putting it all together on the field, each had fatal flaws that contributed to their undoing.
One big difference in the current equation: Meyer lived it for six seasons. For a four-year stretch, the Gators were a behemoth among wanna-bes, racking up titles at an alarming rate and filtering in top-tier talent on an endless loop like Niagara Falls.
"We're gonna try to beat 'Bama and everything, so we're gonna meet them at the national championship."
Meyer gets all the credit in front of the cameras – and deservedly so. But behind the scenes, it's director of player personnel Mark Pantoni that makes all the pieces fit together. The two coordinated multiple memorable classes at Florida and have done the same at Ohio State. Pantoni has become the No. 1 point man in recruiting in the country.
"Nowadays with the intensity of Facebook, Twitter and social networking, he's my guy. I have to have him," Meyer said. "I don't know how you do it without him. I don't want to put him in the same category as the strength coach, but when you start talking about the most valuable assets of a program, No. 1 is personnel, and he's knee deep in it.
"He was a guy who was a student at Florida. He worked with our recruiting stuff and he was a ridiculous worker. He was non-stop and knew everything about every player. Instead of going to the guy in charge, I'd go up to Mark and say, 'tell me about so and so', and he knew everything. Players liked him. They'd come on campus and he'd show them around. I'd talk to them about their visit and they'd say, 'Pantoni showed me around', and I'd say, 'Who?' They just enjoyed being around him."
At the U.S. Army All-American Bowl in San Antonio in January, incoming freshman cornerback Eli Apple reiterated Meyer's point. Car salesmen and realtors in Columbus might be wise to give Pantoni a call and see if he's interested in a second job.
When it comes to credibility, Meyer and Pantoni have it immediately and in abundance. Recruits believe them when they talk about winning at the highest level because it was a regular occurrence for six years. That past was read off like bullets on a PowerPoint presentation by recruits on National Signing Day, as was the Buckeyes' 12-0 season in 2012.
"I use the term flavor of the week," Meyer said. "It's momentum, whatever it is. There's a lot of good stuff going on here. But this is the kind of place that should be going on."
There's plenty of high-fiving taking place in Tuscaloosa too. After all, Alabama owns three of the past four national titles and continued its recruiting haul this season with one of the nation's top classes.
It comes as no surprise that Bell's recruitment was arguably the most competitive in the country. When Meyer and Nick Saban lock on to a target, engaging and securing become the goals and, more often than not, the end result.
"Everyone's going to come to Ohio to get great players. They're as well-coached players in America in the state of Ohio. It's old-fashioned football, old-fashioned coaching."
"That was a street fight," Meyer said about the process of getting Bell. "I mean, up until two minutes before he announced, I was on the treadmill because I couldn't take it anymore. I'm sitting out there – I wanted to get away from our coaches, and poor Everett Withers was driving me nuts. I had to get away from him."
But shortly thereafter, Meyer received the phone call he'd been so eagerly anticipating. Bell was a Buckeye.
On the same day, linebacker Trey Johnson also signed with the Buckeyes. A one-time Auburn commit, Ohio State beat out several SEC schools for Johnson as well.
"That was nonstop," Meyer said. A couple of SEC schools were just ruthless. I wouldn't say ruthless, just did a good job going after them as hard as they could.
We hung in there and got it done."
For the second straight year, in a footrace to match the success of Ohio State, Michigan got it done. Nine of the players from that class hail from the Buckeye State. It's something not lost on Meyer.
"That school's always had great Ohio players, a couple Heisman Trophy winners, too," he said. "It's not just them. Everyone's going to come to Ohio to get great players. They're as well-coached players in America in the state of Ohio. It's old-fashioned football, old-fashioned coaching."
It takes more than just in-state kids for Ohio State to compete for national titles, though. There's no denying it's still one of the top-five talent producing states. But it doesn't provide game changers at every position. That's why Meyer has deepened the Buckeyes' footprint around the country. Of the 24 members of the 2013 class, 14 are from out of state, covering 11 different territories. 
Still, Meyer's heart remains inside the state borders.
"The one thing I love about the players in the state of Ohio – the respect factor is there," he said. "In my opinion, it's greater or more than greater than any state in the country where the high school coach is still in charge of the program. When you go meet with a player in Ohio, you're going to meet with his high school coach, and you can't say that about all the states across the country. That's my favorite part about recruiting the state of Ohio."
From the time they're born, Ohioans dream of playing in the Rose Bowl. Next January, Meyer's latest batch of talented Buckeye State ballers could be lifting the crystal football in Pasadena.
Of course, the Michigan game comes first.