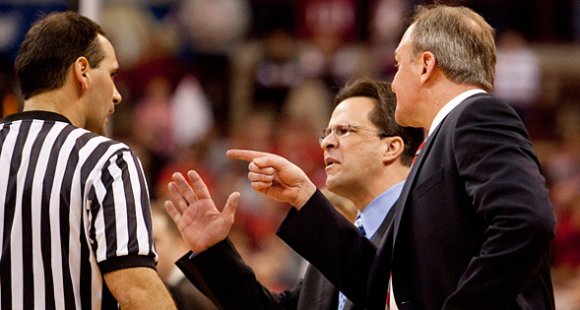 While the football Buckeyes have a clear-cut, undisputed rival in Michigan, the same cannot be said for their basketball counterparts.
For me, that's never been the case. I was taught at an early age that Indiana was, and always would be Ohio State's undisputed basketball rival, regardless of the fact Indiana didn't view the Buckeyes in the same light. I'm sure my dad's teachings were shaped by Indiana's dominance over the Buckeyes in the 70's, when they racked up 14 wins in 20 tries including two trips to the Final Four and one NCAA crown. Depending on variables such as your age, how long you've passionately followed the basketball Buckeyes, and any personal feelings on the numerous coaches each of the other B1G schools have had over the years, your view on Ohio State's greatest hardwood rival may differ from the next guy. Hell, you may have even altered who you believe OSU's chief rival to be from one time frame to the next.
Cutting my basketball teeth as a teenager in the mid-to-late '80s, it was easy to forge a dislike for the Hoosiers as they won 15 of the decade's 20 matchups. I always respected Bobby Knight but the arrogance of the fanbase, and the noted struggles to come away victorious were only compounded by the Hoosiers laying claim to another couple Final Four appearances, and national titles in both 1981 and 1987.
With those numbers serving as a catalyst for an increased loathing of Indiana basketball, the tide began to turn ever so slightly in the '90s with the Buckeyes going 9-12 against the Hoosiers, including some incredibly intense matchups, a few of which I'll highlight in a bit.
Since the turn of the century, Ohio State has recorded 14 wins in 24 tries, including some vicious beatdowns in the last handful of years, many over the fantastically smug and incredibly easy-to-hate Tom Crean.
With Ohio State set to host the #1 ranked Hoosiers on Sunday (though they'll surely drop from the top spot after Thursday's loss in Champaign), the Buckeyes still have a shot to capture their seventh win in the last nine tries against the nation's current #1 team.
The backdrop of historical animosity along with my despisal of Crean prompted me to look back at the four loveliest wins over the Hoosiers in the last 25 years. It is my hope this exercise will not only get your mind right as the Buckeyes try to stay in the B1G race but also help you jump aboard the anti-Indiana train.
January 15, 2012: #5 Ohio State 80 – #7 Indiana 63
Looking to avenge a four-point loss on New Year's Eve to the Hoosiers in Bloomington thanks largely to 17 turnovers and 22 fouls, the fifth-ranked Buckeyes wasted little time in crushing #7 Indiana's spirit. 
Behind 11 points from Lenzelle Smith Jr. in a 15-2 run to close the 1st half, the Buckeyes stretched a 20-12 lead into a 35-14 lead at the break and never looked back in a 17-point rout. 
Smith's scoring outburst during the decisive blitz was just a small part of a 28-point masterpiece in which he drained 10 of 12 shots from the floor including four of five from downtown, all while playing with strep throat. 
Ohio State led by as many as 26 points in the 2nd half but despite such a lopsided score, Matta showed zero interest in pulling his starters as Aaron Craft, Smith Jr., William Buford and Jared Sullinger played anywhere from 33 to 38 minutes.
Now, I know Thad loved to ride his starters during this mini-era but this was clearly Matta seizing the chance to embarrass Crean on national television. 
This was not lost on Crean, who spoke to his players behind closed doors for more than 30 minutes following the beatdown. 
The game also saw Urban Meyer introduced to the crowd at halftime and Urbz even spoke to the hoops squad before the blowout:
Just before the game, new Buckeyes football coach Urban Meyer stopped by the Ohio State locker room to see Matta. "We were talking and I asked him, 'You want to say a few words to the team?' " Matta said. "He was good. Really, really good." Asked if the message was about toughness, Matta smiled and said, "Yeah. Yeah."
Urban stops by to fire up the troops and they go out and demolish Crean's boys by 17? This night was full of win. 
February 27, 2011: #2 Ohio State 82 – Indiana 61
I know what you're thinking. How could this be a significant win in the series considering Indiana wasn't even ranked, Ohio State blew them out by 21 points and led by as many as 27 in the 2nd half?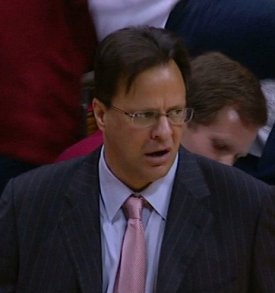 My answer: With Tom Crean, all things are possible. 
Minutes after true freshman Deshaun Thomas just got done outscoring Indiana 14-3 in a spurt that blew the game wide open late in the opening half, Crean threw a hyper-spaz upon noticing Matta having a conference of sorts with the referees on his way to the locker room.
Having already picked up a technical foul midway through the half, Crean stomped over to join the conference between Matta and the officials, and things got a little heated. Naturally, Crean made sure to whine about it post-game:
"I don't do it and I don't think coaches should get a free conference with the officials at halftime. That's happened to us, nothing was done about it, and I wasn't going to stand back and not be a part of that. Whether it's gamesmanship, whatever it is, it's the way that it is. The half is over. The officials are supposed to be leaving the floor, as are the teams, and that didn't happen."
Even without Crean's hilarious outbursts of frustration, Deshaun's game was enough for this one to make the cut. The Fort Wayne product, whom Crean unsuccessfully tried to recruit after Thomas had pledged allegiance to Ohio State, scored 22 points off the bench and summarized his night in typical Tank fashion:
"After I hit my first two 3s, I felt kind of warm," said Thomas, a 6-foot-6 freshman who's prepared to pump up shots the minute he jumps out of bed. "I felt kind of comfortable." 

Minutes later, Thomas spoke of his ability to score saying, ""It's a God-given gift. I just did what I had to do."
The win dropped Indiana to 3-13 in conference play while the Buckeyes improved to 14-2. 
February 23, 1993: Ohio State 81 – #1 Indiana 77 (OT)
If old enough to have watched this one live, you distinctly remember this one as The Jamie Skelton Game. In addition to that, for me personally, I also remember this classic for the fact I watched it Not Al's Pub on 9th and High, enjoying nickel pitchers and an outstandingly wild postgame.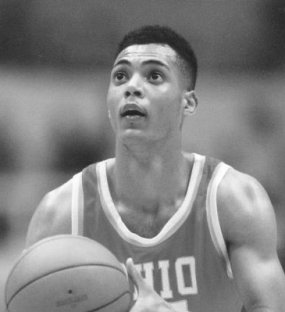 The 1991-92 Buckeyes ushered in the beginning of a program downturn following the departures of Jimmy Jackson, Chris Jent, Mark Baker and Jamaal Brown. Randy Ayers still had Lawrence Funderburke, Skelton and newcomers Derek Anderson and Greg Simpson but they finished the season with a middling 15-13 record. 
Still, on this chilly night in Columbus, the Buckeyes were more than ready to hang with a Hoosier team that had blown their doors off, 96-69, the previous month in Bloomington. 
Ranked #1 in the country, the Hoosiers were led by Calbert Cheaney and Damon Bailey and also had solid role players like Matt Nover, Brian Evans and Greg Graham. 
Heading into the matchup, Indiana had won 13 straight B1G games and were on the verge of pulling off an undefeated B1G season, which would've been the the first time the feat had been accomplished since the Indiana squads of '74-'75 and '75-'76. 
It looked like Ohio State would pull the stunner in regulation after Skelton splashed a difficult triple from the wing to put OSU in front, 71-70, with just three seconds left but after the Hoosiers were able to call timeout, Anderson was whistled for a weak foul (Hightower, I believe) when he ran through an Indiana pick near midcourt. Awarded two free throws, Reynolds hit one to force the extra session, briefly taking the air out of a raucous St. John Arena. 
To their credit, the Buckeyes didn't wilt in overtime, controlling the boards, 6-1, and getting a pair of threes, the biggest, of course, was Skelton's bomb with 40 seconds left to put the Buckeyes in front, 80-77, with 40 seconds left. The Hoosiers still had a chance but Funderburke made a heady play forcing a jump ball after Evans missed a trey with 11 seconds left. Alternating possession gave the rock to Ohio State and the upset was preserved. 
Ohio State took advantage of Allan Anderson being forced to sit due to injury and the Buckeyes were led by 22 points from Skelton, 20 from Anderson and 12 from Funderburke. 
While many remember Skelton's clutch shots, the upset was also made possible as the Buckeyes came back from a 13-point deficit in the 2nd half, hitting their last six shots of regulation capped by Skelton's acrobatic three. 
February 17, 1991: #2 Ohio state 97 – #4 Indiana 95 (2 OT)
Arguably the greatest Ohio State basketball game of the last 25 years, this one evolved into a mind-blowing battle between Jimmy Jackson and Damon Bailey.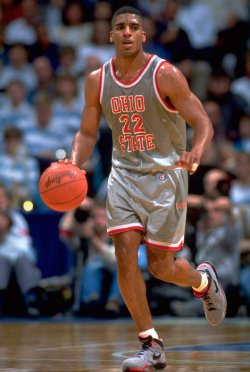 Having already beaten the Hoosiers at their place the previous month behind 29 points from Brown and 20 from Jimmy, the return game in Columbus was primed to be a classic. 
A Sunday afternoon national television audience witnessed an intense, high-scoring affair that saw the Buckeyes again come from behind the closing minute to force overtime. With Ohio State on the wrong end of a 78-76 score with seven seconds left in regulation, Jackson, playing the point as a result of Mark Baker's knee injury, calmly drove the lane and released a soft six-foot floater just over the outstreched arms of two Hoosier defenders to tie the game at the buzzer. 
After the teams played the first overtime to a 9-9 draw bringing the score to 87 all, Jackson again made the decisive play in double overtime. With the ball in his hands at the top of the circle, Jackson again drove the lane but this time, with four seconds left on the clock, he drew the double-team and smartly dished off the Treg Lee along the short left baseline and Lee drained an eight-foot jumper to give Ohio State the victory. 
Bailey kept the Hoosiers in the game with 32 points on 11/15 from the floor, including big shot after big shot down the stretch, and Jackson poured in 30 points and pulled down 11 boards from the point guard spot. 
In a telling moment of just how special a player Jackson was, The General had this to say after the game:
"He's one of the three or four best players I've ever seen in our league. He's one of those rare kids who can really play. Obviously, he knows he can play, and he has a lot of confidence in his play, but he doesn't act like it. I think the kid is a hell of an example of what a great college player should be. He's as good an example for kids to emulate that I've seen in the Big Ten."
The Buckeyes would go on to a 27-4 record and reach an NCAA regional semifinal where they fell to St. John's, 91-74, but no game that season was more special than Jimmy's Sunday afternoon classic in Columbus. 
Honorable Mentions
There were more than a few games that forced me to wrestle with exactly which four deserved top billing. A sampling:
1/21/91: #4 OSU 93 – #3 INDIANA 85 - The Buckeyes stormed out to a 48-29 halftime lead but let IU come back before eventually outlasting the Hoosiers. Brown was spectacular with 29 points on 8/10 from the floor and Jimmy added 20 with six boards and five assists. You know, the usual. Even with those efforts, what I remember most about this game is Cheaney absolutely carrying Indiana with 28 on an array of crafty shots via his spectacular midrange game. 
12/31/10: #2 OSU 85 – INDIANA 67 - One of the handful of blowouts at the expense of Crean, Ohio State hit a ridiculous 13/19 from downtown and shot 61% overall despite missing every field goal attempt over the final eight minutes. Willie Buckets had 24 points and Matta didn't really try to let off the gas much with Diebler logging 39 minutes and Buford 34. 
2/10/10: #16 OSU 69 – INDIANA 52 - Another spanking of Crean, Ohio State jumped out to a 14-point lead at the break and though the 2nd half was fairly competitive, the Buckeyes played it with an open gym mentality by trying crazy dunks and alley-oops, which might've factored in to Crean's well-chronicled drive-by handshake with Matta.