How good was Dennis Hopson during the 1986-87 college basketball season? So good that only a burrito could stop him. Hopson averaged 29 points that season in one of the finest all-around displays the sport has witnessed. Still, Hopson was denied player of the year honors, finishing second to Navy's David Robinson.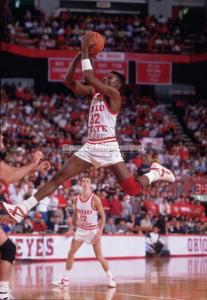 With the passage of time, many have forgotten the wide range of skills Hopson possessed on the basketball court. His 29 points per game were so out of the norm that it's the single thing that gets remembered. But, along with being the Buckeyes' all-time leading scorer, Hopson held the steals record until it was later broken. He also rebounded as well as anyone on the team and had no problem handing out assists. During his senior season, Hopson averaged 8.2 rebounds, 3.6 assists and 2.2 steals per game.
"My idol was always Magic Johnson," Hopson told Eleven Warriors in a recent interview at his Bowling Green office where he's an assistant coach. "That's why I wore No. 32. My brothers always taught me if you want to be a scorer, you have to be able to do everything – offensive rebounds and get putbacks, steals and get easy layups. Just watching Magic and the way he played, I think to be a truly great basketball player you have to be able to do every aspect of the game. You have to do everything it takes to win. If my team needed rebounds, I'd rebound. If they needed points, I'd score points."
Scoring was certainly Hopson's calling card. When Deshaun Thomas scored 20 points in five straight Big Ten games earlier this season, Hopson's name resurfaced because he accomplished that feat in an astounding 17 consecutive conference games.
As the season stretches into mid-February, Thomas is averaging 19.9 points per game, threatening to become the fifth Buckeye since the '86-87 season to score 20 points per game. But no one has approached Hopson's gold standard mark. Jim Jackson's 22.4 points during the 1991-92 season, a year in which Jackson was honored as national player of the year, is the closest anyone has come.
"A lot of my accomplishments came from playing with good guys," Hopson said. "Being Ohio State's all-time leading scorer, I just never thought about it. Now I recognize how prominent the school is and it makes me feel pretty good. We didn't even have the three-point line until my senior year. I just knew how to get my points in a variety of different ways."
That wasn't true every night, however. Prior to taking on Indiana, that season's eventual national champion, Hopson made a critical error – he consumed a burrito as a pre-game meal. He played all of 10 minutes that night, scoring four points. It was the first time in 51 games that the Buckeyes' pied piper was limited to single digits.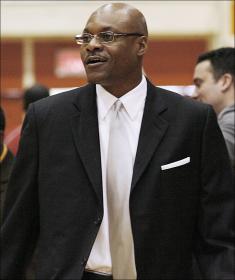 "I got sick as a dog," Hopson said.
He'd make up for it a few weeks later when Ohio State shocked No. 1 Iowa in Iowa City. Hopson played the star role in the stirring upset with 36 points. It was one of his best performances in a season full of memorable moments.
"There were a ton of NBA scouts at that game," Hopson recalled. "I just put it all on the line. We couldn't be denied or stopped that night."
It's something those in attendance still remember. Former Tennessee head coach Bruce Pearl was then an assistant at Iowa and reminisced with Hopson at a Bowling Green game earlier this season. Twenty-six years later, Pearl still had trouble fathoming how Hopson did what he did that night. His final stat line read: 36 points, seven rebounds, two assists, two blocked shots and one steal.
That wasn't the whole story, though. Hopson also had another topic racing through his mind that night. The day before the game he found out he was going to be a father. The added inspiration provided a boost the Buckeyes happily accepted.
Hopson had a knack for performing at his best when Ohio State was in need, and that was never more apparent than at the Rainbow Classic. In a three-day span, Hopson tallied 100 points, leading the Buckeyes to wins over Florida and the Danny Manning-led Kansas Jayhawks. Ohio State's lone loss came by three points to Arkansas.
"We didn't have some of the talent other teams had," Hopson said. "But to beat Kansas, to win at Iowa – we played. Whatever we needed to do – claw, scratch, smack – we were going to do it to win the game."
When Ohio University visited St. John Arena for an early-season non-conference game, not much was thought about the matchup. Sure, it was two state schools going at it, but the Bobcats were clearly overmatched, as evidenced by the Buckeyes' 21-point triumph.
The game is still remembered all these years later due to the accomplishment that took place – the first triple-double in Ohio State's proud history. Hopson finished with 27 points, 11 rebounds and 10 assists to accomplish the rare feat. It's only been equaled twice since, both by Evan Turner.
Despite all that, Hopson still couldn't secure the Wooden Award. Ironically, many believe Hopson was denied because of Ohio State's lack of national exposure, while Navy routinely appeared on television. In 2013, that seems almost unthinkable.
"It wasn't a disappointment (not winning)," Hopson said. "I tried my hardest and did what I thought I needed to do. David is one of the top 50 players in basketball history. I never went to Ohio State thinking about what I was going to accomplish on a personal level. Whatever happened to me was just a blessing. Being runner-up to David Robinson, I was happy with that. I didn't plan on being national player of the year."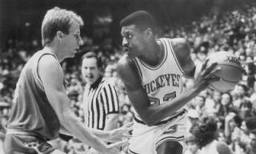 He also didn't plan on going to Ohio State. All of it – the 2,096 points, the heroics, the memories – nearly didn't happen. Hopson committed to Cincinnati, but those plans took a detour after head coach Ed Badger was fired prior to Hopson's freshman season.
"Looking back, Ohio State was always a big-time, prominent school, but when I was growing up we just didn't know how prominent it was," Hopson said. "Now it's like Ohio State is America's team. Everywhere I go I see Ohio State stuff. Growing up in Toledo, it was Michigan. As a kid, I didn't pay attention to Ohio State. Then as you got older, you understood the rivalry between the two programs."
Ohio State offered tradition, a solid core of teammates – and St. John Arena.
"It's the best," said Hopson, with a wide smile. "Everyone was right on top of you. I went to a couple games there on a visit. I remember they were playing Purdue. That place was rockin'. It was incredible."
A few short years later, it would become Hopson's personal house of thrills. But for the first two years of his career, Hopson put up role player numbers. He averaged between five and 10 points and four and five rebounds per game. Not spectacular, but respectable. Some players would have sulked, but Hopson had a big picture vision.
He came to Ohio State as a high school phenom from Toledo Bowsher and was thought to be a piece that could get the Buckeyes back to the Final Four. Head coach Eldon Miller was under constant fire from the fans for yearly underachievement. His conservative approach was criticized again as a cause for Hopson's low point totals. If you asked Hopson, though, he didn't even notice anything out of the norm. 
"I've always been a patient type of guy," he said. "Back then players didn't have the egos like today's kids. It was one of those things where I needed to be patient. I was very immature. I don't even know if I paid attention to averaging five points a game. The good thing with me was I got better every year. What more can you ask more?"
Fans wanted points, and they finally got them during Hopson's junior season. A dramatic increase in production yielded 21 points and six rebounds per game. Hopson's senior season was anticipated with the makings of something special, especially after Ohio State ended on a high note by winning the NIT.
Then Miller was fired. Many fans were happy with the decision, but Hopson and the team weren't so optimistic.
"We knew that he was going to be removed at the end of the year," Hopson said. "I think it was one of those things where, if you're in my shoes, what happens the following year, which was going to be my senior year. It was scary because it was the unknown, and the unknown is not good, especially coming off a good year."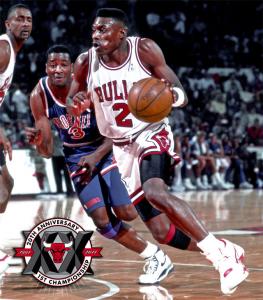 The Buckeyes were only left in limbo for a brief time. In a scenario that would play out again in the near future, Ohio State plucked away Boston College's coach. In this instance it was Gary Williams. Hopson immediately grew to like the decision, as it gave way to an individual season that's still talked about.
"We played BC my junior year on national TV in the Boston Garden and they flat-out kicked our butt," he said. "Their head coach just so happened to be Gary Williams. His style is an up-tempo style. It was very beneficial to me. He just turned it up. He called me in his office when he first got the job and he told me, 'Hey, I don't know you, but I do know you, and I think you're the leader of this team.'"
The Buckeyes had the good fortune of being stockpiled with talent during Williams' first season. Along with Hopson, Curtis Wilson, Jay Burson, Jerry Francis and Tony White led the Buckeyes to a 20-13 record and a trip to the second round of the NCAA Tournament. Ohio State led No. 1 seed Georgetown by 10 at the half but couldn't hold the Hoyas off late.
The game signaled the end to one of the great careers in Ohio State basketball history. And in some respects, the curtain is still drawn. Despite being the all-time leading scorer, Ohio State has opted not to retire Hopson's jersey, sticking to an unwritten rule that the school only recognizes national players of the year. The one exception is John Havlicek, who played alongside Jerry Lucas.
"It would mean something to me," said Hopson, about seeing his number in the rafters of Value City Arena. "But my push is for all the other greats that have played there. We have so many good guys that have helped build that program – why only recognize a select few? I think a lot of other guys are well-deserving, whether you want to retire their numbers or just hang a banner to recognize them. Other people paved the way and laid the foundation of that program way before me that should be recognized as well."
Hopson holds no ill will toward his alma mater. Instead, he chooses to remember the good times with teammates, games that still live in Buckeye lore and a jump shot against Florida International that permanently put him in lockstep with the all-time Buckeye greats.
"I wouldn't trade my life for nothing, and it hasn't always been smooth," Hopson said. "I've had a chance to see a lot of things and experienced a lot of things. I've just had a great life."