National Signing Day is just two days away and per usual, Buckeye fans are sitting at the edge of their seats waiting to see how the staff will close out its latest class.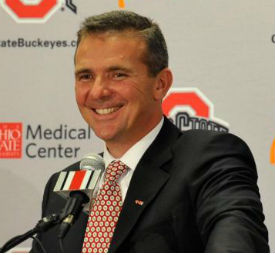 There are technically just over a handful of uncommitted prospects still left on the board that could wind up at Ohio State, but the main focus in the final stretch is on undecided prospects WR James Clark, S Vonn Bell, and ATH Dontre Wilson, as well as currently committed players Ezekiel Elliott, Trey Johnson, and to a lesser extent, Donovan Munger.
Outside of the aforementioned star athletes, the Buckeyes are still officially on the short list of ATH Ryan Timmons and ATH Cornelius Elder, although the latest news has it likely that neither player will be bringing their talents to Ohio Stadium next year.
With all of the madness coming to a culmination this week, 11W has you covered. We're going to have a full slate of content for you to consume on Wednesday, bringing you the latest and up to date news regarding how the Bucks will finish out the class.
Be sure to check out the site over the next couple of days for a full schedule of everything you can expect to see on Signing Day, and for those of you who were with us last year, expect this year to be even better!
In the meantime while we wait, Derek, Miles, Chad and myself take one final stab at matching player to program, as we predict based on all of our knowledge where the remaining Ohio State targets will end up.
James Clark, WR, New Smyrna Beach (FL)

Clark is supposed to be the first prospect to make his decision on Signing Day morning, announcing his college choice at his school between 9:00-9:30 AM EST. He is down to Ohio State, Florida, and Clemson and has already informed the coaches of the school he is attending that he will be headed there.
ALEX: It looks like Clark is down to the Gators and Buckeyes and I have thought for a while that he would be headed to Florida. I think OSU did all they could on his visit a couple of weeks ago and the speedy receiver was really impressed with the business school in Columbus, but I feel this past weekend's unofficial visit to Gainesville finalized things for him to play for Will Muschamp.
CHAD: Even with a ton of receivers coming in, Clark has a chance to play early and stay close to home at UF. Florida is the pick.
DEREK: Clark values OSU's business school highly in his decision and it was big that he took an official visit to Columbus. I have always thought Ohio State had more of a chance here than some, but I think being close to home wins out in the end. Gators is the pick.
MILES: Clark is from Florida, the Gators got his last visit, and they really want him. I think he ends up in Gainesville with the Bucks finishing second.
Vonn Bell, S, Rossville (GA) Ridgeland

Bell will make his decision on National Signing Day at 10 AM EST. He shut down his recruitment last Thursday after receiving one final in-home visit from Everett Withers, and is set to decide between the Buckeyes, Alabama, and Tennessee.
ALEX: I have gone back and forth on Bell a few times, but from everything we hear it looks like things are down to Ohio State and Tennessee. The Vols are Bell's "hometown" school and he grew up rooting for them and dreaming of playing in Knoxville one day. OSU has a leg up when it comes to their relationship with Vonn, as he loves Urban Meyer and the Buckeyes staff is in tact from last season, something the Vols can't say. Rocky Top made a strong last push, but I'm saying Bell ends up as a Buckeye.
CHAD: This is a tough one to predict, but you have to like when the OSU staff is feeling confident. Ohio State lands Bell.
DEREK: It appears to be a battle between Ohio State and Tennessee for Bell's services. Tennessee has the emotional appeal, while Ohio State has Urban Meyer, whom Vonn is very close with. I think Urban gets him in the end. Buckeyes land their guy.
MILES: Bell grew up a Vols fan and they got his last official visit, which went really well. I still think the Buckeyes have a chance, but right now I have him going to Knoxville for college.
Dontre Wilson, ATH, DeSoto (TX)

Wilson's coach told us last night that he will be making his college decision at 10 PM EST tonight. He took a visit to Texas this past weekend and will make a decision between the Longhorns, Ohio State, and Oregon, the school to which he is currently committed.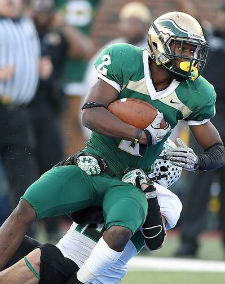 ALEX: I have felt for a while that Wilson could end up flipping to Ohio State and it appears that moment may finally be here. There have been many recruiting analysts in the last 24 hours saying that he will be a Buckeye, but I wasn't sold until Saturday night when Derek received some solid info about how the staff felt about their positioning with the speedster.
The announcement time is odd and the late visit to Texas might be even stranger, but I am ignoring all that and predicting that Dontre Wilson ends up committing to Ohio State later tonight. You are all on "gray box" alert.
CHAD: Wilson wants to play for a championship and get some early playing time. Ohio State can offer both and I think they get another playmaker for this class.
DEREK: On Saturday night I received some pretty good information that the Buckeyes were very confident that they were going to land Dontre Wilson. I have to stick with that pick, although a very late Monday night announcement is puzzling. Ohio State gets their guy once again.
MILES: Wilson is announcing later today and I'm sticking with my pick from a few weeks ago that he'll be playing his college ball in Columbus. Ohio State gets another playmaker for their spread offense.
Ezekiel Elliott, RB, St. Louis (MO) John Burroughs

Ezekiel Elliott committed to Ohio State back on April 1 and has been all Buckeye ever since. At least he was until he had Buckeye Nation going mad over the last couple of weeks following an official visit to Missouri, the school that both of his parents attended. 
On top of that, Elliott went quiet when it came to talking to the media and hasn't "reaffirmed" his pledge to the Buckeyes since returning home from the trip. He is set to let the world know where he will be going at around 4 PM EST on National Signing Day, although the fax could get to whatever school he chooses earlier than that.
ALEX: Once Elliott decided to visit Missouri I started working my contacts hard to get every scoop I could. All the information that came back to me said he would be sticking with Ohio State, despite weird developments such as going quiet to the media and not coming out to reaffirm his decision.
In the end, I have to go with what I'm hearing and that is that "EzE" will stick with the Buckeyes.
CHAD: While Missouri was a legitimate threat, Elliot does not follow James Quick or Stefon Diggs and pick his hometown team. Ezekiel stick with Ohio State.
DEREK: The information we have received on Elliott is that he is solid to Ohio State. At this point, I have no reason not to believe that and think he sticks with the Bucks.
MILES: I went back and forth on this before finally deciding on Ohio State. Something about this situation doesn't make me feel good, but in the end I think OSU is a better fit for him than Missouri. I wouldn't rule out changing this pick, however, and we'll have to all hold our breath a bit until we find out which way this goes.
Trey Johnson, LB, Lawrenceville (GA) Central Gwinnett

Johnson committed to the Buckeyes at the Under Armour All-America Game and it looked like he was in the bag, but a late visit to Tennessee changed that thought a bit. Not only did Trey go check out Rocky Top, but he purposely tried to deceive the media, and more importantly, the staff.
Since the visit, Johnson's coach has come out and said he will sign with the Buckeyes come Wednesday, but you can't be sure, especially with his close relationship with Tommy Thigpen. Thigpen recruited Johnson at Auburn when he was committed there and is now on Butch Jones's staff at UT.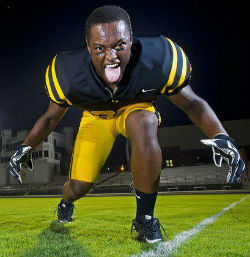 ALEX: This was definitely a sneaky move by Johnson, but from what we are hearing he is still a Buckeye. I think the visit was more than a courtesy to Thigpen and if Trey was "wowed" on his visit to Knoxville things could have gotten interesting.
I don't believe that happened and I know he likes the chance to play early in Columbus. I'm sticking to my guns here and saying he stays with Ohio State, although I'm not going to bet my life on it. Watch this one on Wednesday, but be confident for now.
CHAD: Johnson covertly checked out Tennessee, but I think he stays with Ohio State.
DEREK: Not being forthcoming and trying his best to deceive the public and the Ohio State staff about his official visit to Tennessee is concerning for Urban Meyer. Out of the three commits to take official visits elsewhere, Johnson seems most apt to leave the class, but the Buckeyes are still my pick until I hear something otherwise.
MILES: I don't think the visit to Tennessee was too much to worry about. His coach has come out and said Trey will sign with OSU and I think that's what will happen.
Donovan Munger, DL/OL, Shaker Heights (OH)

Munger committed to Ohio State in December, but had fans worried just a month or so later when he took an official visit to Florida State without telling the OSU staff of his intentions.
Urban Meyer and Mike Vrabel did an in-home with Munger and his mother shortly after the trip and it appears all is well between the two parties, but the Seminoles continue to recruit the Cleveland-area star and he's not exactly telling them to go away.
ALEX: I personally think Munger just doesn't know etiquette when it comes to recruiting, such as telling the staff you're committed to that you're planning a trip to Tallahassee, or telling the FSU staff to stop recruiting you once you've reaffirmed to Ohio State.
I'm not really worried at all that a Signing Day flip will happen here and I think the two-way lineman signs with the Buckeyes.
CHAD: I feel that Munger stays with Ohio State after briefly flirting with FSU.
DEREK: He reaffirmed his commitment to Ohio State already, but Florida State keeps coming by. You never know, but OSU is the safe pick.
MILES: Pretty confident his letter of intent is faxed to the Woody Hayes Athletic Center, barring any last second shocker. Ohio State is the pick.
Cornelius Elder, ATH, Nashville (TN) Ensworth

Elder is likely to take his recruitment past Signing Day, as he weighs an impressive list of high-level football scholarship offers against a small list of high-level basketball scholarship offers.
For football he will decide between Ohio State, UCLA, Auburn, Ole Miss, Georgia Tech, Tennessee, and Vanderbilt. For basketball, Purdue is the biggest school that has offered to date, although Memphis could be close as well.
ALEX: I am not sure what Elder is going to do, but I don't think he will be playing for the Buckeyes. I can easily see him committing to a school for football and trying to play hoops for that school as well or I can see him jumping on the Purdue scholarship for basketball, and certainly Memphis if they're interest increases.
For the sake of making a pick, I'll go with Elder committing to Matt Painter and the Boilermakers on the hardwood.
CHAD: Would have been a Buckeye in a different year, but I think Auburn's late push is enough to land his services over Purdue for basketball.
DEREK: I don't think enough space was available for Corn Elder in Ohio State's class. Maybe in a world of 85 scholarships he's a Buckeye, but OSU doesn't have that luxury. With him waiting until after Signing Day I think he plays basketball for Purdue.
MILES: Elder's true love is basketball and he finally got a big-time basketball offer from Purdue. I think he decides to play hoops in college and jumps on this offer.
Ryan Timmons, ATH, Frankfort (KY) Franklin County

Ryan Timmons has been a prospect on Ohio State's radar for a long time, but it appears the on-again, off-again saga has finally come to a close.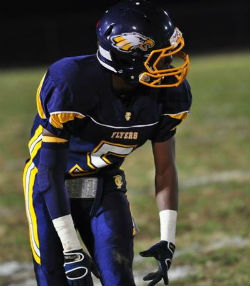 Urban Meyer was supposed to make an in-home visit with the Franklin County athlete last week, but never made it down to Kentucky. That seems to certainly be a sign that the Bucks have moved on, leaving Timmons to decide between Kentucky, Florida, and Illinois tomorrow.
ALEX: Even when Ohio State offered Timmons a scholarship on January 23, I always felt it was one that was on OSU's terms. The way this recruitment played out, he was clearly a backup option and both the cancelation of his official visit in the beginning of January and the canceled in-home last week back that up.
Timmons was in Gainesville this past weekend checking out the Gators, but I don't think there's room for him at UF either, especially since I think James Clark ends up there. That basically leaves Illinois and Kentucky, so I think Timmons stays home and plays for Mark Stoops at UK.
CHAD: Kentucky snags Timmons after Ohio State's slow play. It just wasn't meant to be.
DEREK: With Clark going to UF and Ohio State dropping out in pursuit, Kentucky is the likely destination for Timmons.
MILES: I think Florida takes Clark, leaving no room for Timmons, which defaults him to Kentucky.
Final Predictions

ALEX: The Buckeyes end up with Vonn Bell and Dontre Wilson, while also keeping all three commits that looked around to close out their 2013 class with 25 members.
CHAD: Ohio State finishes strong with Vonn Bell and Dontre Wilson. They also hold on to Elliott, Munger, and Johnson.
DEREK: The Buckeyes retain "the wandering trio", while also securing commitments from Vonn Bell and Dontre Wilson.
MILES: Urban Meyer keeps Elliott, Munger, and Johnson and lands Dontre Wilson later tonight. He strikes out on Signing Day with Vonn Bell and James Clark, finishing 2013 with 24 commits.