Ohio State's fanbase is arguably the most passionate in the entirety of the college football landscape. That Ohio State followed a 6-7 campaign in 2011 with a 12-0 perfect record, the only perfect record among any FBS team in 2012, has Ohio State fans anxious for more Ohio State football in this offseason.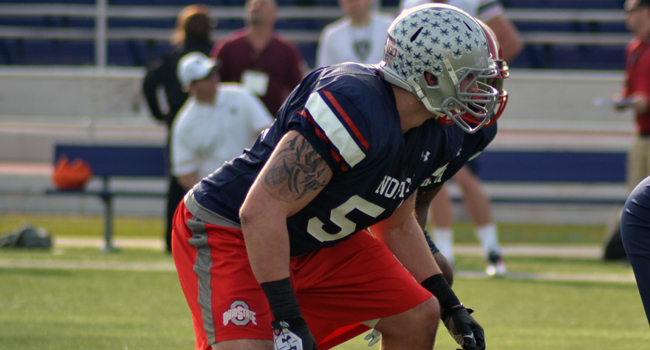 Around this time, this leads to a shift of emphasis toward professional football. Despite having a fanbase (mostly) divided among various AFC North loyalties (namely: Browns vs. Bengals), Buckeye fandom usually extends to well-wishes for the program's newest alumni as they seek to make a lengthy living off football. This is why Buckeye fans can be essentially happy that a guy like Santonio Holmes was taken in the first round by the Pittsburgh Steelers in 2006.
Coming off a season like this, Ohio State fans will usually keep track of the departing seniors as they participate in various college football exhibition games like the Senior Bowl, which was contested this Saturday. The South team won, 21-16.
Did you watch it? If you're like me, you didn't. What would be the point in watching a college football exhibition game if the two Ohio State representatives, Reid Fragel and John Simon, had to remove themselves from the festivities owing to injury concerns? As a result, neither Fragel nor Simon were able to make a splash on the postseason exhibition game circuit.
In fact, that was the general theme. No Ohio State senior seemed to better himself during the exhibition games as important events like the NFL Combine and, eventually, the NFL Draft approaches.
The two highest profile graduating seniors were John Simon and Reid Fragel, who were positioned to play in the highest profile exhibition game: the Senior Bowl in scenic Mobile, Alabama. However, neither played nor demonstrated NFL potential during the week of practice.
Reid Fragel left almost immediately with an injury, for which all we know at the moment is that it is minor. This could be an important absence for Fragel. According to Mel Kiper's projections, Fragel is the #5 offensive tackle in this year's draft, subject to revisions going forward. In addition, Fragel has played offensive tackle for only one season, his senior season. He was previously a tight end.
His career trajectory at least mirrors Nate Solder of the New England Patriots. Solder was a tight end at the University of Colorado until his redshirt sophomore year, but was taken late in the first round in 2011 and is now a regular for the Patriots.
Fragel certainly has the potential for such a transition, which is why scouts were eager to see him in Mobile. Alas, Fragel will need another opportunity to demonstrate his pro potential.
John Simon's case might be a little more unfortunate. Simon was out of action for his final game at Ohio State, the stirring win over Michigan. He seemed to aggravate that injury again early into the week of practices in Mobile. However, this was not before struggling in his first practice in Mobile.
Simon is listed by Ohio State at 6'2, 263lbs, making him a bit of a tweener at the next level. Though there is a bit of a push toward smaller, faster defensive ends in the NFL, this comes with the proliferation of more 3-4 defenses for which that role is served by an outside linebacker. He was given reps during practice as an outside linebacker and, by all accounts, did not take to it like a fish to water. Before too long, he reaggravated an injury and had to remove himself from the Senior Bowl. He is now pursuing surgery and other medical options.
Simon's case is one where he may have needed more reps in order to demonstrate a future as an outside linebacker or, more likely, needed to demonstrate that is just not his position and that his relentless motor is best served on the defensive line. He could then be given the task of adding weight in order to adjust to the rigors of the professional game.
Elsewhere, guys like Travis Howard and Nathan Williams did not make much of a dent in the East-West Shrine Game, played in St. Petersburg. Though Howard and Williams' West team won rather handily, neither Buckeyes were mentioned in the "stock rising" category. It's almost irrelevant that neither were mentioned in a "stock falling" category, since both may be third day selections in April.
Howard was the #2 cornerback at Ohio State, but demonstrated his usefulness, in abstentia, during the Indiana game. Right now, he's around the #30 cornerback in this year's NFL Draft, which would put him as a late-third day pick, possibly in the last round. He could have used a great week of practice, or some noteworthy plays in Tropicana Field, in order to jump up a few rounds this April. That did not appear to happen. That Howard has been graded as more of a finesse "zone" corner, who could be a liability, has muted interest in him.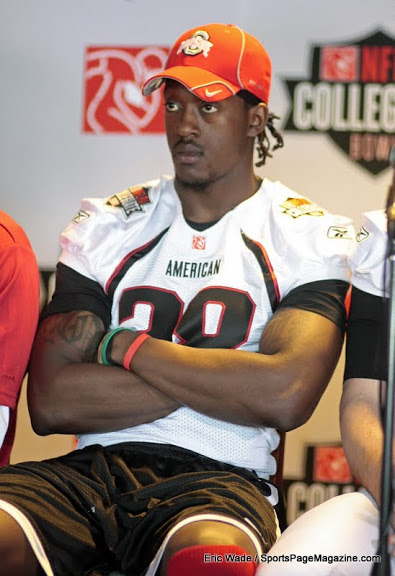 Williams, who played linebacker in this game, as he had done through stretches of the 2012 season, did not do anything noteworthy either. This may have been necessary for Williams, who has an injury record that is going to keep some NFL teams skeptical about his longevity. Williams' microfracture surgery, in particular, will have teams hesitant to take him high in the NFL Draft.
Williams' future amid all this is actually rosier than most other Ohio State seniors entering this year's NFL Draft. He is projected around the #20 outside linebacker in this year's draft and may actually benefit from playing more football off the line of scrimmage. Williams says he feels as good as he has in some time.
The final Ohio State alumnus to participate in a postseason exhibition games was Orhian Johnson, who played in the 2013 NFLPA Collegiate Bowl. Right now, Johnson seems to be on the outside looking in as most projections have him getting called only after Mr. Irrelevant has been named.
His participation in the NFLPA Collegiate Bowl comes because of his measurables. As receivers continue to grow in size, NFL executives look for taller defensive backs who can match up against guys like Larry Fitzgerald and Calvin Johnson. Orhian Johnson, listed by Ohio State at 6'3 and 210lbs, fits that bill.
However, Johnson struggled with speed in the secondary and his awareness in pass protection may leave executives in the NFL looking elsewhere.
The other four outgoing seniors with meaningful chances at playing in the NFL have little to report now. Jake Stoneburner's job will be to either demonstrate a little more speed at the tight end position, or show more proficiency as a blocker. Tight ends are a premium in the NFL, but Stoneburner will need to demonstrate more between now and April.
Etienne Sabino could be drafted as well, though would be a late-third day pick, likely in the 7th round. He was not invited to any postseason exhibition game and will need to demonstrate more potential at the NFL Combine or in workouts.
Zach Boren finished the season at linebacker for Ohio State but gets considered a fullback by the NFL, in all likelihood. There are too many other linebackers available for Boren to parlay the final six games of his career into a career on defense.
The problem for Boren, though, is that fullback is almost an obsolete position in an NFL increasingly dominated by one back or no back sets. Some team will sign Boren, and probably love him, but likely without drafting him. He could also make a name for himself as a special teams lionheart.
Finally, Ben Buchanan is at least eligible to be drafted or signed in camp by an NFL team, but specialists like kickers, punters, and long snappers in the NFL are issues of large supply and small demand. Every year, specialists from all levels of college football try to find one of 32 roster spots in the NFL, since most teams don't carry more than one specialist. As such, Buchanan, who has his positives and negatives, may find it difficult to get an audience.
All told, Ohio State fans may want to temper some enthusiasm for the NFL Draft again. Ohio State fans were similarly disappointed with last year's draft, which saw only four Buckeyes selected with Mike Adams being the first at 56th overall. Johnathan Hankins promises to be taken early into the first day and may even be smiling on camera, live on location, in New York City.
The rest of the draft should be relatively calm for Buckeye fans hoping to hear "Ohio State" mentioned in conjunction with the latest draft pick.