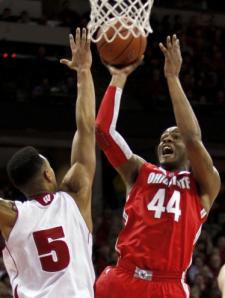 Ohio State-Michigan will forever be the premier rival for each school. But recently, Wisconsin has crept up the list for the Buckeyes. On the football field and inside arenas, the schools have played classic games during the past decade.
The last time the two schools met, Ohio State ended up on the wrong side of things, and it took place on Senior Day in Value City Arena. That result has not been absent from the minds of current Buckeyes.
"They beat us on Will (Buford)'s last game, so we kind of want to play this for him because we sent him out with a loss, and we didn't appreciate doing that," sophomore guard Shannon Scott said.
Since joining Ohio State, Thad Matta's teams have won five regular-season Big Ten championships and three tournament titles. But another constant has been Wisconsin's success over the Buckeyes. Bo Ryan is 10-7 against Matta and the Badgers own a 12-8 record in the past 20 meetings with Ohio State.
Despite playing at home, Ohio State is susceptible to another loss to the pesky Badgers. They've already proven they can win on the road, knocking off Indiana in Assembly Hall. In discussing Wisconsin, Matta and Scott each used the word "great." That is debatable, but what's fact is these two schools tend to give the other their best shot.
"Honestly, it seems like all the games that we've played have had major implications for one reason or another," Matta said.
The two most prominent examples are the No. 1 vs. No. 2 game in 2007, when Ohio State knocked off top-ranked Wisconsin in Columbus. Four years later, the Badgers returned the favor, defeating No. 1 Ohio State in Madison.
Tuesday night's game doesn't feature the best team in the country or even the Big Ten, for that matter. But the winner will send a message to Michigan, Indiana and Michigan State that the Big Three has company.
"Honestly, after (tonight's) game, it's going to be like, 'OK, Nebraska,'" said Matta, referencing Saturday's opponent. "It's another Big Ten challenge."
| # | Name | YR | HT/WT | PTS | REB | ASST | P | # | Name | YR | HT/WT | PTS | REB | ASST |
| --- | --- | --- | --- | --- | --- | --- | --- | --- | --- | --- | --- | --- | --- | --- |
| 4 | A. Craft | JR | 6-2/190 | 8.8 | 3.3 | 4.7 | G | 1 | B. Brust | JR | 6-1/195 | 10.4 | 5.6 | 2.9 |
| 32 | L. Smith Jr. | JR | 6-4/205 | 10.2 | 5.8 | 1.8 | G | 12 | T. Jackson | SO | 6-2/213 | 5.8 | 2.0 | 2.3 |
| 12 | S. Thompson | SO | 6-7/190 | 7.5 | 3.5 | 1.1 | F | 31 | M. Brusewitz | SR | 6-6/223 | 7.1 | 5.1 | 1.6 |
| 1 | D. Thomas | JR | 6-7/225 | 20.0 | 6.5 | 1.4 | F | 5 | R. Evans | SR | 6-6/208 | 10.9 | 7.8 | 1.7 |
| 23 | A. Williams | SO | 6-11/250 | 4.2 | 3.8 | 0.2 | C | 40 | J. Berggren | SR | 6-10/235 | 12.0 | 6.4 | 0.9 |
Opponent
The entire conference is learning that every night presents a challenge. Wisconsin is currently in its toughest stretch of the season, facing a ranked opponent for the third consecutive game. Coming off a high, the Badgers are prone to a letdown. On Saturday Traevon Jackson, the son of Buckeye legend Jim Jackson, made a game-winning shot against Minnesota just before the buzzer. But if there's a team built to avoid a trap, it is the Badgers.
Ryan has the same methodical system, and it's been at its finest this season. Low-scoring games have long been Wisconsin's M.O. One look at leading scorer Jared Berggren's stats reveal the same philosophy – he's averaging 12 points per game.
"The pace is probably a little bit different than what we've gone against thus far," Matta said. "But I think our guys understand that you can look at the scores the last couple of games and say, 'hey, it's probably going to be a low-possession type of game, but they will run and score and transition.'"
There's been some discussion about the absence of sophomore forward Frank Kaminsky, who suffered an eye injury two weeks ago, and how it's affected Berggren's output. Without Kaminsky in the lineup, Berggren's production has dipped considerably.
"I think he's a little tight right now," Ryan said. "He needs to get a game here or a flourish of hitting some free throws, getting to the glass, getting a putback or two, hitting a three, because he's a good pick-and-pop guy for a big man."
The improvements could begin against the Buckeyes. Berggren has long been a thorn in their side and there's a possibility Kaminsky could return. Regardless, Berggren said he realizes he has to let the frustration subside and take advantage of his scoring opportunities.
Despite Ohio State's ability to score points in recent seasons, Wisconsin's style and gritty defense has often knocked the Buckeyes off their game. Berggren, Ryan Evans and Mike Brusewitz, a group of players that seem to have been in college for 10 years, have contributed to the slowing down of Ohio State.
Whether Wisconsin can continue to win games in its traditional slugfest ways remains to be seen. The Badgers are shooting 40 percent from the field and a shade over 50 percent from the free throw line. Strong defense or not, those numbers eventually catch up with you.
"That's definitely one way of looking at it, or you can look at it the other way," Berggren said this week. "We're winning games when we're shooting the ball pretty horribly. When we get those things clicking, we can be a dangerous team."
While that statement might be true, like Ohio State, the season is ticking away. It's late January and drastic changes usually don't happen overnight. The Buckeyes' problem has been finding a second scorer. Wisconsin needs one scorer. In the past three games, no starter has reached double digits, an incredible statistic.
"I think what we see is when we really start sharing the basketball and moving without it, then we have a tendency to have the ball go in because we end up getting easier shots," Wisconsin assistant Greg Gard said. "We've taken some tough shots at times and maybe dribbled a little bit too much sometimes."
Luckily for Wisconsin, defense never goes out of style.
"You don't go cold on defense," Berggren said. "That's just a mindset. That's just mental toughness and determination. So those are things you can do every night no matter how the ball is bouncing. We'll work our way out of our shooting slumps."
Buckeye Breakdown
Defense will be the No. 1 priority for Wisconsin in defeating another top-tier team on the road. It will start with containing Aaron Craft, not Deshaun Thomas. The Badgers have had difficulty slowing down guards, and few can generate havoc like Craft.
The entire Ohio State frontcourt will be an area of concentration for Wisconsin. With Sam Thompson's sudden outburst at Penn State, he's just one more highlight on the scouting report.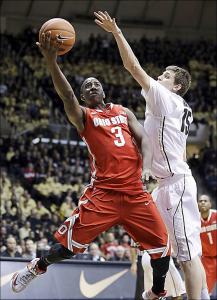 Still, if Thomas can be held down, Ryan and Wisconsin like their chances. What makes it hard to contain him is he can shoot from anywhere and it doesn't matter if someone is in his face. Since the conference season began, Thomas has been responsible for 32 percent of the Buckeyes' scoring output.
"A lot of people think he's a great player, so I'm looking forward to getting out there and seeing what I can do against him," Evans said.
The group that could help take pressure off Thomas is Ohio State's talented sophomore class. Thompson, Scott, LaQuinton Ross, Amir Williams and Trey McDonald came to Columbus looking to make an immediate impact. None of them had that effect on last year's Final Four team.
All four of them have shown potential this season, with Scott being the most steady. But he also provided the season's most shocking moment, when he hoisted up and an ill-advised three-pointer in the closing seconds at Michigan State.
"I'm not dwelling on it," Scott said Monday. "I just want to find a way to move on from it and make better decisions next time. I think it's going to help my game a lot."
That's the mindset of a veteran. Ross and McDonald, the least experienced of the sophomores, are anything but veterans. In Ross' case, it's something fans wish wasn't true. They still clamor for the sharpshooting Ross, but an academic setback during his freshman season has cut into his development. In Year 2, he still frequently gets lost on offense and defense.
Thompson, Scott and Williams, regulars in the rotation, say that learning curve ends with experience. It's something that will eventually come for Ross and McDonald, but in the meantime, Thompson believes progress is happening daily.
"I think we're definitely getting better every day," he said. "That's all you can ask for. It hasn't always been as smooth as we'd like it be, but I think we're all coming into our own."
This season coming to practice means putting in work. On a veteran-laden team a season ago, that wasn't always the case. Not that players were habitually slacking off, but they knew their services would rarely be needed. That has changed dramatically.
"I feel like a more important part of the team," Scott said. "I know I have to come in and make plays at all times. I can't just be another member on the floor. I've got to make stuff happen. I feel like I have more of a role, and I really like it."
So does Matta who, once again, is developing talent.
Etc
Ohio State owns an 83-66 record all-time versus Wisconsin. 
The Badgers have won three of their past five games against ranked opponents.

Deshaun Thomas is one of three players in the country averaging 20 points and six rebounds. The others are Creighton's Doug McDermott and VMI's Stan Okoye. 

The last Buckeyes to average 20 and six were Evan Turner and Michael Redd.

Mike Tirico, Dan Dakich and Samantha Ponder have the call.