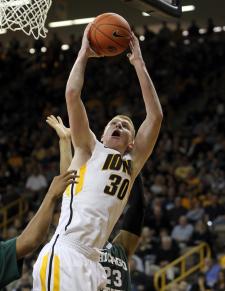 When Thad Matta drove up I-71 nine years ago, from Cincinnati to Columbus, the program he inherited may have had a big name, but it was at "Ground Zero."
Jim O'Brien had just been fired after a season that started with high expectations fizzled. The Buckeyes finished a dismal 14-16. When O'Brien alerted then-athletic director Andy Geiger that he had paid a recruit $6,000, a change was needed.
The NCAA unrest didn't matter to Matta. He had been a winner at both Butler and Xavier, and he was determined to do the same at Ohio State.
Matta has maybe accomplished even more than he thought possible. At least in the short time frame. Ohio State has won five Big Ten titles, three conference tournament titles and advanced to two Final Fours.
Matta received a pat on the back for his achievements by getting a 10 percent raise on Monday. His salary was bumped up $300,000 to more than $3.2 million per year, placing him among the top 10 coaches in the country. No years were added to the contract that already stretches to July 2019. Five years for every Big Ten championship he's won.
"One of the things I'm most proud of is what we've built here," Matta said. "You look at what we've been able to accomplish, I'm a lot more proud of that than I am of a contract. I feel as blessed as I can be to be at Ohio State. I love this university. I'm extremely grateful in terms of what they have allowed me to do and how they've taken care of me."
When you turn a football school into a basketball hotbed, you'll be rewarded. It occurred under the legendary Fred Taylor and now Matta is reaping the same rewards.
"Thad's done a marvelous job since he's been our coach here at our basketball program," Director of Athletics Gene Smith said. "When you look at the total package of what we asked him to do, to graduate his players and develop them holistically and win games, he's been phenomenal."
Ohio State has won 20 games for eight straight seasons, a benchmark Matta has actually reached every season he's been a head coach. His win-loss record at Ohio State shows a lopsided 234-69 mark. A less visible but equally impressive statistic reveals high graduation rates under Matta.
During his tenure, 17 of 22 players who used up their eligibility earned a degree. Four of the five who did not instead accepted professional basketball contracts. The basketball team's APR has risen from 911 to 972 under Matta.
Included in his new contract are an academic bonus and more stringent compliance regulations. The latter is a result of Ohio State's shortcomings with the football program. 
"All the things that are in there are things I live by," Matta said. "That's how I want to operate. I like having those in there."
And Matta's players like knowing he's been compensated for the program built from rubble nine years ago.
"I know when I came in he kept my head up and he told me what's right from what's wrong," junior forward Deshaun Thomas said. "He told me to be patient. It's a great opportunity for him and he earned it."
| # | Name             | YR | HT/WT     | PTS | REB | ASST | P | # | Name | YR | HT/WT | PTS | REB | ASST |
| --- | --- | --- | --- | --- | --- | --- | --- | --- | --- | --- | --- | --- | --- | --- |
| 4 | A. Craft | JR | 6-2/190 | 8.7 | 3.2 | 4.7 | G | 10 | M. Gesell | FR | 6-1/185 | 8.9 | 3.0 | 3.1 |
| 32 | L. Smith Jr. | JR | 6-4/205 | 10.1 | 5.6 | 1.8 | G | 5 | A. Clemmons | FR | 6-1/192 | 4.8 | 1.8 | 4.1 |
| 12 | S. Thompson | SO | 6-7/190 | 7.0 | 3.5 | 1.1 | F | 4 | R. Devyn Marble | JR | 6-6/194 | 14.9 | 4.3 | 2.8 |
| 1 | D. Thomas | JR | 6-7/225 | 20.8 | 6.6 | 1.5 | F | 30 | A. White | SO | 6-8/218 | 13.5 | 6.2 | 1.5 |
| 23 | A. Williams | SO | 6-11/250 | 4.4 | 4.0 | 0.2 | C | 34 | A. Woodbury | FR | 7-1/235 | 5.8 | 5.4 | 0.4 |
Opponent
It's been seven years since Iowa last appeared in the NCAA Tournament, a remarkable streak of futility when you consider the Hawkeyes' proud basketball history. In Year 3 of the Fran McCaffery era, it looks like the hex could be broken.
Iowa is currently 13-5 overall and 2-3 in the Big Ten. More importantly, the team is improving. Losses to Indiana and Michigan State came by a combined seven points. Iowa held the two powerhouses to 69 and 62 points, respectively. And that's exactly how McCaffery has Iowa back in the March Madness conversation: defense.
The Hawkeyes are carrying a two-game winning streak into Tuesday's game in Columbus, including knocking off Wisconsin, who was the lone remaining unbeaten team in the conference standings.
When Matta took over at Ohio State, he knew the Buckeyes would have to shore up their defense if they wanted to be competitive in the Big Ten. McCaffery took the same angle.
Iowa limited Northwestern to 29.4 percent shooting from the field in a recent win and held Wisconsin to 34.8 percent from beyond the arc in a 70-66 win Saturday. Only one team – Michigan – has shot better than 50 percent against Iowa this season. The Hawkeyes have steadily improved their defense in each season under McCaffery.
So that means Ohio State should be easy to corral, considering its shooting woes. Well, not exactly. Life away from Carver-Hawkeye Arena is much different.
"It's important that we play defense like we did at Northwestern," said Iowa forward Aaron White, a native of Strongsville, Ohio. "We really took them out of their stuff. Defense on the road is totally different than defense at home."
Not only that, but Ohio State presents a terrific challenge because Iowa is such a young team. Three starters are freshmen and one is a sophomore. Michigan also relies heavily on underclassmen and the Wolverines are considered to be on the best teams in the country. Still, they struggled mightily in the opening minutes against Ohio State with a raucous crowd making matters worse.
"Obviously Ohio State is a tremendously talented and ranked team," McCaffery said. "They have cleaned our clocks the last two times we've played them."
Past history isn't necessarily a factor. If one player can overcome the elements, it might be White. Born and raised a few hours up the road, this will be White's first experience playing in his home state.
"I'm really excited to go back home," White said. "I'll have a lot of family there. I've got a lot of friends who go to Ohio State. It should be a big crowd for me, personally. And this is another top team in our conference."
He may have been lightly recruited coming out of high school, but he's proven he can play at a high level since arriving in Iowa City. Last season, White was named to the Big Ten All-Freshman team after averaging 11.1 points and 5.7 rebounds per game. He worked his way into the starting lineup this season and leads the Hawkeyes in rebounding (6.2 per game) and is the team's second-leading scorer (13.5 points).
"We certainly saw his potential," McCaffery said. "We thought he could make this kind of impact. I think there's a lot more in there, and I think that's the challenge for him."
In Iowa's win over Wisconsin, White played perhaps his finest game yet, finishing with 17 points, seven rebounds and two steals. Thirteen of his 17 points came from the free throw line, where he converted 13 of 15 attempts.
"He's obviously playing at a very high level," Matta said. "He's what I consider a complete player. He does a lot of things, from getting to the foul line to playing inside and outside. He rebounds the ball well. Just a solid basketball player."
He's not the only one on the roster, though. Roy Devyn Marble is Iowa's leading scorer at 15 points per game. The problem that could arise against the Buckeyes, however, is the play of point guard Mike Gesell. He's only a freshman and he's struggled already this season.
Now he must go head-to-head with Aaron Craft.
Buckeye Breakdown
It's not often that a team ranked the entire season is still searching for its identity as the halfway point passes by. But that's exactly the position Ohio State finds itself in on Jan. 22. Some people live paycheck-to-paycheck. Well, the Buckeyes are living game-by-game.
The obvious hope is Thomas and one other player consistently make shots, a recipe elite teams live by – multiple scorers. Ohio State hasn't had that luxury this season. It's been Thomas and sometimes someone else.
"Other teams have that second- or third-leading scorer," he said. "With the offense we've got, anybody can score. Everybody thinks it's a play running for me, but it's not. In our offense, it's for everybody to get a shot off."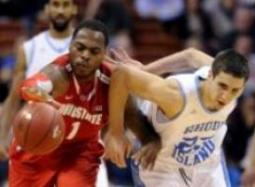 Craft, Lenzelle Smith Jr., LaQuinton Ross and the rest of the Buckeyes haven't had much trouble getting the ball up. It's more about getting it in, as in the basket. Thomas is averaging a Big Ten-best 20.8 points per game this season. But it actually gets better in conference games, rising to 23.2 points.
Part of the Buckeyes' problem is in fact Thomas' ability to score from nearly any spot on the court. It's attracted defensive attention because they know Ohio State's deficiencies, and the Buckeyes have become somewhat reliant on Thomas.
"With the offenses that we run, there's definitely multiple options and multiple places for different guys to score," Craft said. "At times we don't look at those options. We sort of focus on one part of the play, and that's part of the problem."
The general lack of a perimeter threat and no offensive presence in the post also limits the respect Ohio State gets from opposing teams. The Buckeyes are more athletic than most opponents, allowing them to get around other shortcomings. But they have just one marquee win and four losses against ranked opponents.
"We have a lot of guys who are capable and who have shown that they're capable throughout this year," Craft said. "It's just finding more consistency and not having someone score a lot and then not score much the next night."
But not all of Ohio State's problems point to a lack of scoring. Uncharacteristic turnovers for a team that doesn't make many have led to another level of head scratching.
At Michigan State, the Buckeyes had to play from behind in both halves due to turnovers. Michigan State jumped out to a 10-0 and 13-2 lead at the beginning thanks in part to five Ohio State turnovers. The same problem felled Ohio State in a blowout loss at Illinois.
"We've got to find a way to start games in a better fashion and just take care of the ball," Craft said. "Possessions at the beginning of the game are just as important as the possessions at the end."
For a team that is offensively challenged to begin with, squandering scoring opportunities is not an ideal situation. With miscues rising the past four games, the Buckeyes have barely averaged 60 points per game. And the glaring report indicates Craft, Smith and Shannon Scott are committing most of the turnovers despite being sure ball-handlers.
"We've got to be tighter with the basketball in terms of delivering it," Matta said. "We had a guy make the same pass he made three games ago. We showed him and said, 'You can't throw this pass,' and he did it again and it got stolen."
Said Craft: "Give defenses credit, but at the same time, it's on us to not go into situations where we can turn it over."
Etc
Ohio State has won seven straight games over Iowa and six consecutive at Value City Arena, all during Thad Matta's tenure. 
Iowa leads the all-time series, 73-70.
Deshaun Thomas has scored 20 or more points in five straight Big Ten games. The last Buckeye to accomplish that feat was Jim Jackson, in 1992.
Dennis Hopson was the last Ohio State player to have a streak of six-plus conference games with at least 20 points. In 1987, Hopson scored 20 or more points in 20 consecutive games, including 17 conference games. Hopson averaged 29 points per game that season, second-most in the country. He is Ohio State's all-time leading scorer with 2,096 points.
Michael Redd scored 20 or more points in nine consecutive games during the 1997-98 season.
Ohio State is second in the conference in scoring defense (57.9 ppg), field goal percentage defense (.382) and turnvoer margin (+3.4). The Buckeyes are third in scoring margin (+15.6).

Gus Johnson and Jim Jackson have the call.