The B1G title race continued to take shape this week with several key matchups.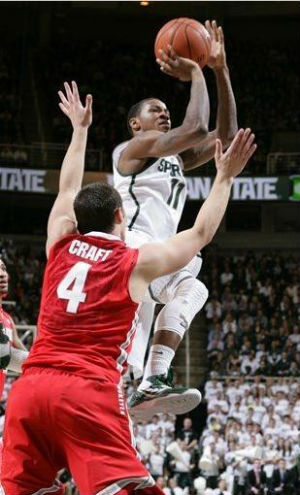 The conference continues to flex its muscles and show its depth. The Big Ten, boasting six teams in the Top 25 when the week started, leads the nation in RPI and Sagarin ratings.
The last two unbeaten teams in league play met on Wednesday in Bloomington. Michigan traveled to Minnesota on Thursday. Finally, your Buckeyes visited the Izzone in East Lansing on Saturday. Although it wasn't a make-or-break week in the conference by any means, these three important games helped give shape to the 2012-13 season.
As much as I was looking forward to Ohio State's continued march to the top, it just came up a bit short. After five league games, we have a better sense of this year's good, but very flawed, Ohio State team.
But there's still a lot of basketball to be played and anything can happen.
If there's one thing that's certain this season, it's that you can't afford an off night in this conference, whether you're at home or on the road. The conference winner may have at least three losses this year.
Here are this week's rankings:
1. MICHIGAN (17-1, 4-1)
With a road win at No. 9 Minnesota, coupled with Indiana's loss this week, the No. 5 Wolverines climb back to the top of this week's rankings.
Tim Hardaway Jr. scored 21 points on 7/8 shooting (4/5 from deep), leading TTUN to the 83-75 win at Williams Arena Thursday.
Trey Burke scored 18 to go with nine assists and Nik Stauskas chipped in 11 for Michigan, which shot 55% overall and 50% (10/20) on treys.
The Wolverines host Purdue Thursday and visit Illinois on Sunday.
T-2. INDIANA (16-2, 4-1)
Indiana must not have liked the top spot in our rankings last week. Their second-half performance in the 64-59 loss to Wisconsin was destined to fail. The Hoosiers put far too little emphasis on getting the ball to Cody Zeller after the break. Zeller led Indiana with 23 points and 10 rips, but scored only five points after halftime.
Christian Watford (11) and Victor Oladipo (10) also reached double figures for a Hoosier squad that controlled the glass, 35-26, but shot only 37% (25% outside the arc). Indiana's bench provided only two points.
Indiana responded with a road win in Evanston Sunday, but not in a completely convincing fashion, 67-59. Zeller notched another double-double with 21 points and 13 rips. Jordan Hulls kicked in 15 points. A decisive 33-18 rebounding edge helped secure the win.
The Hoosiers host Penn State Wednesday and Michigan State Sunday.
T-2. MICHIGAN STATE (16-3, 5-1)
After being involved in morning fisticuffs with Branden Dawson at the team hotel on Wednesday, Adreian Payne posted 20 points and seven rebounds to lead Michigan State past Penn State, 81-72.
As with other recent games against seemingly inferior opponents, Sparty let the Nitts hang around—it was a 5-point game with less than a minute and a half to play. But if he's going to play like that, Tom Izzo should just let Payne punch his teammates before every game.
Five Spartans scored in double figures. Joining Payne were Gary Harris (14), Derrick Nix (12), Keith Appling (12) and Travis Trice (11). Michigan State shot 47% but allowed Penn State to shoot 48%.
It was Izzo's 200th victory in B1G conference play.
Michigan State's 59-56 home win Saturday night over Ohio State prop it up in this week's rankings. The Spartans aren't blowing anyone out, but they are grinding out results in close games, especially at home.
Appling scored six of the game's last nine points, and 15 overall to lift Sparty. Payne added 14. A 29-22 rebounding advantage (7-5 on the offensive end) helped the cause.
Turns out the Payne-Dawsen hotel brouhaha may have galvanized the Spartans.
This is a big week for Sparty. Michigan State visits Wisconsin tomorrow night and Indiana on Sunday.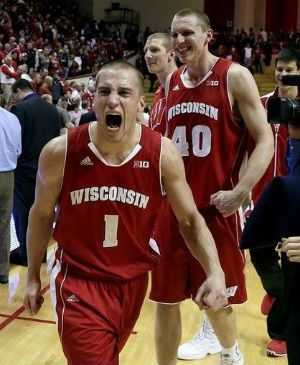 4. WISCONSIN (13-5, 4-1)
Ryan Evans led Wisconsin's win in Bloomington with 13 points and eight rips. But it was ginger star Mike Bruesewitz and Traevon Jackson who made the biggest plays in the decisive second half. Jackson scored 11, getting to the line often, and Gingerwitz added 10, including some dagger threes.
The Badgers shot 45% in Assembly Hall, winning there for the fifth straight time and beating Indiana for the 11th consecutive time overall.
Rather than building on its big win, Wisconsin responded by losing its first conference game of the season, falling at Iowa, 70-66. No Badger starter scored more than eight points.
George Marshall scored 20 off the bench and Sam Dekker chipped in 13.
The Badgers host Sparty tomorrow night and Minnesota on Saturday.
5. MINNESOTA (15-3, 3-2)
The Golden Gophers tumble a bit this week after suffering their second straight loss in their only game this week.
Statistically, Minnesota didn't have a bad game. The Gophers shot 48%, hit half their threes (8/16) and outrebounded Michigan, 30-19. They ultimately dug too deep a second-half hole, mainly due to 15 turnovers in the game.
Austin Hollins scored 21 points and Trevor Mbakwe notched another double-double with 13 points and 10 rips.
Minnesota's schedule doesn't get much easier, with road games at Northwestern (Wednesday) and Wisconsin (Saturday) this week.
6. OHIO STATE (13-4, 3-2)
The No. 11 Buckeyes slide back to No. 6 in our B1G rankings after Saturday's setback in East Lansing. Turnovers were more plentiful than points in the opening five minutes, as Ohio State fell behind by double digits early.
Although they roared back with a run to take the lead, the Buckeyes never got any production outside of Deshaun Thomas (28 points on a career-high six triples, and seven rebounds). Lenzelle Smith's six points was the next highest total, but it took him seven shots to get there.
Carelessness with the ball was a problem. Smith, Aaron Craft and Shannon Scott combined for 10 turnovers. Amir Williams and Evan Ravenel combined for four points and Williams didn't even have a field goal attempt.
With time for a tying three-pointer, the less said about Scott's throw-it-up-and-assume-you'll-be-fouled play at the end, the better.
The Buckeyes have a chance to get well this week, hosting Iowa Tuesday and visiting Penn State Saturday.
7. PURDUE (10-8, 3-2)
Terone Johnson's 18-point, six-assist performance led visiting Purdue to a 65-56 win at Nebraska Wednesday. A.J. Hammons added 14 points and eight rips.
The 41-34 rebounding advantage and eight blocked shots were crucial for Purdue, which forced only two Husker turnovers.
Purdue boilered up in a rare midseason non-conference game Saturday, blasting West Virginia, 79-52. D.J. Byrd led four players to reach double figures, with 17 points (4/6 from the arc). The Boilers held the Mountaineers to just 29% shooting (17/58) and forced 17 turnovers. Rapheal Davis added 16 points for Purdue.
The Boilers host Iowa on Sunday after Thursday's visit to Ann Arbor.
8. IOWA (13-5, 2-3)
The Hawkeyes made the most of their lone game of the week, upsetting the Badgers. Aaron White's 17 points and seven rebounds paced Iowa, which had four starters reach double figures. Roy Devyn Marble scored 13 points with five rips.
There were two main deciding factors. Iowa turned the ball over just six times, and the Hawkeyes got to the free throw line 29 times, compared to 12 for Wisconsin. The Hawkeyes outscored the Badgers, 24-8, from the stripe.
After Iowa visits Columbus Tuesday, it travels to Purdue Sunday.
9. NORTHWESTERN (11-8, 2-4)
The Wildcats won for the second time in three games Thursday, beating in-state rival Illinois, 68-54, on the road. Northwestern came out blasting from three-point range and it worked. Reggie Hearn scored 10 quick points to put the Illini on their heels.
Hearn finished with 20 and four Wildcats reached double figures. Northwestern hit 8/15 (53%) beyond the circle and 47% overall and won by 14 despite attempting 13 fewer field goals. Outscoring Illinois, 24-9, from three was the difference.
The Wildcats hung in there against Indiana Sunday but got killed on the glass. They committed only six turnovers, but only got six back in return. Northwestern had trouble with Zeller, as evidenced by a 31-18 disparity in free throws.
Hearn led the Cats with 22 points. Swopshire helped with 13 points and eight boards.
Northwestern will try to hand Minnesota its third straight loss Wednesday. The Cats visit Nebraska Saturday.
10. ILLINOIS (14-5, 1-4)
The No. 23 Illini have lost three straight since beating Ohio State and five of their last seven overall. Illinois turned the ball over 18 times against Northwestern and shot just 39%, including a dreadful 15% (3/20) outside the arc.
John Groce has thrice been denied his 100th career coaching victory. The Illini look like a completely different team than the one the Buckeyes saw.
Brandon Paul scored 21 points on 17 shots in Thursday's loss and turned the ball over five times without a single assist. Tracy Abrams added 10 points on nine shots, with four turnovers. The Illini aren't playing very good defense right now and will likely fall out of the Top 25.
Illinois visits Nebraska tomorrow night and welcomes TTUN on Sunday.
11. NEBRASKA (10-9, 1-5)
The Cornhuskers grabbed eight steals and committed only two turnovers, but were deficient rebounding and cold in their shooting (33%) in the home loss to Purdue. Shavon Shields scored 18 points with eight boards, but got little help.
Shields poured in 29 points with six rips and three steals to lead the Huskers to its first B1G win this season, a 68-64 victory at Penn State. Ray Gallegos added 15 points and Brandon Ubel added 12.
Nebrasketball welcomes Illinois tomorrow and Northwestern on Saturday.
12. PENN STATE (8-10, 0-6)
Jermaine Marshall (29) and D.J. Newbill (27) combined for 56 of Penn State's 72 points against Michigan State. The rest of the team added only 16 in the nine-point loss. Marshall also grabbed 10 rebounds for a double-double.
Penn State lost what may be its best opportunity for a conference win on Saturday, falling at home to Nebrasketball. Marshall scored a team-high 18 on 16 shots, with Newbill adding 11 points on 11 shots and grabbing seven rebounds.
Poor shooting was the main problem. The Nitts shot 38.6% from the field and 25% (5/20) from the arc. The Lions also hit only 16/24 (62.5%) from the stripe—deadly in a four-point game.
The Nittany Lions visit Bloomington Wednesday and host the Buckeyes Saturday.
NEW FRIENDS
Maryland (14-4, 2-3)
The Terps bounced back after losses to Florida State and Miami last week. Alex Len's put-back of Pe'Shon Howard's miss at the buzzer lifted Maryland to a 51-50 win over No. 14 N.C. State on Wednesday. Bonus points to Maryland for having a score equal to the title of a Van Halen album.
Maryland couldn't complete a sweep of the state, however. The Terrapins fell behind the Tarheels by 22 in the first half in a 62-52 loss at North Carolina. Dez Wells' 21 points accounted for almost half of Maryland's offense.
The Terps would land about seventh in this week's rankings if they were already in the B1G.
Rutgers (12-5, 3-3)
The Scarlet Knights survived a scare on their home floor Thursday night from South Florida—winless in Big East play—when Martino Brock's three-pointer rimmed out in the final seconds. Rutgers held on to win, 70-67.
A second-half Rutgers rally came up just short in South Bend on Saturday. The Scarlet Knights trimmed a double-digit deficit to one point with eight seconds left, but fell to Notre Dame, 69-66. Eli Carter scored 20 in the loss.
Rutgers would fall in the Iowa/Purdue range of this week's rankings.