Urban Meyer and his staff have done an excellent job on the recruiting trail since taking office in late November 2011, but one area where they have had some struggles is along the offensive line.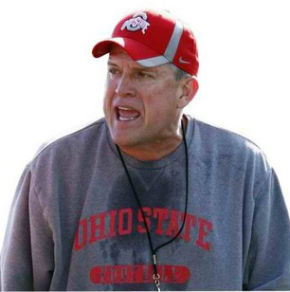 Flipping Kyle Dodson and Taylor Decker were big moves, but missing out on Jordan Diamond (shady business aside), and an overall lack of talent/depth in the unit made the group a priority in the class of 2013.
With just a couple weeks until National Signing Day the staff has already secured the services of Timothy Gardner and Evan Lisle in the class, and is still in the mix for Cameron Hunt and Dan Skipper.
That looks like it could potentially be a solid group to finish with, but the staff did miss out on many of their top targets in the class including Ethan Pocic, Hunter Bivin, Colin McGovern, Chris Fox, David Dawson, Dennis Finley, Khaliel Rodgers, Kyle Bosch, Dorian Johnson, John Montelus, Logan Tuley-Tillman, Kenny Lacy, JP Vonashek, and others.
While it's not time to worry just yet about the offensive line recruiting, it is important for the staff to make a splash in the area for 2014. With Jack Mewhort, Andrew Norwell, Corey Linsley, and Marcus Hall all set to depart after next season, the Buckeyes will have to reload the talent behind rising stars in Dodson, Decker, Chase Farris, Jacoby Boren, Joey O'Connor, and Pat Elflein, in addition to the 2013 signees.
In this edition of "Forecasting 2014", we take a look at some of the players on Ohio State's early offensive line board in the current junior class and run down the likelihood of each ending up in scarlet and gray at the current moment.
Tier 1
Sitting at the top of the offensive line pyramid are Olathe (KS) South's Braden Smith, Florissant (MO) Hazelwood Central's Roderick Johnson, West Palm Beach (FL) Palm Beach Central's Kc McDermott, Tarpon Springs (FL) East Lake's Mason Cole, Suwanee (GA) Peachtree Ridge's Orlando Brown Jr., District Heights (MD) Bishop McNamara's Damian Prince, Chicago (IL) De La Salle's Jamarco Jones, Saint Louis (MO) DeSmet's Andy Bauer, and Latta's (SC) Donell Stanley.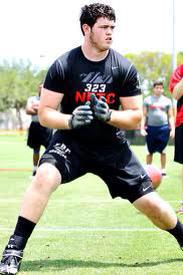 At 6-6/282, Smith is rated as the top ranked offensive guard and 11th-best player in the nation by the 247 Composite. He is extremely athletic for his size and would be a great fit in Urban Meyer's spread scheme. He has not been to Columbus yet, but mentions interest in the Buckeyes and will try to get to campus this summer.
Rod Johnson is a name that has picked up traction lately and it is well deserved as the 6-7/310 prospect is an impressive looking tackle. He has been talking a lot with OSU commit Ezekiel Elliott in the past few months and it appears that he is high on the Buckeyes right now. He was in attendance for The Game this fall, but the next step would be getting him on campus for a junior day, and we will see how things go from there.
McDermott's brother Shane plays for Miami (FL), so the Hurricanes are high on his list, but he is certainly looking around. Ohio State is one of the schools that has caught his eye early on and he made a trip to Columbus in late July, right before Friday Night Lights. Both of McDermott's parents played at Ohio University, so there are some family ties to the area that could help out the staff here.
Cole is another Floridian with interest in the Buckeyes and visited with teammate Artavis Scott back in July for Friday Night Lights. Cole enjoyed his time in Columbus, but it appears the Buckeyes have work to do if they want to secure his verbal commitment.
Brown Jr. is a name most Ohio State fans are familiar with, as he has shown early interest in the Bucks and is the son of former Brown, the late Orlando "Zeus" Brown Sr. "Zeus Jr." is an imposing figure at 6-8/340, but don't think that limits him as he is explosive coming off the line. Brown made a trip to Columbus with his mother in July and was visited by OSU coaches in mid-December. The Buckeyes are in his top eight and have a great shot to land his services.
Prince is rated as a five-star prospect and the nation's third-ranked offensive tackle by the 247 Composite. He has always said he is interested in playing for Urban Meyer, but his actions have not backed that up, "scheduling" multiple visits to Columbus yet never actually making it to town. The coaches will look to get him on campus this summer and roll out the red carpet treatment.
Unlike Prince, Jones is very familiar with OSU's campus, having visited three times already, with a fourth trip on the books for February. Jones is an elite talent, ranked as the nation's fourth-best tackle in the 247 Composite, and it is safe to say the Buckeyes trail nobody in his recruitment.
Bauer was someone we heard was high on Ohio State early after his March 2012 visit, but that speculation ended when he committed to home state Missouri just a few weeks later in April. It appears the four-star prospect may have jumped the gun a bit, as he decommitted from the Tigers in November and appears to have Alabama and LSU at the top of his list. I don't see the Buckeyes getting seriously back into this one at the moment, and it appears Bauer's heart is set on playing for one of the SEC powers.
Finally, Stanley is rated as the sixth-best tackle, but at 6/4-325 I see him playing on the interior at the college level. Coming from South Carolina, it is no surprise that the Gamecocks will be tough to beat here, but even after them it appears OSU would have to leapfrog Alabama, Clemson, and North Carolina. Getting him on campus is a good first step, and having fellow South Carolinian Michael Hill chatting him up may not be a bad idea either.
Tier 2
Tier 1 didn't include any in-state prospects, but Tier 2 certainly carries a group of talented Ohioans.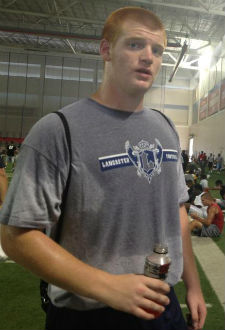 Starting the list off would be Cleveland (OH) Glenville's Marcelys Jones, who became Ohio State's first 2014 commit on Christmas morning. At 6-5/325 I like Jones at guard when he gets to Columbus, but regardless of position, he has already been a big asset to Urban Meyer on the recruiting trail, where he has been in touch with some of the country's top players.
Right after Jones is a quartet of prospects in Cleveland (OH) St. Ignatius's Jimmy Byrne, Lancaster's (OH) Kyle Trout, Westerville (OH) Central's Nick Richardson, and Massillon (OH) Washington's Nathaniel Devers.
It seemed early on that Byrne would end up in Columbus, but a trip to South Bend to see the Irish play Michigan mesmerized him and he committed to Brian Kelly in December. Byrne did hold an early offer from the Buckeyes, but word from the WHAC was that the staff was not too impressed with his play this season and losing him to Notre Dame wasn't viewed as the worst thing, especially considering the other talent out there.
Trout is probably my favorite offensive line prospect in Ohio. He is a solid player at the current moment (ranked as the #12 OT by 247), but I think he has the potential to get much better once he enters a college program. Lancaster has been good to Ohio State with Rex Kern, Bobby Carpenter, Jim Cordle, and most recently, Luke Roberts, so coaches like Luke Fickell are certainly familiar with the territory. One other thing to note is that Lancaster coach Rob Carpenter thinks the 6-6/280 Trout is better than Cordle at the same stage and will be better than him in college, a nice compliment considering Cordle is in the NFL with the New York Giants.
Richardson is probably more college ready than Trout right now, and has the potential to play either guard or tackle at the next level at 6-5/285. I understand that Meyer is going to try to bring in the best national talent there is, but offering local products like Richardson and Trout, who I think would both jump on scholarships from OSU, wouldn't be a bad move to bolster the offensive line depth.
Devers projects as a guard in college, but he plays with a nasty, mean streak that you want in an offensive lineman. I don't think he'll end up with an OSU offer, as he doesn't fit the "mold" they are looking for, but he can play. I expect him to end up somewhere in the Big Ten and I think he will be very successful in his career. 
Outside of Ohio's walls the prospects being looked at are Red Bank (NJ) Catholic's Quenton Nelson, Fredericksburg (VA) Chancellor's Steven Moss, Nashville (TN) Montgomery Bell Academy's Alex Bars, Forth Worth (TX) All Saints Episcopal School's Demetrius Knox, Chicago (IL) Hales Franciscan's Denzel Ward, Olney (MD) Good Counsel's Sam Mustipher, and Phoenix (AZ) Mountain Pointe's Natrell Curtis.
Nelson hasn't gotten "the love" from recruiting service rankings yet, but his offer list of Ohio State, Wisconsin, Miami (FL), Michigan State, Penn State, UNC, West Virginia, Rutgers, Virginia, Boston College, UConn, Northwestern, Maryland, and others speaks volumes. The Buckeyes have been in to see the 6-5/285 prospect a few times and he is expected to make the trip to Columbus following his basketball season.
Moss took the trip to Columbus for the Cal game earlier this year and even though he had a good time, I don't get the vibe he was enamored with Ohio State. I can definitely see him landing at a big school in the Mid-Atlantic region, but I don't think he is a serious contender to end up on OSU's 2014 class.
Bars, 6-6/285, is ranked as the 21st-best tackle in the country by the 247 Composite. The staff has been down to Tennessee to see him on a few occasions, but he has not been to campus yet, which would be a good place to start continuing to cultivate this relationship.
Knox committed to Texas back in late November, but this kid has "game player" written all over him. I do not think for one second his recruitment is over and he has already come out and said he wants to visit Ohio State next season. The fact that Mack Brown may be gone after next season, the Bucks have Urban Meyer, and that Knox is originally from Springfield, Ohio, are all positive things for Ohio State.
Ward was impressive at Friday Night Lights and seemed to love having Orlando Pace coach him up at the camp, but no offer came from Ohio State until December 5. At that point it may have been too late, because the 6-8/295 tackle committed to rival Michigan on October 20. This one may not be over though, as Ward has recently shown signs of wavering, including a visit to Florida a couple of weeks ago. Ohio State will continue to press on, so it's just wait and see, but at this point I do expect him to stick with Michigan for a while, if not for good.
Ohio State sits in a great place with the two-way lineman Mustipher and he has been to campus twice already. At 6-4/285, the four-star can play either guard or defensive tackle at the next level and comes from a highly competitive program in Good Counsel. There is a long way to go here, but the staff has done a great job recruiting the Maryland native thus far.
Finally, Curtis was one of the more recent offers, earning a scholarship from the Buckeyes in December. He is rated as the seventh-best guard in the country by the 247 Composite and says he wants to get up to Columbus at some point this summer to check things out. OSU has hit Arizona hard in pursuit of prospects the last couple of years, so maybe they will strike gold starting with Curtis.
Tier 3
Tier 3 consists of players who are on Ohio State's radar but would be considered a "longer shot" for an offer at the current moment.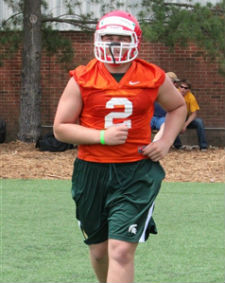 The top player on this list would be Hinsdale (IL) Central's Brian Allen. Allen, 6-2/275, can play either center or defensive tackle at the next level, and has been two Columbus twice already, for Friday Night Lights in July and for the Nebraska game in October. He is a player that could move up to the Tier 2 level eventually and currently holds offers from Michigan State, Wisconsin, Illinois, Iowa, and others. Allen reminds me of former Buckeye Brian Bobek a little bit.
Another player I am very high on and that could move up to Tier 2 is Shaker Heights' (OH) Ja'Merez Bowen. At 6-5/270, Bowen moves very well for a tackle and the staff is familiar with his talents from recruiting teammate Donovan Munger. I think he could be the biggest sleeper in Ohio and you can expect him to blow up this summer on the camp circuit.
Jeff Rotheram of North Olmstead (OH) has good size at 6-6/295, but he needs to have a great summer workout season in order to get the big-time offers that usually come with a frame such as his. Ohio State is very, very likely to not be the destination here, but I do think there is some potential for lower level BCS schools to get in the mix.
Skyler Hartley is a player the coaches have hosted last year, but he is a backup plan to a backup plan at the moment. The Hilliard (OH) Bradley product packs a nice punch on the interior of the offensive line, but I think chances are more likely that he ends up at an Indiana rather than at an Ohio State.
Jared McCray of Minford (OH) is another player who has been to OSU multiple times, and is being looked at as a center. He currently has offers from Akron and Kent State, but will get out to some camps this summer and I expect that list to grow. Once again, it's not likely Ohio State ever comes through with an offer, but the kid wants to be a Buckeye and will give every ounce of effort in trying to earn a scholarship.
Finally, Colt Pettit of Hamler (OH) Patrick Henry hails from a small school, but is a very intriguing prospect. At 6-4/240 he is undersized right now for the offensive line, but has the frame to grow into the position and his athleticism will help with the transition down the line. He has offers from Illinois, Indiana, Purdue, Akron, Toledo, Bowling Green, Kent State, and Miami (OH), but as he gets bigger and more schools see him that list will grow. I expect him to play in the Big Ten, just not for Ohio State.