Crunch time.
In every sport, it's what happens in the final moments of a game that often defines the total product. In college football, November is given privileged treatment. It's the closing month of the season and features the sport's grandest rivalries. Win in November and your season is frequently deemed a success.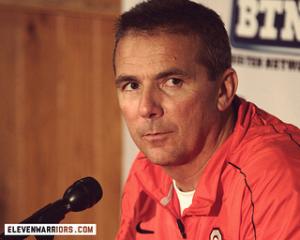 Eleven seasons is all Urban Meyer has spent in charge of college football programs. But at four stops – Bowling Green, Utah, Florida and Ohio State – there have been several constants. And all of them reflect favorably on Meyer.
No losing records, high win totals over rivals, national championships, conference titles. The list goes on and on. At the heart of Meyer's achievements is his role as a closer.
In November, Meyer is 34-7. In February, his record is nearly unmatched.
At Bowling Green and Utah, Meyer was able to evaluate talent that led to stretches of winning not seen at either school. He recruited some of the top players of the past decade to Florida, including one in particular that's among the best ever. Gainesville turned into an NFL scout haven during Meyer's six seasons in town. Top-five classes were routine with similar success developing the players.
Now that operation is humming at Ohio State. When Meyer hopped aboard the Buckeye Express in November 2011, his year sabbatical did not diminish his allure to prospective Ohio Staters. A middling class was transformed into a consensus top-five group as Meyer secured the services of Noah Spence, Taylor Decker, Kyle Dodson, Se'Von Pittman, David Parkins, Camren Williams, Armani Reeves and others in the final weeks of the 2012 recruiting calendar.
If the beginning of 2013 is any indication, the Buckeyes will once again put a Mariano Rivera-like stamp on the end of recruiting. The Under Armour and U.S. Army All-American games both served as precursors to a final push until National Signing Day. Ohio State had climbed as high as No. 2 in some recruiting analysts' class rankings.
"The next three weeks there's obviously going to be a very strong emphasis on closing this class," Meyer said. "At this time, we like our class. As with most classes, how you finish is what determines if you love the class."
The stunning reversal by Chip Kelly yesterday, leaving Oregon for the Philadelphia Eagles, could have a ripple effect felt across college football. Those tentacles could even be felt more than 2,000 miles away in Columbus. A handful of Oregon commits were offered scholarships by Ohio State in the immediate aftermath of Kelly's decision, including versatile offensive weapon Dontre Wilson.
"There's a lot of chaos right now with new staffs, new coaches trying to take your players and all that kind of stuff," Meyer said. "We've just got to keep recruiting our players and get going."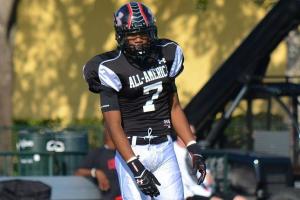 The No. 1 target for the Buckeyes right now is Georgia native Vonn Bell. The four-star safety will announce his decision at 9:00 a.m. on signing day after visits to Ohio State, Alabama and Tennessee.
Experts graded last year's class highly and several players made an impact as true freshmen on a 12-0 team. Still, Meyer and his assistants have found the road much easier this year. That's what an undefeated record and no looming NCAA sanctions will do for a program. Ohio State might have recruiting restrictions, but they've barely registered a blip on college football's radar.
"I call it the flavor of the month," Meyer said. "Ohio State really wasn't the flavor of the month a year ago. There are some really quality guys that came. Noah Spence is obviously the key name that jumped onboard last year. I don't want to say we're selecting and not recruiting, because that's not correct either. But it's just a completely different approach. We know everybody we're recruiting.
"Last year it was kind of give me the top 20 guys in positions and I was on the phone with them trying to get them. Here we know. We've been in the schools, we know who they are, we know what we're getting."
Another hectic part of the 2012 class taking form was the musical chairs among the coaching staff. Meyer was busy retaining and hiring assistants. At times, he hired multiple coaches for the same position. Within a month, Taver Johnson, Bill Sheridan and Kerry Coombs all held the title of cornerbacks coach. For recruiting purposes, a high level of turnover doesn't elicit excitement from recruits.
What high school seniors do appreciate is being wanted and being relevant. The Buckeyes have been able to offer both. Meyer and his assistants have crisscrossed the country since the season-ending victory over Michigan, resulting in five commitments.
Visits and offers have continued to dot the landscape. Along with that is the near guarantee of early playing time. Meyer has made it a point to recruit players that are capable of seeing the playing field during Year 1. Combined with that, Ohio State has several areas of need, with linebacker and wide receiver topping the list.
But if that isn't enough to make an impact on an impressionable young man, leave it to Coombs to deliver a speech with the ultimate prize in mind.
"When I lay my head on the pillow at night, I ask myself one question," said Coombs, in a YouTube video to running back commit Ezekiel Elliot. "Coach Meyer requires it. Did you beat Alabama's corners coach today? If the answer is yes, good. Get up tomorrow and continue. If the answer is no, you've got to ask yourself, 'Why not?' Because that's who we're chasing. We want to be the best in the country. We want to be 'the team.'"
It's a status Meyer's teams have been labeled with for a decade. Closing time is where they've earned it.