There are 347 Division I college basketball teams. It's possible none have played as flawless a 13-minute stretch as the Ohio State Buckeyes did on Sunday in the first half against No. 2 Michigan.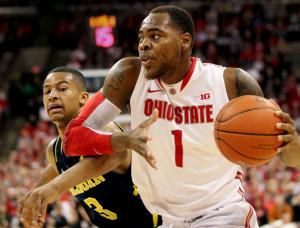 Ohio State's offense has suffered from being too one-dimensional and one-player oriented against ranked opponents this season. Prior to Sunday's game, Ohio State shot less than 34 percent in its losses to Duke, Kansas and Illinois. That percentage rose sharply to 44 percent in a 56-53 win over the previously undefeated Wolverines.
But what was once a 21-point advantage for the Buckeyes grew into a harrowing last-minute escape. Once again, the catalyst was a slow, prodding halfcourt offense.
Less than a month ago, Thad Matta asked for improved jump shooting for Christmas. Little more than two weeks later, the Buckeyes had one of their most disastrous games in recent memory at Illinois.
After opening with 29 points in little more than 13 minutes against the Maize and Blue, Ohio State scored 27 points in the final 27:52. When Michigan switched from a man-to-man defense to a zone, the Buckeyes made a return to running down the shot clock and taking jump shots. The second half included 22 points on 34.8 percent shooting.
"We got very, very excited about this opportunity and got out and probably challenged defensively a little too much," Michigan head coach John Beilein said. "I like that. I like having the guys that have the big hearts and a lot of courage and want to go out there and get after them. But I think you have to be careful when you do that with their quickness. We may have made it tougher on ourselves."
What worked for Ohio State during the first 13 minutes was an aggressive offense that concentrated on attacking Michigan at the rim. Twenty-eight of Ohio State's 56 points came in the paint.
But the second-half lull came in part because the Buckeyes did more standing around, lowering the shot clock and then settling on a low-percentage shot. In the first half, whether there were 20 seconds or five seconds left on the shot clock, Ohio State attempted field goals that were more likely to result in a made basket.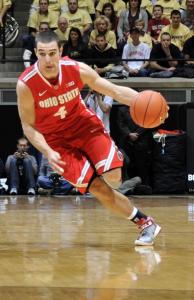 "What happened when we were doing that was we stopped executing," Matta said. "Offensively, we needed five guys ready to go, and we went through a stretch there where only two guys – the guy involved in the screen and the guy with the ball – were the only two guys that were playing.
"That's what we were trying to talk about in timeouts. 'Hey, everybody's got a job to do.' We slowed down in that regard."
So far, LaQuinton Ross hasn't been the savior many believed him to be. The Illinois game marked a low point for his shooting and he only played three minutes against Michigan. Amir Williams and Evan Ravenel haven't been near as productive as Jared Sullinger.
Get Ohio State moving in transition, though, and a well-oiled machine suddenly takes shape. Backup point guard Shannon Scott has helped spur the movement by spearheading instant offense off the bench. He engineered a 14-0 charge against Kansas, but on Sunday, it was a hustle play Scott made on defense that drew headlines.
Trey Burke raced coast-to-coast for what he thought would be an easy layup. Scott, however, chased him down from behind, swatting the ball away in LeBron James-esque fashion. At the other end, Deshaun Thomas made a three. Instead of a five-point lead, the Buckeyes were up 11.
It's no secret that Matta is of the old school, defensive-minded ilk. He is still a fan offense, though, and he likes scoring in bunches in a variety of different manners. That's what Ohio State did when it grabbed what appeared to be an insurmountable 29-8 advantage.
Not only did the Buckeyes click on all cylinders offensively, but the caliber of the defense also was superb. Burke, Tim Hardaway Jr. and Nik Stauskas were irrelevant for large portions of the game. These are the same three players that sprouted Final Four discussions in Ann Arbor.
"I always want to score 100 points," Matta said. "But the game just kind of lent itself to that. We got off to a great start and kind of died down. It was more 'Hey, let's make them work a little bit, let's make them guard us.' And it just ended up kind of the way it did."
Ironically, in its biggest win of the season, Ohio State also provided Big Ten opponents with another blueprint for victory. The level at which the Buckeyes' offense operated against a man defense compared to a zone was striking. Ohio State was able to create almost limitless production while Michigan played man-to-man and switched on screens, causing severe mismatches on Thomas.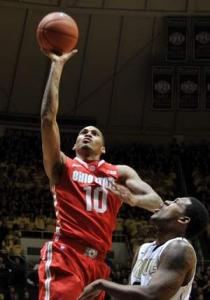 "I think we tried to hug the perimeter too much and tried to take away their perimeter shooting," Michigan point guard Trey Burke said.
Said Thomas: "It's a mismatch. If they switch everybody, it's a mismatch on me and Rav down there."
Where Ohio State can offset a zone is with Craft penetrating trying to break it. The Buckeyes are at their best when they're active on offense with ball movement and shots inside the arc. The first half showcased that, while the second half acted as a drop back to reality.
Just a friendly reminder that the Buckeyes' holes remain.
Twenty-five of the first 29 points of the game were spread between Thomas (11 points), Craft (seven) and Sam Thompson (seven). Facing a quality opponent, Ohio State hasn't been able to find that level of balance since last March.
Craft and Thompson couldn't sustain it, however, finishing with nine points apiece. Thomas reached the 20-point plateau, but if his field goals are taken out of the equation, the Buckeyes are left with 14 baskets.
"We played as a young team that doesn't really have it figured out," Craft said. "Not that we should have it figured out yet. It's still early. I think we have a good backbone to lean on."
A building-block moment came with the game deadlocked at 46 late in the second half. The Buckeyes only had eight field goals in the entire second half, but three of the came in succession, as Ohio State used a 6-0 run to separate itself from Michigan.
All six points – four from Ravenel and two from Thomas – came in the paint.
"We showed our composure and we stayed together as a team," Thomas said. "And we got some key rebounds at the end. That's what it's all about. Get those stops, get key rebounds, and it's over."
The game, yes. The Big Ten season, it's only starting. Just ask Indiana.
And Ohio State's continuity, it's still coming together, too. At the halfway point most teams know their limits and capabilities. That isn't entirely the case with Ohio State. It can be viewed as both a positive and a negative.
For Matta, it's all about the process and season-long journey to basketball salvation.