College football is utterly, magnificently unpredictable. To borrow a phrase, you might as well appeal to the thunderstorm as to try to understand the whims and foibles of the maddening anti-logic that radiates from the pigskinned ball that we use to determine which team/college/state/segment of humanity is better than the other.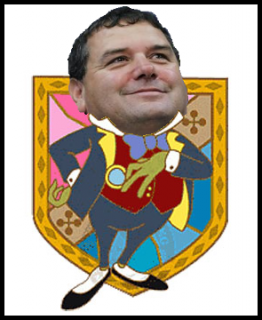 Special college football coaches break that formula, and render it useless. Jim Tressel was like a 50 cent slot machine that paid off 65 cents every single time, Nick Saban is essentially some kind of extremely efficient, tiny murderbot paid to yell at young adults, and Urban Meyer is a relentless rabid text monster that will beat you through sheer force of will and anger.
But most coaches are forced to adhere to the ups and downs of grave misfortune, and today I want to talk about the curious case of one Brady Hoke; a good coach to be sure, but not good enough, perhaps, to reach those lofty skies and satisfy the demands of the Wolverine faithful.
I'll look at eight mostly arbitrary events surrounding Michigan football, which allow me to support my wholly unbiased and scientifically-arrived-at theory that Brady Hoke is about to take the University of Michigan Wolverine football program on a wild ride.
Which might end up taking their program to new heights, or send them down into the muck and mire of the rest of the Big Ten.
INFOGRAPHIC TIME!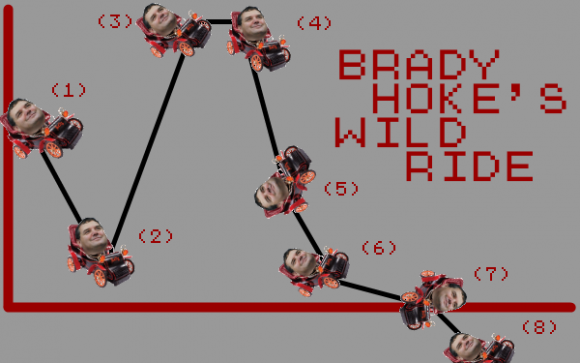 The X-axis represents time (the X-axis always represents time), and the Y-axis represents the general happiness of the Wolverine fanbase. It's in scarlet and gray because I will be a dead man before I make a graph with UM colors. And again, points have been chosen mostly on a whim and represent about the highest level of scientific appraisal that I'm capable of. Just go with it.
(1) is the Kyle Kalis decommitment from Ohio State and subsequent commitment to Michigan.
Numbers (1) and (8) are both recruiting stories, which are important because recruiting is the game that fanbases play against each other when they're bored and there's no football going on. Kalis leaving OSU and Meyer to roll on up to Ann Arbor was a huge get for a new coaching staff, and signaled that they weren't gonna take no guff. Take that, fancy pants Urban Meyer, what with your Twitters and Facebooks and aggressive recruiting tactics. This is BRADY HOKE'S TOWN, and he's not giving up the Big Ten without a fight.
And then he went and lost to Michigan State and Iowa in the course of three weeks to tank any chance they might've had to reach the B1G Championship game (2).
Look, it'd be wrong to call the 2011 Michigan football season a failure on any level. They beat the Buckeyes (3) and won a BCS bowl in thrilling fashion against a decent opponent (4). But it also set unrealistic expectations for a coaching staff that is unlikely, in my opinion, to ever get over the hump to be the consistent national championship threat that Ohio State was under Jim Tressel and hopefully will be under Urban Meyer.
This was never more evident than in the 2012 loss to Alabama (5), where the Wolverines were just completely and totally outclassed in every possible facet of the game. The difference between good and great is usually the presence of an idea, and one constant in the major losses that Michigan has had is a complete absence of an idea that unifies what the team has tried to do.
Which leads us to (6), the 2012 loss to Ohio State. This is the game that leads to (8). But more on that in a second.
The 2012 OSU/Michigan game was one of the most embarrassing offensive performances of the year for the Wolverines. Granted, it came against a good defense on a hot streak, but the problems with both game planning and play calling were glaringly evident. How can you tell a future recruit that they'll reach their full potential in Ann Arbor when their starting QB for the final five games was mired in the wide receiver depth chart for most of the season and only given the shot to play because of the frequent injuries of the starter?
Michigan made a game of it in the Outback Bowl against South Carolina, but ultimately blew it at the last second in their traditional Willy Loman fashion (7). And again, what could've been a victory for Michigan and the Big Ten in general in terms of prestige was dashed in hilarious fashion as the rest of the country began to wake up to the fact that the Wolverines are indeed "back."
But "back" for them generally means moments of excellence followed by extensive periods of malaise and 9-4 seasons.
Which is why (8), the commitment of Damon Webb, a 2014 graduate of Cass Tech in Detroit, is so significant. It's not just that Webb is a possible 5-star player for 2014; it's that Cass Tech has been the pipeline school for Michigan much in the way Cleveland Glenville has been for Ohio State. So though Webb's commitment came as a shock to some, maybe it wasn't so unpredictable after all.
Because let's be honest: look at the graph! 100% incontrovertible, scientific proof that Brady Hoke (and by extension Michigan) is in a downswing from their lofty heights of the first year or so of the new administration. And if I can put together a half-assed graph in Paint to illustrate that concept in about five minutes, imagine how quickly it might've taken Damon Webb after one of these from Kerry Coombs.
For now, the balance of power has shifted in Ohio State's direction, away from the barge that is Brady Hoke and company. Could the vane swing back in their direction? Sure.
But if history tells us anything, as long as Urban Meyer is in Columbus, it might not be for a long, long time.