Heading into the 2013 season, the Buckeyes have a couple of holes to fill at the linebacker position.
With starters Etienne Sabino and Zach Boren lost to graduation, in addition to top backup Storm Klein exhausting his eligibility, Ohio State is looking for players to step up and occupy the open spots next to Ryan Shazier.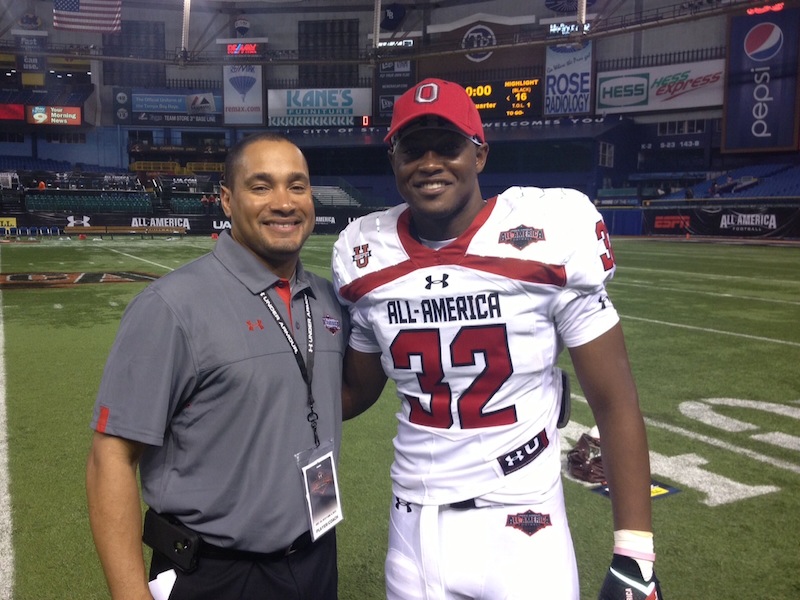 The Buckeyes worked towards filling those needs a little over a week ago by scoring a couple of linebacker commitments at the high school all-star games.
Lawrenceville (GA) Central Gwinnett LB Trey Johnson kicked things off by committing to the Buckeyes on national television at the Under Armour All-America Game and just a day later LB Mike Mitchell committed to Urban Meyer at the US Army All-American Bowl, giving OSU two talented players who could potentially see the field right away.
At 6-2/220, the Under Armour All-American Johnson was a longtime Auburn commit, but things changed a bit when it became a foregone conclusion that Gene Chizik would be fired. He made his decommitment public once Chizik was officially shown the door, and opened things up to a handful of programs.
Johnson made his first and only official visit when he traveled to Columbus to take in the Ohio State-Michigan game, falling in love with the university on the visit.
The four-star prospect was planning on taking officials to Florida, Penn State, and USC before deciding, but canceled those visits once it became clear that Ohio State was the best fit for him.
We caught up with Johnson to get the scoop on why he became a Buckeye, his relationships with the coaches, and more.
You committed to Ohio State at the Under Armour Game. Why did you decide to become a Buckeye?
It was just the atmosphere in Columbus. I had a really good relationship with the coaching staff, I felt at home when I visited, and I have a good chance to play early if I come in ready.
How long did the coaches know you were going to be a Buckeye?
They didn't know for too long. I was talking to Coach Meyer though and he told me I should do it at the Under Armour All-America Game, so I did it there.
Were you pretty sure you'd be a Buckeye after your visit?
Yeah, I kind of knew that's where I wanted to be when I was on the visit. I just didn't want to rush my decision, so I waited until I knew I was sure.
Did you hang out with any of the Ohio State commits at the UA game?
I hung out with Jalin Marshall and Joey Bosa the most. I got to meet all of the other guys too.
Which linebacker position are you planning to play at OSU?
I'm not sure. The coaches told me that I could play any of the positions, so they want to see where I fit in when I come up.
What was the biggest factor in your decision?
The biggest factor was probably just the different feeling I got when I went up there for my visit.
What kind of relationship do you have with Coach Meyer and Coach Fickell?
I have a really good relationship with Coach Meyer. I talk to him almost every day. I have a good relationship with Coach Fickell, too. We talk a lot and he has been to my school to visit me a couple of times.
Do you have relationships with any other recruits from the state of Georgia?
The only one I've really talked to is Raekwon McMillan, but we all kind of know who each other are.
What would you like to say to Buckeye Nation?
I'm ready to come in and play. Go Bucks!
HIGHLIGHTS: