The jury has been out on the Ohio State Buckeyes. But after weeks of deliberations in Central Ohio a verdict has been reached.
The Buckeyes are for real.
Jumping out to a 29-8 first-half lead, Ohio State withstood a furious second-half rally by No. 2 Michigan to hand the Wolverines their first loss of the season, 56-53. Michigan, the lone remaining unbeaten, was attempting to become the No. 1-ranked team in the country for the first time in 20 years.
But a team that scores 81 points per game and features one of the most efficient offenses in the country was held to a season-low 53 points on 38 percent shooting from the field. Michigan had just eight assists on 18 field goals.
Columbus native Trey Burke, a national player of the year candidate, was largely shut down by Aaron Craft, the third time in four career games versus the Buckeyes that Burke has been ineffective. He finished with 15 points on 4 of 13 shooting with four rebounds, four assists and four turnovers.
"He makes me better, he makes me work," said Burke, about his counterpart, Craft. "They're a great defensive team. It's my job to keep my head up and continue to get my teammates the ball."
When Michigan faced a must-score possession, it still put the ball in Burke's hands. Trailing by two in the final minute, Burke hoisted a three-pointer that went halfway down before popping out, essentially ending Michigan's chances at a remarkable comeback.
"Some go in, some don't," Burke said. "I thought it was going in. It looked good. It went down and came out."
Even though Las Vegas oddsmakers tabbed Ohio State as a slight favorite, conventional wisdom said the Buckeyes were an underdog. It was the first time in years that Thad Matta's team faced such an uphill climb at home. When Michigan comes calling, though, the Buckeyes smell blood.
Since 2004, Ohio State is 25-4 against Michigan in football and men's basketball. Matta alone is 17-3.
"It's awesome," Craft said. "It's just a testament to Coach and the way he gets his players ready to play in big games. He does a phenomenal job getting us ready during the week in practice and on gameday. He's one of the best coaches in the country."
When the Buckeyes missed two easy baskets on their first possession followed by a Craft turnover, the scoreboard already read 3-0 in favor of Michigan. A minute of play was all that elapsed, but the preamble seemed to be going to form: Ohio State struggling against another ranked opponent.
But a 16-0 Ohio State run swayed the game. Michigan dug itself a hole that would only get bigger. The Buckeyes' advantage would eventually grow to 21 points. The Wolverines, facing their biggest test of the season, looked too small when the moment arrived. There was disorganization on both ends of the court and a lack of composure.
"We haven't faced adversity like this," Burke said. "We came out too slow in the first half. We came out the second half the way we should have in the beginning, but it was too late. We had too many turnovers, a couple forced shots and they made us pay."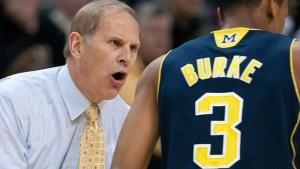 Ohio State students camped out throughout the week to secure the best seats in the courtside student section. The tent village took on the name "Matta-ritaville." The atmosphere was as good as any in recent memory at Value City Arena, which is often knocked for its sterile environment. Deshaun Thomas said he was "geeked" as the raucous sellout crowd tested Michigan's mettle.
The scarlet-and-gray-clad faithful became much more subdued when Craft picked up his second foul with 6:39 left in the first half. It sent him to the bench and resulted in a run by Michigan that put it within striking distance.
The Wolverines ended the half on a 14-5 run, including scoring the final seven points. Ohio State led, 34-22. A bulk of the scoring came from an unlikely source, Spike Albrecht. The little-used freshman guard scored seven points in Michigan's late first-half spurt.
Michigan continued chipping away at Ohio State's lead in the second half, eventually tying the game at 46 with six minutes left. But the Buckeyes, as they did at Purdue on Tuesday, answered by scoring the next six points. The closest it would get the rest of the way is 52-50, when Burke missed his three-point attempt.
"Defensively, we got the stops when we needed them," Matta said. "Guys had some big rebounds down the stretch for us. I thought we did a pretty good job of regaining our composure and scoring at the other end."
In three losses against ranked opponents this season, the Buckeyes shot less than 34 percent. That trend ended on Sunday when Ohio State rattled home 44 percent of its shots from the field. In the first half, Ohio State shot 52 percent against a defense that had complicated matters for opponents all year.
"It's always in the back of your mind," Craft said, when asked about the three losses. "We hadn't played our best against the better teams we had played this year. You just can't lose at home. The worst thing we could do now is rest on this. It doesn't get any easier."
Michigan finally went to a matchup zone in the second half, which helped in its comeback. Ohio State only made eight field goals after the break. But three of them came in the 6-0 flurry to break a 46-all tie, propelling the Buckeyes to victory.
Craft only had one steal, but his defense turned into the theme of the day. Time and again, Burke wasn't able to facilitate the offense as he usually does. He was also relegated to taking low-percentage shots. More often than not, they didn't go in.
Tim Hardaway Jr. was limited to 12 points on 5 of 15 shooting, while reigning Big Ten freshman of the week Nik Stauskas had zero points.
"Ohio State is a really good defensive team," Michigan head coach John Beilein said. "Really good."
Thomas led the Buckeyes with 20 points. Included in that total was three 3s. Craft and Sam Thompson each had nine points, and Lenzelle Smith Jr. added 10 rebounds. Seven Ohio State players scored. Exactly half the Buckeyes' points came in the paint.
All four remaining undefeated teams lost this week, including the top three, all on the road. Now it's the Buckeyes that must navigate the unfriendly avenues away from Columbus.
At 3-1 in the Big Ten, though, a brief stopover in East Lansing seems far more inviting.
"We'll be able to pull a lot out of this game," Matta said. "Hopefully we'll be a better team next Saturday than we were today. That's the goal."