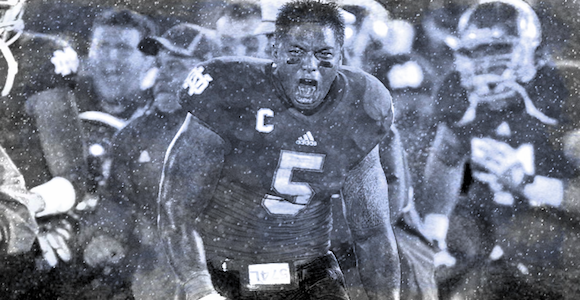 You might think winning a Heisman Trophy is easier during World Wars when America's college football talent pool is significantly thinner, but you would be wrong.
Back in 1944 Ohio State head coach Carroll Widdoes asked Les Horvath (class of '42) to come back and play one more season for the Buckeyes. Horvath accepted the offer for this temporarily permissible extra year of eligibility, and this is why you would be wrong about easy Heismans during wartime.
The rules were changed. The diminished talent pool was refilled, albeit unconventionally.
Horvath, who was in his second year of graduate school at the OSU College of Dentistry, rejoined the 1944 Buckeyes two years following his "final" game as a Buckeye – and one year after being drafted by the NFL's Cleveland Rams.
And he won the Heisman that season at the ripe old age of 23, beating out Army sophomores Glenn Davis and Doc Blanchard - who had been eighth graders back when Horvath already was a college man. The dynamic backfield duo finished second and third in the polling, splitting a vote total that would have comfortably exceeded what sent Horvath to the podium.
The Heisman wasn't even 10 years old and there it was, already shedding its luster as the most prestigious award in college football.
Bagging on the Heisman Trophy is easy. Its process is overexposed, overproduced and overreported (forget about the upcoming 2013 vote - let's decide on the 2014 Heisman right now!) It declares a single winner annually, which means the Heisman leaves a whole trail of losers in its wake.
That trail is littered with disappointed athletic departments and fans, and the most popular excuse for their man not winning the award is to blame the award.
This tradition started back when the Allies were advancing against Axis powers in all theaters of war and continued in earnest last month when Texas A&M quarterback Johnny Manziel beat out Notre Dame senior linebacker Manti T'eo for the trophy.
As the tradition goes, the heaviest lifting is done by the sour grapes brigade that supported one of the runners-up. This year that workout is being done by the largest fan base in America in an article I only recently read titled The Heisman Trophy Has Forever Lost Its Luster. 
Sub-header to that article: The legacy of the Heisman Trophy was cemented as an offensive-only award on Saturday night.
Categorizing the level of luster or tarnish on this award is as subjective as the selection of the winner itself, but it is incredibly difficult to read that without being reminded - objectively - that there will never be a bigger drama queen in college football than Notre Dame.
It was cemented only now? Because a Notre Dame linebacker wasn't able to win? That's taking the enjoyment of one's own fart smell to a level that can only be experienced in South Bend.
Sure, if you're willing to completely forget that non-Domers Hugh Green (finished 2nd in Heisman voting), Dick Butkus (3rd), Deion Sanders (8th), Bubba Smith (no votes), Tommy Nobis (no votes), Lee Roy Jordan (4th), Lee Roy Selmon (9th), Rich Glover (3rd), Chris Spielman (10th and then 6th), Jack Tatum (7th), Mike Singletary (no votes), Ronnie Lott (no votes), Steve Emtman (4th), Ken Sims (8th), Jerry Robinson (10th), Randy Gradishar (6th) and Rod Woodson (no votes) didn't win the Heisman either, then believing that T'eo's second-place finish cemented anything is almost passable.
Each of those legends had at least as strong of a college career as T'eo. Defensive players have been callously put in a corner by Heisman voters even prior to the 1957 season when another Texas A&M ball carrier - John David Crow - won it over the most dominant player in college football - Iowa DL Alex Karras - despite having missed four games and finishing the regular season with two weak, losing performances.
It seems to me as a casual, impartial and non-voting observer that there's just something about touching the goddamn football that seems to diabolically implant bias in the minds of the people doing the deciding.
And it didn't just suddenly happen with T'eo. That bias is significantly older than his parents are. 
But aside from carrying the ball boosting one's chances of winning, there isn't much else that's cemented about the Heisman. T'eo lost to a redshirt freshman; the first to ever win the award.
Tim Tebow was the first sophomore to win it back in 2007 and Blanchard – two years after being stiff-armed by both Horvath and his backfield mate Davis – was the first junior.
Say what you want about how overhyped the award is (ESPN owns the broadcast; its modus operandi is well-traveled) but the Heisman is still somehow managing to create firsts a full 77 years after its inception.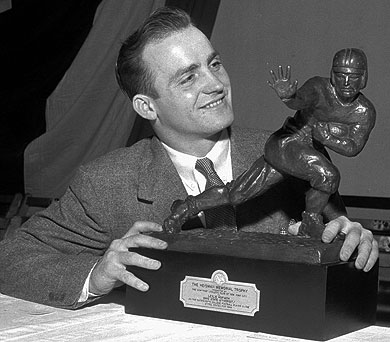 As novel as a freshman winning it this season was, Johnny Football almost happened 70 years ago. You could call him Clint Football.
Clint Castleberry was another one of those wartime exceptions that eventually also allowed Horvath to play. It wasn't just graduate students that were restocking college football's drained rosters; Castleberry was a true freshman getting the waiver, back when eligibility didn't begin until year two.
Castleberry dominated for the first nine games of his career, leading Georgia Tech to a surprising 9-0 start. But a knee injury prior to the Jackets' final game hobbled him, which also scuttled his showdown against Georgia and its senior star Frank Sinkwich.
A month later Castleberry finished third in Heisman voting behind winner Sinkwich and Columbia senior quarterback Paul Governali. The following season he was serving in World War II, and two years later he was killed in action.
When Horvath won the Heisman a month following Castleberry's death he suddenly made it an old guy's award, just two years after a freshman almost won it when freshmen weren't allowed to play college football.
Horvath was five full years younger than Chris Weinke would be 56 seasons later when he would win the award as Florida State's AARP quarterback. Charles Woodson, who played both ways and probably shouldn't have been eligible in 1997, won it over Peyton Manning. That's an enormous exception to the rule, even for a two-way player whose true genius was on the defensive side.
And don't forget that Orlando Pace lost to Danny Weurffel. Orlando Pace lost to Danny Weurffel. Pace cleared the way for just about every Ohio State touchdown for three seasons. Alas, Weurffel got to actually throw them. Advantage: Weurffel. Heisman luster: Unchanged.
Te'o got at least as much Heisman consideration as Notre Dame's last anointed Heisman candidate Jimmy Clausen, who ultimately failed to garner any votes. He (T'eo, not notorious douchebag Clausen) had a compelling story and was a wonderful player who contributed greatly to college football, just like the countless horde of non-Heisman winners before him.
It would require a historically bad year for offenses for a defensive player to threaten the plurality of votes, but in that scenario there would likely be several dominating defensive players. And similar to Blanchard and Davis, they would probably steal votes from each other and some Big XII quarterback would end up winning.
Don't expect that to happen anytime soon, or ever. But don't think for a moment that any cementing took place in Heisman voters' minds on account of Notre Dame in 2012. Because that would be obnoxious.
Anyone can win the Heisman. Carrying the ball just helps. As always.