In the coming weeks leading up to National Signing Day, Urban Meyer and the Ohio State coaching staff are working on finishing an already very strong 2013 recruiting class.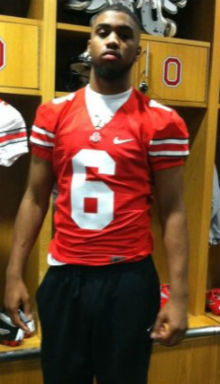 Top remaining targets include the likes of S Vonn Bell, WR Shelton Gibson, RB Dontre Wilson, ATH Corn Elder, WR Kyrin Priester, WR Corey Smith, WR James Clark, OT Cameron Hunt, OT Dan Skipper, and a couple of other players still in the mix.
One player no longer on the list of "targets" is Cleveland (OH) Glenville ATH Christopher "CJ" Worley.
Considered a longtime Buckeye lean, Worley finally pulled the trigger on his commitment Friday afternoon when he arrived in Columbus for his official visit.
At 6-3/190, Worley could end up playing safety or linebacker in college. He could also occupy the star position, which is a combination of linebacker and safety and is used often by the Buckeyes as part of their nickel package.
The star position has a history with the Glenville program, as former Tarblooders Jermale Hines and Christian Bryant have both manned the position, while it appears that Devan Bogard could be the next one up this coming season.
We caught up with Chris to get the scoop on his commitment to Ohio State, to find out where he wants to play in college, if he'll be recruiting some of his Glenville teammates to join him in Columbus, and more.
Keep reading to find out more about the newest member of the 2013 class, Glenville's Chris Worley.
You committed to Ohio State on Friday. Why did you decide to become a Buckeye?
I talked to Coach Ginn on my way down to Columbus. He told me he stood behind my decision and that I made him a proud coach. He knows Ohio State is a great school and my family also loves the school,  so I committed as it was the perfect fit.
How did you commit to the coaches?
They knew I was close to making my decision. I talked to Coach Drayton on Friday and he told me they were ready for me to be a Buckeye.
What does it mean to be a part of the Glenville-Ohio State pipeline?
It's an honor to even have the opportunity some of the Glenville greats had. I'm extremely blessed and grateful to be a part of it.
Will you be recruiting your junior teammate, Marshon Lattimore, to Ohio State?
Yeah I will. I've known Marshon since I was seven and we've been teammates ever since. Of course I'm going to recruit him and recruit him hard.
How long were you committed before making your decision public?
Since Ted Ginn Jr., Donte Whitner, and Troy Smith were there (laughs). Ohio State has always been my dream school.
What did you see on your official visit? Which recruits did you hang out with?
I got to meet my academic counselor and President Gee. I also got to talk to Coach Meyer and all of the great coaches. I hung out with Devan Bogard, Taivon Jacobs, Jalin Marshall, Marcus Baugh, Joey Bosa, Doran Grant, and Ryan Shazier. They're all great guys.
What factors led to you choosing OSU?
It's a great city and my family loves it there. I love it there too and feel I have a chance to play early. Also their academic approach is exactly what I need.
What's your relationship like with the OSU coaches?
It's great! I love them like I love Coach Ginn. They're all amazing guys.
What would you like to say to Buckeye Nation?
I'm a solid commit. You won't see me decommitting like other guys. I promise I will work hard and we will get that crystal ball! Go Bucks!
HIGHLIGHTS: