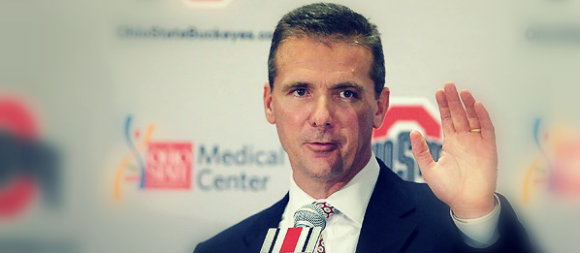 The University of Alabama is in a golden age with a seemingly unconquerable college football dynasty.
Like the ancient Pax Romana, there is peace within its Southeastern Conference empire – well, aside from for the occasional uprising.
The Sabanian dynasty, winner of one out of every four BCS Championships ever played, is at its peak in Tuscaloosa with Nicklius an impressive 62-13.
Further, a team known for its defense managed .575 points per play against the number one scoring defense in the country. That's over half a point every time center Barrett Jones snapped the ball. 
Saban's "star" running back (who may not even be the best running back on Alabama's team) broke tackle after tackle from the Heisman runner-up. 
Taking it all in from a field-level seat in Miami was Urban Meyer.
Meyer did not come to Ohio State to sit at home idly during the national championship, nor did he come to play December bowl games. Urban came to Columbus to win national championships and to build something great.
Meyer might not have been able to coach in it this year, but by Woody, he was going to be in that stadium for the national championship. 
His own undefeated team – with somewhat of its own B1G dynasty – was not the one hoisting the crystal last night. But did it deserve to?
"That's a tough question," Meyer told USA TODAY Sports. "After today's performance it sure is clear who the best team in the country is." 
What's not a tough question is where Meyer wants the program to be next year and throughout his tenure: challenging Saban's hegemony.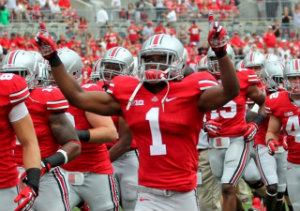 Ironically, to achieve a true Pax Urbana – multiple national titles during his tenure – Ohio State must ultimately go head-to-head with Alabama and conquer the Southeastern Conference.
The good news is that Meyer has some experience ruling over the SEC.
Meyer worked as an ESPN analyst and commentator not only because he enjoys talking about football, but because he's always scouting and learning about the game.
It was an interesting move. While Ohio State was denied the 15 bowl practices this year, Meyer didn't need to join Herbie, Chris Fowler, and Desmond Howard – do you think he really wanted to subject himself to hanging out on set with Howard all night?
That makes what he actually said before and during the broadcast all the more important to Buckeye fans.
Before the game, Urban talked about what it is like to go to the national championship multiple times:
"There's a big difference. The first time around, you're just wondering if you really belong. Are your players good enough, is your staff good enough, where's the training table, where's the meals at, you're just not sure what's going on. The second time around, we had a lot of the same players like Alabama does, they know what's going on, they know they belong, so it's a big difference. I'm not sure what's better though. There's a stat out there that [eight] first-time coaches in this game are 7-1."
Essentially, Urban was saying that it's maybe easier to approach greatness than it is to maintain it. BCS history supports this, with multiple national championship-winning coaches securing the title in their second year on the job. 
"Well you look at the two teams, Brian Kelly is building a program and there's passion, energy, every day is new... maintaining that is awful. I mean there's a lot of kids in that program - I can't speak for Alabama, but I imagine there's a bunch of guys who woke up on third base and they're used to this. Every day, where's the rings at, where's our championship trophy. There's a big difference between being a repeat team and being a first timer."
Unfortunately for Brian Kelly and Notre Dame, it's also not that easy to be a first-timer, especially going against Alabama.
Meyer's task at Ohio State is a little different, however. Meyer must take a team that is neither a "first timer" nor a repeat champion, and make it into a dynasty. 
Instead, Urban inherited a team that is something in between: Going 12-0 is not the same thing as winning the national championship, but it's not insignificant, either. Further, it's clear that Meyer has his sights set on something more than just a Big Ten championship. 
Meyer's analysis of Notre Dame last night revealed not only Notre Dame's weaknesses, but what his own team must do if it wants to become a dynasty: recruit the best players and then give them the best facilities and coaching.
Ohio State more than laid a foundation in 2012, but Meyer will face unique motivational challenges in 2013 in order to begin the process of building and maintaining a dynasty in Columbus.
Time to get to work.