Michigan State beat TCU Saturday night, giving the Big Ten its first bowl win. It was a game won in typical Big Ten fashion, with a mediocre (but consistently mediocre) rushing game that just barely made up for a horror show at QB, plus a stifling defense that allowed the kicker to ice the game.
"That's so good for a school from the Big Ten," thought every single college football fan. "Maybe one day they'll compete in the Alamo Bowl!"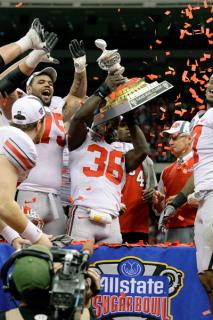 Welcome to your nightmare, fans of Midwestern football! You are officially the dopey three-legged puppy of the NCAA; not because of any dramatic shift in the landscape of college football, but because of your own general incompetence and, more specifically, almost unbearable stagnation in the coaching ranks of the Big Ten.
What being the dopey three-legged puppy of college football means is that victories against out of conference opponents are no longer used as proof of your superiority — it's now the exception to the rule. "The Big Ten sucks" is pretty accurate right now, but even if it wasn't, it has become increasingly difficult to shed that label.
Which is the real shift in college football. Media outlets like ESPN are giving fans what they want: a narrative.
We start thinking about "the teams to beat" for the next season almost immediately after the current one finishes, and preseason polls are out so far in advance of any actual football games that they are all but useless. And that means that the narrative that establishes who is good and who isn't for 2013 started about five months ago.
So, B1G. How do you think you can shake that perception of being the suckiest bunch of sucks that ever sucked? By winning? Ha!
It's way, way harder than that.
See, this is bigger than the immediate problem of the 2012-13 college football bowl season. Attitudes and perceptions are shaped over time, and the Big Ten's bowl record, both recent and historic, has not been good.
But let's start simple. The BCS, for all its inherent stupidity and arbitrary ridiculousness, has been the gold standard for determining the value of both a program and a conference since its inception. Even if you count the two vacated wins from Ohio State (in the 2011 Sugar Bowl) and Penn State (in the 2006 Orange Bowl, one of the most irritating games of football I have ever seen in my life), the conference as a whole stands at 12-13 overall in BCS play, although that changes slightly depending on whether you want to include Nebraska in the equation.
It's not a horrible winning percentage, but three things make it stand out more than, say, the record of the ACC, which has appeared in 16 BCS bowl games and won only twice.
The first is the number of BCS appearances the conference has made: the Big Ten has played in more games than any other conference, and thus a string of losses becomes more readily apparent, and a narrative can begin to form. The Big Ten has had two teams in the BCS for almost every year of the system's existence, and only four times have both Big Ten teams won in the same year.
The second issue is that the only Big Ten team that has even come remotely close to competing for a national championship during the BCS era has been Ohio State. Part of this is a function of the way the BCS is formulated, but part of it is also a function of the Big Ten simply being not good enough to field another contender.
Michigan has of course been down, but even occasional contenders like Iowa and Wisconsin (Wisconsin under Bret Bielema probably came the closest to establishing some kind of national threat other than OSU in the B1G, but consecutive Rose Bowl losses, with another one likely coming, have all but doomed that idea) have only made brief forays off life support to make noise on the national scene.
If the Big Ten wants to be taken seriously, it has to be more than Ohio State and a bunch of nerds who got kicked out of basketball practice.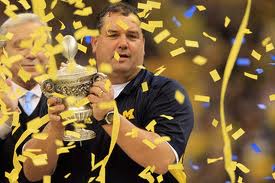 Lastly, and this will really make you guys mad, is that the Big Ten stands in stark contrast to the SEC. The SEC has appeared in only slightly fewer BCS bowl games than the Big Ten, yet has a winning percentage of nearly 70%. That alone would establish their bona fides as the best conference in college football for most people, but the fact that they've also won like a bajillion national championships in a row helps, too.
In a simplified narrative, you've got the big bad guys to beat on one side of the fence, and the incompetent, aging boobs on the other. Accurate? Not totally, but for sports media trying to sell a story, it makes for easy copy that works.
So, the question is: how does the Big Ten change this?
And the answer is that it will take more than just winning. The Big Ten can't, for instance, merely win half of its bowl games this year and somehow pull off a Rose Bowl victory, although that would be a terrific accomplishment for a conference that is punching well above its weight in bowls due to sanctions on both Ohio State and Penn State.
No, the Big Ten needs to significantly alter its overall winning percentage in bowls (and out of conference games early in the season, for that matter), particularly against the SEC, over a period of at least three years for there to be any real change in how people perceive the conference as a whole.
That's how long it will take for both the media and fans to stop being surprised at the idea of a Big Ten team winning a big game, and how long it will take for Big Ten teams not to automatically assume the inferior position when stacked up against other conferences for seeding purposes.
It isn't impossible. Winning once, or twice, or even three or four times can be seen as a fluke. But five, six, seven wins against legit competition begins to change attitudes, and will help the Big Ten out in the long run. That doesn't mean that the Big Ten needs to become world beaters overnight; it just means that on the biggest stage, the conference shows up.
But that will require that the conference get better. And it starts tomorrow.