In their final tune-up before B1G play begins, the Buckeyes started sluggish but eventually ran away from Chicago State, 87-44, this afternoon in the Schott.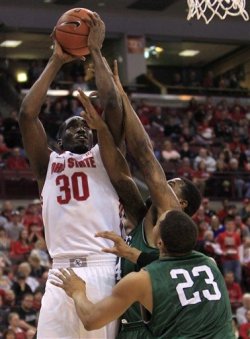 Thad Matta tweaked the lineup, giving Amir Williams his first collegiate start in place of Evan Ravenel, but it was Rav who rose to the occasion with 10 boards along with five points in 16 minutes of action.
Deshaun Thomas led the way with 17 points (7/13 FG), eight boards and four assists while Lenzelle Smith Jr. added 13 points (6/12 FG) and six rebounds. 
Off the bench and mostly with the game out of hand, LaQuinton Ross tallied 15 points (4/7 FG) in 21 minutes.
On the day, Ohio State shot a blistering 57% from the field, including 8/17 (47%) from distance after hitting just 2/9 from beyond the arc in the opening half.
Meanwhile, the Buckeye defense held the Cougars to 27% from the floor and forced 13 turnovers.
The biggest negative came as the Buckeyes connected on only 13/27 free throws (47%) with Deshaun and Lenzelle combining to shoot 2/10.
Aaron Craft had a bounce-back game of sorts with 10 points, six assists and four boards. Craft hit 4/6 from the field.
Shannon Scott battled a lower leg injury and later a busted lip, finishing with six points (3/3) and four assists.
It looked like the Buckeyes were still suffering from a Kansas hangover as they trailed Chicago State, 12-10, nearly eight minutes in but they finally shook off the cobwebs.
Deshaun got things started with a nice drive down the lane kicking off a 20-5 spurt that would give the Buckeyes a 30-17 lead with 2:24 left in the half. Thomas chipped in eight points total during the blitz and Ravenel, coming off the bench for the first time this season, played like his hair was on fire.
During the run, the senior hit a tough baseline jumper, converted a dunk off a nifty feed from Thomas, took a charge and grabbed two boards, the last leading directly to a bucket as he found Lenzelle for a breakaway layup.
The Buckeyes traded buckets over the final few minutes of the half, taking a 37-24 lead into the locker room.
Ohio State got 12 points from Thomas and 11 from Smith, both on 5/8 shooting, while Ravenel added six rips and four points.
Shooting 55% in the opening 20 minutes, Ohio State connected on just 2/9 from distance but with a 24-4 edge in points in the paint and a 13-0 edge in fast-break points, thanks largely to an ineffective Chicago State press, they led comfortably at the break.
Ohio State started the 2nd half on a 10-2 burst, hitting their first four shots and getting points from five different Buckeyes, to take a commanding 47-26 lead with 17:30 to play. 
Substituting freely, the game largely resembled an open gym from there, so I'll spare you the details except to note Amedeo Della Valle hit 3/4 triples in the 2nd half, scoring 11 points. 
The win improves Ohio State to 10-2 on the year with Nebraska coming to the Schott to kick off B1G play next Wednesday night at 6:30 p.m. on BTN.