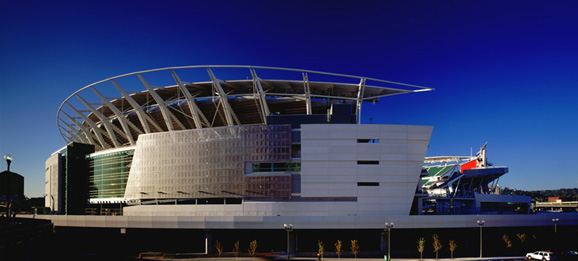 Ohio State just sent out a release confirming the 2013 Spring Game will be held April 13 at 1:00 p.m. at Paul Brown Stadium in Cincinnati.
You may remember that the university floated the idea last June because renovations to the 1922-era coating and concrete portions of A and C decks must be completed during the warmer months of the spring and summer, forcing the school to explore options outside of Columbus. This work is needed to complete the partial restoration that took place between 1998-2001 and will commence in January.
In a statement, Ohio State Director of Athletics Gene Smith said, "I would like to thank Cincinnati Bengals owner Mike Brown and representatives from Hamilton County for working with us to make this 2013 Ohio State spring game in Cincinnati a reality. We are very appreciative to be able to bring the Buckeyes into Cincinnati and closer to our fans in the southern Ohio region."
Mike Brown, for his part, is also excited to see what elite football looks like: "When Gene called earlier this year to talk about this I was hopeful that this would come together. This is a unique opportunity for local Buckeye fans to get a first look at the 2013 team."
The venue will be a special one for head coach Urban Meyer, who graduated from the University of Cincinnati in 1986 and cornerbacks coach Kerry Coombs who spent many years as a prep coach in the area at Colerain high school.
"Cincinnati is a wonderful city full of great people," Meyer said. "I think it is great that we are able to bring the Buckeyes into a part of the state where we haven't been for a while, and I am looking forward to the team having the opportunity to play in Paul Brown Stadium."
There's also the hope the event will help boost Ohio State recruiting in the Queen City, a region of the state that the school has struggled with in the past.
Reserved seat tickets will go on sale at a date to be determined in 2013 and at that time will be available online at OhioStateBuckeyes.com, charge by phone at 1-800-745-3000, in person at the Athletics Ticket Office in the Schottenstein Center, or at any Ticketmaster location. Ticket prices will be $18 for club seats, $12 for general public and $5 for ages 2 through 6.