Happy Friday and welcome to this week's 11W Roundtable.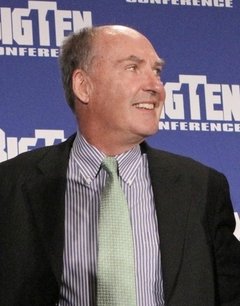 This week, we take a look at Buckeye basketball, specifically LaQuinton Ross' confidence boost, NCAA tournament hypotheticals, and a conference comparison to football power SEC.
Thanks to Johnny, Derek and Jason for participating this week.
The Buckeyes have had it easy for the last few weeks and will have another easy week before playing Kansas next Saturday. In your mind, what is the top priority for improvement for this young Buckeye team?
Derek: I like what I'm beginning to see out of Shannon Scott and LaQuinton Ross. The improvement from those two is obvious and they're emerging as key components to this team. One guy that needs to pick it up in the same way is Amir Williams. He shows flashes and glimpses, but is rather inconsistent.
Johnny: Consistency. This team can be very good on both offense and defense, in spurts. But if it wants to make noise in the Big Ten, the Buckeyes will need to start games much faster and learn to clamp down on the defensive end if their shots aren't falling. Failing that, someone needs to emerge as the clear number two scoring option.
Jason: I think it's the same priority the team had coming into the season: finding a reliable second scorer. It looks like LaQuinton Ross could be that guy, or even Lenzelle Smith at times, but I don't know if this team knows who the secondary option really is right now and they'll have to figure that out soon.
How important are these cupcake non-conference games to a squad like Ohio State before entering conference play?
Derek: It is extremely important for guys that are still trying to establish a role and an identity. It is bigger for those who are not comfortable just yet, or are inexperienced. These games help build the camaraderie and comfort level for guys like LaQuinton Ross, Amir Williams, Trey McDonald, Shannon Scott, and Sam Thompson.
Johnny: Super important; basketball is a rhythm game, and it oftentimes takes a while for teams to gel. Considering the Buckeyes again have lost their primary (and secondary) scoring threats to start the season, a lot of players are going to need time to adjust to new roles. Yeah, it's not a great look beating up on the Savannah States of the world, but it's necessary to get the team ready for a brutal conference schedule.
Jason: Granted, they're not exciting games to watch, but from the perspective of giving Thad and his coaches time to identify strengths (and weaknesses) and a chance to develop players, they're invaluable. Saying that, the staff can achieve a lot of these same objectives by playing stronger teams night in and night out to begin the season (the Sparty model), but there's something to be said about building confidence while you're working these kinks out.
It seems that LaQuinton Ross has gained a ton of confidence and his begun scoring at his potential. How does that change the overall dynamic of this team?
Derek: It is huge because we know as a team, this team will defend. The concern is the offensive firepower as a team. Deshaun Thomas has the ability to bring it each night, but having consistent alternative scorers is paramount for this team to be successful. LaQuinton Ross and Lenzelle Smith, Jr. seem to be the best options at becoming those alternative reliable scorers.
Johnny: It's important obviously from a points scoring standpoint, but I think it also shows some of the other young guys on the team that they don't necessarily have to wait their turn to make a contribution on the court. If they can play defense and get good looks, Thad Matta will get them minutes.
Jason: If Ross can become what a lot of us envision him becoming, this team will go far in March. Like you said, he's on his way, so it will be fun to watch him grow under the grind of the Big Ten season.
Without ____________ (name a player) the Buckeyes would not be the same team.
Derek: It will seem cliche, but as much as people would like to think it is Aaron Craft, it is Deshaun Thomas. He is the only consistent explosive scoring option on this team.
Johnny: Without Deshaun Thomas the Buckeyes would be what would happen if someone cloned David Lighty and each successive copy got a little crappier at shooting the ball.
Jason: Umm... Deshaun Thomas? Without Thomas, this team averages 52 points a game.
Andrew Wiggins, the top prospect in 2013, has Ohio State on his shortlist – although he is still a long shot. Do you like locking down one-and-done players or would you rather have a lower-rated guy that sticks around for 3-4 years?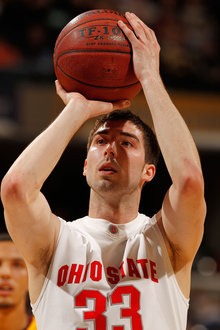 Derek: Both ways have seemingly been effective. I do not have a preference. Whichever way is the attainable one in front of you at the time is the one you go with it. Thad Matta has built OSU both ways, and won both ways. There is a lot more pressure in recruiting each and every year when recruiting one-and-done players. For that reason, recruiting guys that may stay in the program for a bit longer probably is less stressful. Regardless, you gun for the best talent available whether they are one-and-done or not.
Johnny: I think in the current basketball environment you need a mixture of both: glue guys who are talented but not THAT talented, and then your one-year superstars who make an immediate impact. You can still have a great program without a one-and-doner, but to be a consistent Final Four threat you're gonna need a guy like Wiggins.
Jason: I'm fine with assembling top one-and-done talent. It's worked for Kentucky.
Coach Groce has Illinois playing well and a lot of top prospects that are considering Ohio State like Illinois as well now. Does it make you nervous having Groce recruiting in Thad's territory (where he's had a lot of success)?
Derek: Illinois has had success before during Thad Matta's reign at Ohio State so it isn't terrible news to have Illinois back on the rise. However, with the success Groce is having, Thad may have a few more misses to Illinois than in recent times. He will have to widen his reach if that becomes the case.
Johnny: Nah, not really. Illinois has a large talent base to draw from in their own state, and I think that for most kids in the Midwest, Columbus will be more attractive than Champaign, at least as long as Matta is around.
Jason: Yes and no. It's tough knowing that Groce knows Ohio and has so many connections with prep and AAU coaches in the state, but at the same time, Thad Matta has never been one to leave the state for recruits. Groce will as well, but for the type of recruits Ohio Sate is pulling in, that's nothing new as several top schools are in the mix already.
If the NCAA Tournament started tomorrow, the Buckeyes would go to the ____________. (Final Four, champions, first-round loss, etc.)
Derek: I think they would make it as far as the Sweet 16, but not any farther.
Johnny: Sweet Sixteen. They're tough enough defensively to do well against almost anyone, and I think Deshaun is just good enough to cover up their offensive flaws through at least the first two games.
Jason: Sweet 16. That's about as far as I'm comfortable going right now. What's crazy is that some fans will read this and think "No way, we're better than that," but just getting to the Sweet 16 is unbelievably difficult.
Fact or Fiction: Big Ten basketball is like SEC football.
Derek: Fact. The Big Ten schedule for Ohio State is going to be a brutal one.
Johnny: No, it's not nearly as irritating. Also instead of a mutual respect built upon a foundation of consistent success for the glory of all, we just hate each other and hope that everyone else fails miserably.
Jason: Fact. Though with better manners.