Few teams will face such contrasting styles in back-to-back games as Ohio State dealt with in the past five days. Saturday's contest was against fast-paced Long Beach State, a team that gets the ball up court quickly and shoots even more frequently at times. But Wednesday night offered a complete 180. Savannah State makes Wisconsin seem like Loyola Marymount of the late-1980s and early-1990s.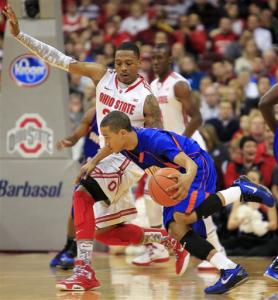 In the spirit of finals week, though, the Buckeyes aced both tests.
Savannah State's methodical style compared with Ohio State's up-tempo variety offered a real-life version of the tortoise and the hare. Unfortunately for the tortoise – or Tigers – the hare, doubling as Brutus Buckeye, came out victorious, 85-45.
"We said, 'Hey, can we get 75 on this team,'" Ohio State head coach Thad Matta said. "That was kind of the battle cry. I thought that was a legitimate request."
Savannah State's goal was to limit Ohio State's possessions and force turnovers by annoying Ohio State on the offensive end. But the Buckeyes turn the ball over at a tiny rate, second-lowest in the country, in fact.
On Wednesday, though, Ohio State had 20 turnovers. Savannah State was only able to score 12 points off them, while Ohio State scored 28 points off 20 Tigers turnovers. The Buckeyes had 12 steals. 
Stephen Wilson and Cedric Smith, Savannah State's top two defenders, had zero steals.
"I don't think we did what we needed to do on the defensive end," Savannah State head coach Horace Broadnax said. "We did a couple bad-habit things."
Deshaun Thomas led Ohio State with 22 points, 21 of which came in the first half. Thomas was the benefactor of four three-pointers. Four Buckeyes finished in double figures. LaQuinton Ross scored 13 points, all in the second half, Shannon Scott had 12 and Evan Ravenel finished with 11.
"Some of those first 3s I hit weren't going in the past couple games," Thomas said. "Now my teammates were getting me open looks, and I was ready to shoot. It just feels good out there getting in that rhythm, getting in the open spots and knocking them down."
The shooting woes of Aaron Craft continued. He was 0 of 4 shooting tonight and is now 7 for his past 33 dating to the Duke game.
"I have no problems with Aaron," Matta said. "I don't know as a coach if you could ever have a more secure feeling knowing he's out there. Yeah, I want him to score more, but that's going to come back for him. I have no doubt in my mind. Hopefully Saturday he gets back on track."
Despite the pace of play Savannah State wanted to establish, the Buckeyes were able to get off 59 shots. They outrebounded the Tigers, 48-21, and had a 15-1 advantage at one point in the first half. Nineteen of Ohio State's boards were of the offensive variety. Six Buckeyes had at least four rebounds, including Ravenel and Ross, who each had nine.
Ohio State's offensive numbers were all season worsts for Savannah State's defense. It had limited teams to 37-percent shooting for the season and didn't allow more than 62 points in a game all season. That included holding fifth-ranked Florida to 58.
The Buckeyes connected on seven 3s in the first half – 10 of 19 for the game – in building an early 18-point lead. It stretched to as many as 42 in the second half.
Ohio State led by one in the opening minutes before using a 9-0 run to separate itself from the pesky Tigers. When Savannah State failed to score for more than five minutes, the rout was on. It trailed, 42-18, at the half.
In building a big halftime lead Saturday, Ohio State didn't let up in the second half. That was not the case Wednesday, as Savannah State used a mini 7-2 run to cut into a 22-point deficit.
But all that did was awake a sleeping giant. The Buckeyes outscored the Tigers by 21 the rest of the way.
"This was all new in terms of going for 15 weeks instead of 10," Matta said about changing over to semesters. "I think we did a good job of getting our guys coming in early and working out. Hopefully, we continue to build on that."
For the next couple weeks, the Buckeyes won't have any choice.