Going into the big recruiting weekend, Buckeye fans were hoping for at least one verbal commitment. We thought there was a good possibility of this happening, and it just so happens we were right.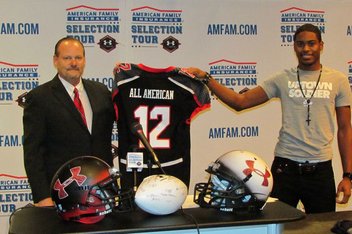 Friday afternoon the wish of Buckeye fans was granted, as OSU landed former Michigan commit, Massillon (OH) Washington ATH Gareon Conley.
The 6-1/170 Conley had been committed to the Wolverines since March before deciding to decommit last week. This was after a month of speculation that he wanted to visit other schools, including Ohio State, Oregon, and possibly Cincinnati.
Conley arrived in Columbus for his official visit late Wednesday night and stayed thru tonight's pep rally at St. John Arena. It's safe to say he had a great time as he decided to commit to Urban Meyer during the visit.
We caught up with Conley to find out why he decided to become a Buckeye, how he committed, who played a key role in his choice, and more. Keep reading to learn more about the newest member of the Buckeye family, Gareon Conley.
You committed to Ohio State today. Why did you decide to become a Buckeye?
I just really like the coaching staff and Coach Urban Meyer is a wonderful guy. I feel he will make me a better player and man in general. I want to stay home, I'm an Ohio boy and I feel their program will help me a lot. I just like all of the players and my cousin, Devin Smith, told me everything and he will help me out.
When/how did you commit to the coaches?
Today after everything was over. My parents, Coach Meyer, and myself were in his office and he said, "Now that you got a feel for everything, let's get rolling to that national title." I said, "Let's go! I'm on board!"
What did you get to see on the visit?
I saw a lot of things. The educational tour was really nice and I liked watching the season highlights on the stadium scoreboard a lot. I also got to hang out with my cousin, Devin Smith. I love the football facilities and how everything is in its own little area.
What kind of role did Devin Smith play in your recruitment?
He just told me everything, but wasn't trying to recruit me because we're family. We were just hanging out like we used to and he said he would help me with anything if I did decide to come.
Is your decision final? Will you enroll early?
Yeah, it's final. No, I won't be leaving until June.
What position does OSU want you to play?
Coach Meyer said I need to learn both defensive back and wide receiver.
Did you get to meet any other commits?
Yeah, I met most of them. They were cool and we were clowning around. I'm comfortable already.
What's it like to switch from Michigan to Ohio State (two rivals)?
It was only hard switching because I really like Coach Mattison. I just feel like Ohio State is the better program for me.
What goals do you have once you get to Ohio State?
Get stronger and faster, work on skills, and get on the field to contribute.
What would you like to say to Buckeye Nation?
Thanks for welcoming me. I'm staying home and can't wait to get out there and put on for Ohio. Go Bucks!