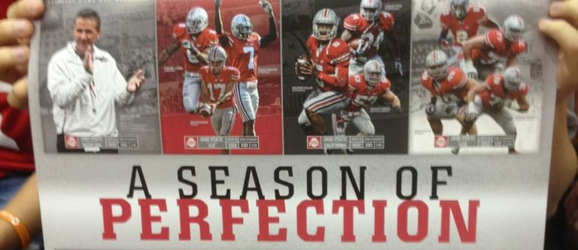 Not even a bowl ban could diminish Friday night's season-ending pep rally billed as 'A Celebration of Perfection.'
A crowd of roughly 7,500 fans in historic St. John Arena wasn't interested in the lack of a national championship – they were still partying like it was 2002.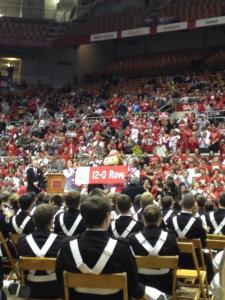 Ohio State capped off a 12-0 season 13 days ago across the street in Ohio Stadium by serving archrival Michigan its ninth loss in the past 11 games of the series. But a postseason ban prevented the Buckeyes from securing the program's eighth national championship.
That doesn't mean the 2012 team has an asterisk next to its season. This group will be remembered for years to come. They are only the sixth team in school history to finish the season with an unblemished record. The current group of Buckeyes stuck with Ohio State in tough times and helped the program rebound at a time when it reached an unprecedented depth. The senior class, in particular, deserves a lofty spot in Ohio State lore.
"This will go down as one of the great senior classes in Ohio State University history," head coach Urban Meyer exclaimed to the scarlet-and-gray-clad fans in attendance.
He then introduced each senior with the boisterous crowd reaching a crescendo when John Simon was announced. The senior captain – the "heart and soul" of the Buckeyes, according to Meyer – was an integral part of the team for four seasons and was popular with coaches due to his relentless work ethic.
After tying a school record with four sacks at Wisconsin, Simon missed the Michigan game due to an injury he suffered against the Badgers. His absence weighed heavy on Meyer, the coaching staff and the players. But they presented Simon with the game ball following the 26-21 win over Michigan.
"That game ball was a team award," Simon said.
Said Meyer: "If you say, what's the face of Ohio State football – John Simon is who this football team was."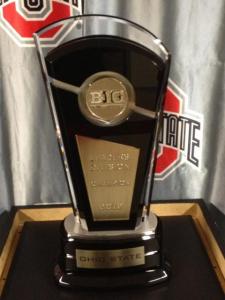 In 2006, that person was Troy Smith. Now an athletic department employee, Smith presented the team with its Leaders Division championship trophy. Columbus mayor Michael Coleman made sure the team won't soon be forgotten, immortalizing them by renaming a yet-to-be-determined Columbus street 12-0 Row.
For now, the on-field momentum Ohio State enjoyed will come to a standstill – no bowl game also means no practices. The Buckeyes' crop of assistant coaches have compensated for that by traveling across the country in search of blue chip recruits. While other high profile schools get geared up for bowl games, Ohio State is getting more access to future stars. The Buckeyes already have a top-10 class for 2013.
And they added one more today.
Massillon athlete Gareon Conley, who committed to Michigan over the summer, pledged his allegiance to Meyer and the Buckeyes Friday afternoon. He becomes the 18th member of the impressive class.
This weekend is one of the biggest on-campus visit periods between now and Signing Day, and a number of those prospective recruits – Conley, Mike Mtchell, Donovan Munger, and Tommy Sanders included – were on hand Friday night.
What they saw was Meyer talk about the solid foundation Ohio State has poured. The future in Columbus, which looked so bleak on Memorial Day 2011, is now on a path to national championships.
"Year two is a definitive year," Meyer said this season. "There used to be a time where you could go build a program, and that really doesn't exist anymore. You've got to win."
With nearly every significant piece of the offense returning, including quarterback Braxton Miller, Ohio State is considered a title contender for 2013. Historically, as Meyer alluded to, the second year is when he has taken schools to new heights, and that is the goal once more at Ohio State.
"A team with purpose and talent, that's when magical things happen," Meyer said.
It's been Meyer's template since 2001 at Bowling Green. When Ohio State takes the field Aug. 31 to take on Buffalo, it will once again be the ingredient for a title winner.