We are back for another epic edition of the Eleven Warriors Roundtable.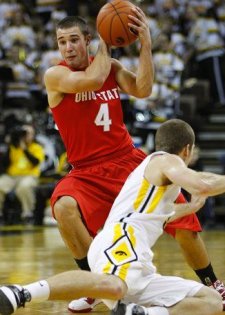 This week we are featuring three of your favorite 11W analysts with Kyle, Alex and Chad supplying everyone with primo Buckeye knowledge.
We sat down to discuss some Buckeye football what-ifs and bowl hypotheticals, OSU hoops, and the future.
If the Buckeyes were facing Notre Dame in the national championship game, what would the final score be? How about with Alabama?
Kyle:  Had Ohio State been eligible, Notre Dame certainly would have been the opponent. I don't see how a one-loss Alabama team would have leapfrogged either, especially after a not-so-dominant SEC championship game performance. I think Ohio State would have matched up very well against Notre Dame. The Buckeyes' defense would not have encountered too many difficulties handling Notre Dame's so-so offense. The Notre Dame D vs. the Ohio State offense would have been the game. I'm starting to view the Irish as a team of destiny, so simply because of that fact, I'd say they would have won. But it would have been a 20-17 type of game. Both teams would have had an opportunity to win the game late in the fourth quarter.
Alex: Tough question, but I think Urban Meyer would have his team ready to play both teams. I think Ohio State would beat Notre Dame, 27-21, but would lose to Alabama, 20-14, which is weird for me to say considering I have the Irish defeating the Tide for the title.
Chad: 24-21, OSU. I think this would be a close, low-scoring game, but I would give OSU the edge. Unfortunately I think that Bama wins unless Riddick has a really big day. Georgia's Todd Gurley found some running room, but I don't think Golson has as big a day as Aaron Murray or Manziel did against Bama's defense.
Dave: I may be a homer, but Urban Meyer > Brian Kelly every day of the week. With weeks to prepare, the Buckeyes would squeeze it out, 24-20. I am also a firm believer that Alabama is overrated. Don't get me wrong, they are very good, but also very beatable. The Buckeyes would have a tougher time stopping the 'Bama offense than the Notre Dame offense.
Moving on to basketball, LaQuinton Ross kind of had his "coming-out party" against Northern Kentucky with 22 points (career high). If Ross can be a big player, how does that change the overall outlook for the season?
​Kyle: Ohio State is going to lose games this season. The Big Ten is too good not to and when you lose two very good players, there will be some drop off. But this is still a team that will make it to the second weekend of the NCAA Tournament. Ross, if he can become a reliable No. 2, clearly adds more value. Even though he's a sophomore, he's still a first-year player. That could be problematic in the rigid Big Ten. Also, once teams start keying on him, it'll be interesting to see how he and Thad Matta respond.
Alex: If Ross can step up consistently it could be the difference from this team winning a conference title or not. It is essential that the Bucks get as many players scoring as possible in addition to DeShaun Thomas, so if Ross can emerge as a legitimate number two scoring threat, OSU is very dangerous.
Dave: Wow, if Ross can be a consistent scorer, it'll take so much attention off Deshaun. It would free up DT all day.
Chad: Ross has had a good showing in every game that he's played >20 minutes, but I don't think Ross – or any single player – can replace Sully and Buford's production from last year.
What did the Buckeyes improve on the most from the Duke game to the NKU game?
​Kyle: Honestly, I don't know if there was a whole lot. Obviously, you had Ross show up as a legit scorer, but the same things that popped up in the second half at Duke – poor shooting, poor rebounding, etc. – appeared against against NKU. Aaron Craft and Lenzelle Smith Jr. both shot awful, which I found surprising. They might not be known as shooters, but the level they were off was exceptionally bad. Not something you think you'd see from players who've showed promise.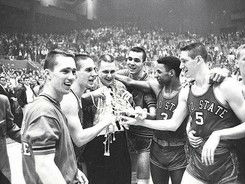 Alex: I don't think they improved on much, but adjustments would be the one thing I would say I noticed. Just like in the Duke game, the poor shooting continued early against NKU, but the difference here was that the team made the adjustments to find easier buckets, something they never did against the Blue Devils once their outside jumpers weren't falling.
Chad: I think Duke was more of an off night shooting-wise than that there have been any huge improvements. It doesn't hurt that NKU is much, much worse of a team.
The Buckeyes play a few cupcake here before welcoming #9 Kansas to the Schott on the 22nd. What has your favorite five-man combo been so far? Why?
​Kyle: Craft, Smith Jr., Ross, Thomas and Williams. It's the closest Ohio State can come to having the total package.
Alex: I think the team is best with both Aaron Craft and Shannon Scott on the court. Because of that I would go Craft, Scott, Lenzelle Smith, Deshaun Thomas, and Amir Williams as of today. I think down the line LaQuinton Ross will find a place in that rotation, though.
Chad: DT, Scott, Smith, Craft, Williams. Ross is right there too.
Dave: DT, Scott, Craft, Williams, and Lenzelle.
The best team in the conference right now is __________? How about the country?
​Kyle: Indiana. They own the most impressive win of the season, a complete beatdown of North Carolina, albeit UNC is down a little this year. Still, the Hoosiers are the class of the country with Duke just behind.
Dave: Indiana sure is in the spotlight, so they're obviously the default. I am not going to label a best team until they go on the road in conference and come away with wins.
Alex: Indiana, but I really believe Michigan is right on their heels. How about the country? Would have to say IU again. Duke is really, really, really good, but IU has done nothing since the start of the season to unseat themselves at the top.
Chad: Hard to argue with Indiana for both questions, but I've been very impressed by Duke and Florida as well.
The November MVP for the Buckeyes not named Deshaun Thomas was ___________.
​Kyle: Tough pick there. Aaron Craft played very well the first four games but has seen a drop off in the past two games. The same can be said for Lenzelle Smith Jr. Sam Thompson and Shannon Scott have turned in some pretty solid performances. I'd go with one of them, with Scott edging out the uber-athletic Thompson.
Chad: Can I give it to two? Both Craft and Shannon Scott deserve the honor, since their numbers are remarkably similar. While Scott averages far less minutes and points, he has a similar points-per-minute average as Craft as well as almost identical defensive numbers.
Alex: Shannon Scott. This kid is so much better than he was last year on the offensive end, as you can see he has the confidence to make things happen and has tremendous court vision. He will be a really good player on that end as he continues to develop, plus he is one of the country's top defenders, yet nobody gives him the proper recognition because Craft shadows him.
Dave: Shannon Scott. He has improved so much as Alex said. If he can fix his jumper, he'll be a very dangerous player.
---
Don't forget to tune in next week Friday for another edition for the 11W Roundtable.