It's all over.
Four short months after fall practice began, the Ohio State football season has come to an end. For the first time since 1999, the Buckeyes will not appear in a bowl game. But that doesn't mean the story does not have a happy ending. A 12-0 season capped with a win over Michigan is the goal every season.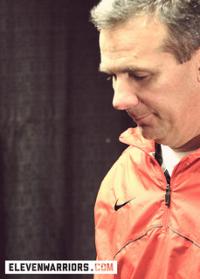 Mission accomplished.
One year ago today, Urban Meyer was introduced as the Ohio State head coach. In that time, he has uplifted a program that was reeling from a year-long scandal. That time period is now hundreds of miles in the rearview mirror.
Closing out another top five recruiting class becomes the focus of the coaching staff without any more practices on the docket. If there is one silver lining to the postseason-less season, it is recruiting. Ohio State coaches have much more free time on their hands than the rest of college football's high-profile teams.
It's never too early to look ahead, and 2013 could be the makings of another undefeated season for the Buckeyes. If that were the case, a trip to the national championship game would be likely.
But Meyer isn't interested in looking too far ahead. For the time being, he'll savor what the 2012 season meant to him, his family, the players and Buckeye Nation.
The one attribute Meyer will always remember about the 2012 Buckeyes is the selflessness. He said that is always a goal, but it is rare to actually achieve it.
The team had incredible character, determination and genuine love, according to Meyer.
Sept. 29 at 11:22 a.m., Ohio State had a team meeting in a ballroom in East Lansing. That's when Meyer said he knew he had something.
Meyer said other than winning games, the ultimate feeling as a coach is seeing everything come together – a team click and buy in to the coaching philosophies.
"I really believe we could play with any team in the country." –Urban
For the coaching stuff, the goal now is to sustain the success and selflessness that the 2012 team exhibited. Meyer said there will be a wall dedicated to the 2012 team in the Woody Hayes Athletic Center and all future teams will hear about the 2012 team's selflessness.
"My concern here is complacency. We have to make sure that doesn't take place. We need an angry team next year." -Urban
Heading into the 2013 season, Meyer says linebacker is the position of biggest concern.
Meyer does not know when he'll talk to Johnathan Hankins and Bradley Roby about their NFL futures. 
At the midway point of the season, Meyer was worried about the defensive staff. But they turned the corner. Meyer said the staff has great character.
Meyer said he will make no offseason coaching changes. But having successful seasons sometimes means assistants leave.
Quarterback Braxton Miller will have to work on his scrambling in the offseason, Meyer said. At this point, Miller is still not a scrambler. Meyer said most of Braxton's yardage came on designed runs, not scrambles.
"Our quarterback was not the most fundamental quarterback in the country, so (offensive coordinator/quarterbacks coach) Tom Herman and I are going to have a talk about that." -Urban
Meyer said he would grade the passing game as a C or C-. He said it's not in the same hemisphere as where it needs to be.
Meyer said he received two red light tickets in September after his wife, Shelley, urged him to get to his son, Nate's, football games.