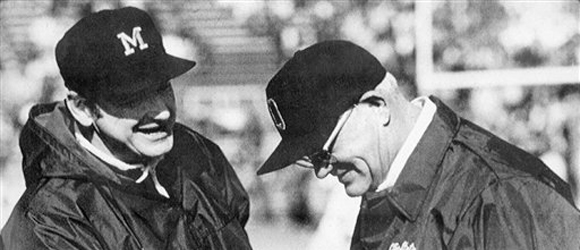 For the first time since 2004, the Ohio State Buckeyes are looking to avenge their loss to the Michigan Wolverines from the previous year. For the scarlet-and-gray clad participants in this historic rivalry, things felt relatively safe under the direction of head coach Jim Tressel; but, as Braxton Miller lobbed what could have been a too easy 76-yard touchdown pass over DeVier Posey's head, the vulnerable, cyclical nature of college football reappeared.
Michigan had made quite the turnaround last year under new head coach Brady Hoke. Ohio State has since shrugged off their first sub-.500 team since John Cooper's first year, with a recovery under Urban Meyer that would have been unheard of... had you not known who Urban Meyer is. Now, talks of a new Ten Year War between these storied programs are back. And, as is the theme for many meetings throughout the years between Ohio State and Michigan, an 11-0 team looks to finish off an undefeated season, while their bitter rival looks to play spoiler.
This week, I talked to John U. Bacon about the 2012 Michigan Wolverines, the program under Brady Hoke, and what to look for on Saturday in the upcoming chapter of the Ohio State-Michigan story. Read on, tune in, and may the best team win.
Michigan is currently 8-3, with two of their losses coming from the top two teams. How has this season differed from, or played out like, how you had expected in the preseason?
Unlike a lot of recent seasons – for example, every season from 2007 through 2010, what I call my "unfortunate streak of poor prognostication" – the last two years have played out almost exactly as I thought they would. On my Sunday radio show with Michigan great Jamie Morris (probably all too well known to Ohio State fans), I had predicted Michigan would go 10-2 last year, then chickened out before the first game, and lowered the estimate to 9-3. (That's what you get for having no guts.)
My calculation was pretty simple: they had won seven games in 2010; almost all of the key players were returning; the schedule was much more favorable, with most big games at home; and the 2011 team was led by an unusually strong group of seniors. Perhaps most important, the defense simply had to be better (as my father often tells me, "When you're on the floor, you can't fall out of bed"). I figured all that had to be worth at least two wins, maybe three, and that proved true.
Likewise, when Jamie and I both predicted Michigan would go 8-4 this year, we made our calculation on the same criteria, just in reverse: the schedule would be substantially tougher, opening with Alabama in Dallas, then playing improved Notre Dame, Nebraska and Ohio State squads, all on the road; and they were losing key players like Ryan Van Bergen, Mike Martin, and David Molk, who might have been the toughest to replace.
Sure enough, here they are, at 8-3 – and even then, they needed last minute comebacks against Michigan State and Northwestern, at home.  Of course, the game against Ohio State means everything to Michigan, once again, including a chance at a division title.  But it's more than that: 9-3 sounds a lot better to fans – and bowl representatives – than 8-4.  Beating the Buckeyes two years in a row probably sounds even better.
Many have noticed the impressive turnaround of the Michigan defense in the Brady Hoke era. A much better defensive coordinator aside, what do you think are some of the most important things that Hoke has brought to the Michigan football program?
Good question, but I have to stop you mid-sentence: it is the defensive coordinator. Hoke and athletic director Dave Brandon deserve credit for luring Greg Mattison from the Baltimore Ravens – partly by shelling out $900,000 a year, more than three times what Michigan paid Rodriguez's defensive coordinators, Scott Shafer and Greg Robinson – one reason why Rodriguez was never able to get his first choice. In hindsight, he probably should have insisted Michigan offer a guaranteed contract to get Jeff Casteel, his defensive coordinator at West Virginia, which is exactly what Rodriguez did at Arizona. (Both sides learned some lessons along the way.) Things got worse when Shafer and Robinson inherited Rodriguez's position coaches, and his preferred 3-3-5 system, neither of which they knew very well. Throw in a weak cupboard – with just one high draft pick – and an amazing string of injuries to defensive backs, and you get historically bad Michigan defenses.
In contrast, after hiring his coordinators, Hoke gave them a surprising degree of autonomy – he doesn't wear headsets, which is unorthodox but seems to work for him – the recruiting has improved, and they've also been a lot healthier. Add it all up, and Michigan's 2010 defense, which ranked 110th nationwide, soared to 17th overall in 2011. How Mattison did not win the Frank Broyles Award for the nation's top defensive coordinator is a mystery to me. I've never seen anything like it.
Beyond that, Hoke doesn't have half the pressure that Rodriguez did – from the press, the fans, and the alums – and he's done a great job creating a relaxed, comfortable environment for the players. One need only look at the performance of Michigan's field goal kickers in in 2010 (4-for-14) and 2011 (13-for-17), again with the same personnel, to see the difference.
Denard's status for Saturday has been one of the biggest topics heading into the game. What are the major differences between having Denard Robinson or Devin Gardner as the Wolverines' QB, and what has utilizing Denard at various positions done for this offense?
Of course, unlike the NFL, college teams don't have to reveal the injury status of their players, and Hoke seems to delight in not doing so, reducing almost every injury to a "boo-boo," which doesn't give opposing coaches much to go on. He is unlikely to reveal his starter until game time – and why should he? Let the Ohio State coaches stay up nights looking at miles of film on Robinson – and three paltry games on Devin Gardner.
As I'm sure your readers know, Robinson has had much more success running than passing (though it's tempting to wonder how far Robinson might have gone playing in a true spread offense for four seasons), while Gardner more closely resembles the kind of traditional drop-back passer offensive coordinator Al Borges prefers. Still, Gardner can run for ten or fifteen yards when needed, and is especially effective rolling out in the red zone.
The guess here – especially with leading rusher Fitzgerald Toussaint out with a broken ankle – is that Gardner starts, and Robinson plays at tailback, receiver, and occasionally quarterback. This becomes a defensive coordinator's nightmare – who knows where they're going to put Robinson, and what he's going to do, run, catch or pass? – and one good reason Michigan might pull the upset.
It's hard to tell what to expect offensively for the Wolverines on Saturday, given Robinson's injury situation, but what do you think are the major keys to slowing down Michigan offensively?
Alabama showed every Michigan opponent how to defend Robinson: force him to pass, and turnovers follow. Notre Dame learned the lesson well, picking off five consecutive passes, four of them Robinson's. In a true spread offense, Robinson's judgment and accuracy improve, partly because the decisions are more obvious, and the margins much bigger. (Note the term "spread," something Urban Meyer has shown Braxton Miller how to exploit.) 
So, with Robinson taking the snaps, the Buckeyes will likely create a fence around him, allowing him to linger in the pocket but not stray too far, letting him take his chances throwing the ball.  If Hoke starts Gardner – who seems to be striking a better balance between passing and running when it's available – I would expect Ohio State to send much more pressure, in the hopes of rattling the relatively inexperienced Gardner into rushed decisions and poor throws. He might burn you for an occasional first down run, but he's not a great threat to burn the Buckeyes with the kind of end-to-end highlights that have made Robinson a legend.
Can you give our readers a few Michigan defensive players to watch out for on Saturday?
When one of Michigan's most exciting defenders, 2011 Big Ten All-Freshmen team member Blake Countess, went out in the first game of the season with an injured knee, the Wolverines were left with few big names on defense, yet have performed remarkably well, relying more on brains and grit than raw size or speed.
Linebacker Jake Ryan has notched 48 solo and 27 assisted tackles through 11 games. With his long blond hair flying behind his helmet, you'll know him when you see him – which will likely be often, if Michigan is playing well.
Craig Roh, the fourth-rated defensive end out of Scottsdale, Arizona, has been moved back from linebacker to his natural position, where he seems far more comfortable, and often gets to the quarterback for a sack.
Jordan Kovacs's journey started at the other end of the spectrum: a campus try-out for un-recruited walk-ons. He quickly rose to become a starting linebacker, one of the team's leading tacklers, and this year, a co-captain with Denard Robinson – sort of like Rudy, but he actually plays, his teammates like him, and he won't spend the rest of his life trying to get Hollywood to make a movie about him. He's not NFL-big or fast, but he has a remarkable nose for the game, using his anticipation and toughness to make plays others don't. Don't be surprised if he's the game's leading tackler.
How do you think the Michigan defense will fare, against Ohio State's new offense, Braxton Miller, and Carlos Hyde?
I think this is where the game will be decided.
I watched Miller against Michigan last year as a freshman. He made some nice plays, but late in the game, when he saw DeVier Posey beat his man by five yards along the left sideline, Miller fired a bullet where a nicely arced pass was called for, and likely have earned the 6-5 Buckeyes the upset. This year, I've seen him play against Michigan State, Nebraska and Penn State, and his accuracy, poise and judgment improved with each outing. I would guess that, given the same opportunity he had last year against Michigan, he'd make that pass, and the outcome would be different.
When you add Hyde, who has been quietly effective this year, Ohio State is certain about two things coming into this clash Michigan is not: who is going to throw the ball, and who is going to carry it.
On paper, I'd say this duo's continued improvement, their success and their growing experience would be enough to overpower the Wolverines. But watching Mattison do more with less so many times, betting against him has proven a bad idea.
Can you share a score prediction for the game?
Oh Lord, you had to ask.
Because of the wildcards mentioned above, this is one of the toughest games to handicap in recent memory. But I have to consider: last year a much weaker Buckeye team almost beat an eventual 11-2 Michigan team up in the Big House; this year Michigan has suffered injuries to Countess, Robinson and now Toussaint, while dropping three games and pulling two out in the waning seconds; the game is at the Horseshoe and, perhaps most important, Michigan knows it's going to be playing in a decent bowl game, just as the Buckeyes know this is their bowl game. For those reasons, I have to pick Ohio State, 28-24. But watch for this: If Ohio State gets ahead late in the game, I would imagine Coach Meyer responding less like Coach Tressel, and more like Mr. Wayne Woodrow Hayes.
That said, I have more questions than answers, but I think the future of this rivalry, with both teams stabilized and recruiting well once again, is very bright, and the era of long winning streaks is probably over.
---
John U. Bacon is the author of Bo's Lasting Lessons, and Three and Out: Rich Rodriguez and the Michigan Wolverines in the Crucible of College Football, both national bestsellers.  His upcoming book, Fourth and Long: The Future of College Football, will be published by Simon & Schuster in August, 2013.  You can follow him on Twitter, at @johnubacon, and subscribe to his weekly blog, johnubacon.com/blog.