Urban Frank Meyer III grew up on the shores of Lake Erie in Ashtabula, Ohio, during the height of the Ten-Year War. In late November he would sit intently in front of the television watching Archie Griffin and Cornelius Greene go up against Dave Brown and Dan Jilek. From an early age, Meyer was sold on the Buckeyes and aware of what the Ohio State-Michigan game meant.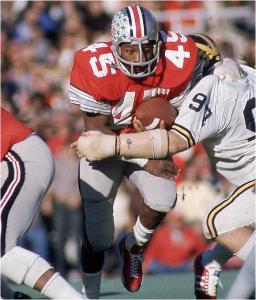 "It was all I knew growing up," Meyer said on Monday. "It's all anybody knew. In the era when I grew up, there really wasn't much other than three channels on your television and this game. It was Bo Schembechler, Woody Hayes, Pete Johnson, Archie Griffin. That's all."
In the late 80s, Meyer got an even better taste of the rivalry during a two-year stint as a graduate assistant under then-head coach Earle Bruce. It was the week of the 1987 Michigan game that Bruce was unceremoniously fired. Athletic director Rick Bay disagreed with the decision of President Ed Jennings and resigned.
During that week, The Ohio State University Marching Band showed up on the front lawn of Bruce's Upper Arlington home and serenaded him with university songs. The show of support brought the coach to tears with its show of support.
That Saturday, the team entered the Michigan Stadium turf wearing headbands that said "Earle." Ohio State defeated the heavily favored Wolverines that day, 23-20.
"Great memories," said Meyer, about the 1987 Michigan game. "I can tell you everything. I can tell you walking into Coach Bruce's office right here. This facility (Woody Hayes Athletic Center) just opened, and Rick Bay was leaned up against the wall and looked at me and said, 'Close the door. Are you the last (coach)?' I said, 'Yes, sir.' And I sat down.
"I saw a bunch of coaches with their arms on the table, with their face in their arms, and tears and the whole deal. I was the last guy to walk in, and he said that Coach Bruce will no longer be the coach after this game, and I have resigned as athletic director. It was right there out that door. I knew Mr. Bay very well and have great respect for him. Just an incredible moment in Ohio State history."
The history of the Ohio State-Michigan rivalry dates to October 1897 when the schools first played on the football field. In the states of Ohio and Michigan, it's a way of life. For 365 days, the fans poke at one another, and on a Saturday in late November, bragging rights are doled out for the next year.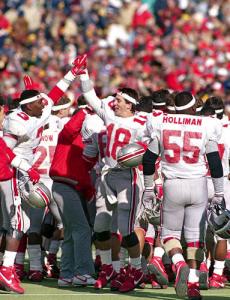 When he was hired, Meyer made it a point to seek out coaches who had a firm grasp of The Game's history.
"I wanted this to be close to home, and it is for eight of our nine (assistants), "Meyer said. "And we're educating our ninth guy. That is Everett Withers."
The same attitude has taken hold across the state border to the north. Michigan head coach Brady Hoke, an Ohio native, grew up rooting for Michigan and cherished the Ohio State-Michigan game. As a longtime assistant for the Maize and Blue, Hoke grew to appreciate the effort put forth by each team.
With coaches that are intimately tied to the rivalry, the passion is ratcheted up even more.
"He was born in the state of Ohio, which I still don't get – that's another story," Meyer said of Hoke. "But I guess it adds to the intensity. I think when you're talking about it's close to home, it adds fuel to the fire."
Meyer has let the Michigan game reside in the background as quiet noise since the season kicked off in September. When the team was slapped with a bowl ban, the season became a 12-game mission to silence critics who viewed Ohio State's 2012 slate as a meaningless and lost season.
Now 11 games have passed and Ohio State is left standing, along with Notre Dame, has one of two unbeatens in college football. Due to the postseason ban, one-game-at-a-time is out the window. Saturday is it. Michigan plays the role of season finale.
"We can talk about this game now," Meyer said. "We talked about it as a team a little bit. We talked about it during training camp just to remember.  Obviously, you walk through the facility and there's all kinds of tributes to this game.
"I remember the games. I remember it coming down the pipe. I remember everybody talking about it. So it's incredible memories growing up.  And then when I was hired by Earle Bruce, obviously, his passion for this game and understanding of this game was intense. I remember that very well."
In five days, Meyer will have the opportunity to make new memories in the rivalry that has been so dear to him since childhood.