If classic literature, TV shows loosely based on classic literature, and Quentin Tarantino movies have taught us anything, it's that revenge can be a powerful motivator.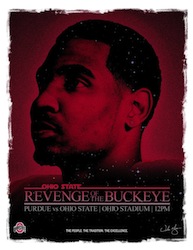 This season, the Ohio State football team has played the part of a vengeful spirit as the Buckeyes try to prove, with all apologies to Woody Hayes, that it is possible to pay back.
In 2011, Braxton Miller looked like the lost freshman he was in an ugly 10-7 loss to Michigan State. A year later, Miller displayed his playmaking talent as he led Ohio State to a 17-16 win over the Spartans.
In 2011, Miller helped his team take a 27-6 lead in Lincoln, Nebraska, but then he left the game with an injury and the Cornhuskers rallied for the victory. A year later, Ohio State fell behind early and quickly rebounded for a decisive 63-38 win in which a healthy Miller bested his own school record by rushing for 186 yards. 
In 2011, Purdue defeated Ohio State in OT, which was forced when the Buckeyes missed an extra point attempt after a last-minute comeback. A year later, Ohio State again put together a last-minute drive and thanks to a successful two-point conversion, they forced OT and this time, the outcome was favorable. 
In 2011, Penn State's defense and lack of pick-sixes helped them beat Ohio State, 20-14. A year later, Ohio State's offense, and a Ryan Shazier pick-six, gave them the 35-23 win. 
These results should hardly be surprising. Dating back to the start of the Jim Tressel era in 2001, Ohio State has only lost to the same team1 in consecutive years twice: Wisconsin ('03, '04) and USC ('08, '09). Urban Meyer has a similar record in revenge games. While at Florida, it also happened just twice: the Gators were beaten by Auburn2 in '06 and '07 and by Alabama in '09 and '10.
With one game remaining, Ohio State has one final shot at redemption for last season. Even though revenge will certainly be on the players' minds, it will not necessarily be the key factor it has been in those earlier four games. 
Because when it comes to Michigan, rivalry is the "R" word that really matters.
As cathartic as defeating Wisconsin3 was for many of the Ohio State players who saw their perfect season ruined in Madison two seasons ago, it pales in comparison to this week.
For Ohio State vs. Michigan, there needn't be any extra incentive beyond getting the best of their hated rival. If revenge played a significant role in The Game, then Ohio State would have been more successful in the 90s and it wouldn't have taken the worst Ohio State team in decades for the Wolverines to end their losing streak against the Buckeyes.
Each team has seen or heard nonstop mentions of the other throughout both the season and the offseason. The weight rooms and locker rooms serve as a reminder that the last game of the season requires greater attention than the ones that came before.
Winning is the goal of every game, but when Ohio State and Michigan take the field, it's not just about that. It's also about beating the other team. 
Of course in the grand scheme of things, a Buckeye win would mean more than "just" beating Michigan. It would help ease the minds of any fans who might be worried that Ohio State's prosperity in the rivalry ended when Tressel and his Midas touch left. The Aughts were a blissful period for the Scarlet and Gray faithful, but the painful memories of the Cooper years can never be fully avenged.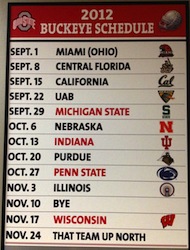 And it would also send a message to Michigan that last season was an aberration and that Brady Hoke's approach to The Game, including his nickname for Ohio State, is no match for the Urban Meyer "That Team Up North" method.
Meyer understands this game, saying, "This is all I've ever known growing up" and for him, Saturday represents its own form of payback. During his head coaching career, he has only lost one bowl game—the 2008 Capital One Bowl against Michigan.
More importantly, a win would get Ohio State to 12-0. Even though this team is banned from postseason play, they still have the opportunity to leave their mark with an unblemished record and by sending their seniors, who have had to deal with a lot of turmoil within the program, out as victors.
After a nightmare season a year ago and the gut punch of a bowl ban, Ohio State has the chance to exorcise some of their demons. Making it through a season unscathed is not easy to accomplish in college football, especially following a 6-7 season and a coaching change. This team can finally put to bed the notion that they've had nothing to play for in 2012.
Because all season long there's been something to play for, whether it's revenge, redemption, or rivalry.
If living well is the best revenge, then there's no better way for Ohio State to cap off a perfect season than with a win over Michigan. But regardless of record, that's always the best way to end November4.