Ohio State ran into its first sign of bad luck in June when running back Jordan Hall suffered cut tendons in his foot after stepping on a piece of glass. It's been an onslaught ever since.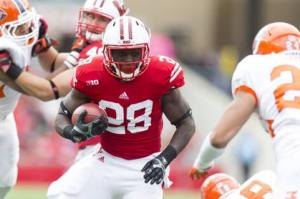 Six weeks ago, linebacker Etienne Sabino got caught up in the M*A*S*H unit after breaking the fibula in his right leg. But he'll return to the starting lineup on Saturday at Wisconsin. And if there's a game where the Buckeyes need a healthy group of linebackers, it's against the Badgers.
Wisconsin running back Montee Ball is coming off a performance that earned him co-Big Ten offensive player of the week honors. In a 62-14 rout of Indiana this past weekend, Wisconsin rushed for a school-record 564 yards.
Ball was a big part of that, gaining 198 yards on the ground and running for three touchdowns. He is now second all-time on the NCAA touchdown list.
"He started slow (this season), and I don't put that on him," Ohio State head coach Urban Meyer said. "I thought they had a lot of transition in the coaching staff. His strengths are great vision, and he's really a fast player. He pulls away from angles, and his toughness – you can give him the ball a bunch of times and he just keeps getting stronger. He'll be a very good NFL back."
Saturday's game looms large for the bowl-less Buckeyes. Not only can they continue an undefeated season, but they can also clinch the Leaders Division championship. Ohio State currently leads Wisconsin by two games in the standings.
"That will be brought up," Meyer said. "That's real important to us."
But the Badgers enter the game on a hot streak. After beginning the season 3-2, Wisconsin has won four of its past five games.
"I think there's ways to stop the run," Meyer said. "What they do a nice job is just these multitude of shifts, formations and motions that are hard to get gap control or gap security. The good thing is we've had a bye week. A lot of time's been spent on that."
That's why three healthy linebackers are a boost to the Ohio State defense.
"The three that broke the starting lineup today on Monday is (Ryan) Shazier, Zach Boren and Sabino," Meyer said.
Storm Klein will also be available after missing time with a bulging disc in his back. Still, Meyer isn't at all satisfied with the level of depth his linebackers have.
The other bit of good news on the injury front comes on special teams, where piranha Armani Reeves will return after a brief hiatus. The freshman missed four games with a sprained ankle.
"Armani Reeves is coming back as the left missile on the kickoff," Meyer said. "He's a very valuable player. Special teams usually has an impact in the game."
Center Corey Linsley and safety Orhian Johnson have both dealt with minor injuries but should be fine come Saturday. Linsley missed part of the Illinois game with a leg injury, while Johnson left with a shoulder injury. Both players practiced Monday morning.
"On the injury front, it has been pretty positive," Meyer said.
But the Buckeyes weren't able to get through the bye week totally unscathed. Freshman running back Bri'onte Dunn, coming off rookie of the week honors, will not be in Madison on Saturday – and he could be out for the season.
Dunn, who rushed for 73 yards and a touchdown against Illinois, suffered a sprained MCL. Meyer deemed it a "nonsurgical sprain" and was hopeful he could return for the season finale against Michigan.
One on-field issue was all the coaches had to deal with. At one point or another all of them went on the road recruiting last week. But the only phone calls involved family or respective recruits. No current player ran afoul.
"The number one thing to worry about is that phone call, everyone driving home to families and doing something ignorant on a Friday or Saturday night," Meyer said. "My comment was, if it's going to help us win our 11th game, do it and do it a lot. If it's not, don't do it."