The scenery was much different. Instead of breathtaking seaside views, there were luxury suites. But there also wasn't a slick surface.
Who'da thunk Value City Arena could outshine a U.S. Naval aircraft carrier?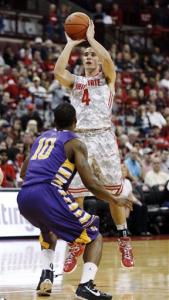 After Ohio State's picturesque season opener on the deck of the USS Yorktown in Mt. Pleasant, S.C., was scrapped Friday night due to condensation on the court, the Buckeyes finally got their 2012-13 season under way – albeit 43 hours later than expected – defeating UAlbany, 82-60, in the Hall of Fame Tip-Off Classic.
Ohio State's scoring also took a respite. The Buckeyes missed their first five shots from the field and didn't score until nearly three minutes had passed. But once Aaron Craft hit a three-pointer from the top of the key, it was only a matter of time before Ohio State took hold of the overmatched Great Danes.
Craft's initial three was a harbinger of things to come. Already well known for his defensive skills, Craft set out during the offseason to improve on his offense and make himself a more all-around player. Consider the mission accomplished.
"After the season that was one of the biggest things we talked about," Craft said. "We put a lot of effort in having guys shooting behind screens. My teammates have to trust me to make those shots, and I feel like I earned their confidence in the summer and fall. It's not hard to knock down wide-open shots when you have great players around you."
Craft finished with career highs in points with 20 and made three-pointers with five. He also dished out seven assists.
"I give him a lot of credit for working hard all offseason," Ohio State head coach Thad Matta said. "He was in the gym every day. Having another guy to put the ball in the basket is obviously something we need. He's not going to force things. He took great shots today."
Brown left Columbus singing Craft's praises, a growing trend over the past three seasons.
"He's going to play in the NBA for 10 years, I'm sure," UAlbany head coach Will Brown said.
Ohio State trailed, 23-22, late in the first half when Matta got animated and red in the face during a timeout. The screaming worked, because the Buckeyes used a 17-2 run the rest of the half to take a 14-point lead into the locker room at halftime.
During the spurt, Deshaun Thomas, who started 1 of 7 from the field, scored 13 points. The exclamation point came when Lenzelle Smith Jr. hit a buzzer-beating three-pointer from the corner. UAlbany didn't make a field goal during the run.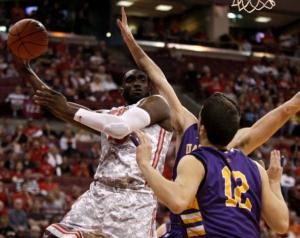 "I saw Thad jump off the bench. It looked like he had a 40-inch vertical," UAlbany head coach Will Brown said of the timeout. "I think that lit a fire under them. We have little room for error. I think (the buzzer beater was) deflating."
Said Matta: "It definitely sparked a run."
Thomas finished with 19 points, Smith added 18 and LaQuinton Ross scored 10. Nine Buckeyes appeared in the game, eight of which played at least 15 minutes.
"Freshman year, I would have had my head down pouting," Thomas said about his slow start. 
Mike Black led the Great Danes with 20 points.
After not playing Friday night, Matta was worried about his team's game Sunday, especially after an abbreviated practice on Saturday. The Buckeyes did start slow, but the final stats showed an all-around Grade A performance.
Ohio State shot 57 percent from the field and 60 percent from the three-point line, converting 12 of 20 attempts. UAlbany, meanwhile, was limited to just 16 field goals for the game and six three-pointers. They shot 35.6 percent from the field and 27.3 percent from beyond the arc.
The second half didn't begin much better for the Great Danes. Ohio State scored the first 10 points to open up a 20-point lead. UAlbany never threatened the rest of the game.
Matta used the same starting lineup as Friday – Craft, Smith, Thomas, Sam Thompson and Evan Ravenel. He said he went with those five because they are Ohio State's most experienced players.
Thompson, on his birthday, rewarded his head coach for his first career start. In 27 minutes, he tallied four points, five rebounds, four blocks, three assists and a steal.
There was a ceremony prior to the game unveiling Ohio State's 2012 Final Four banner. According to Brown, the Buckeyes aren't far off from a return trip in 2013.
"They have McDonald All-Americans on their bench; my team goes to McDonald's just to eat," he said.
Despite not playing the Carrier Classic, Ohio State's players were still satisfied with the experience in South Carolina. They wore their scarlet and gray camouflage uniforms Sunday, and the trip was still on their minds.
"We still had a lot of fun," Craft said. "We got to experience working with kids and working with guys on the base. It was a good eye-opening experience for us."
Sunday's game was the first of four games in the Hall of Fame Tip-Off Classic. Ohio State will play in a four-team tournament this coming weekend in Uncasville, Conn. The Buckeyes play Rhode Island on Saturday and Washington or Seton Hall on Sunday. The final game of the event is at home against Missouri-Kansas City on Nov. 23.