Few teams test linebackers like the Wisconsin Badgers. They field two physical running backs behind an offensive line that is equally as tall as they are wide and strong. And they run right at you. It's the very definition of smash mouth, Midwestern football.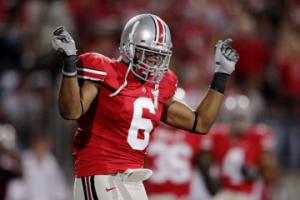 Two years ago, undefeated and No. 1 Ohio State went to Madison and came away with a resounding loss, sending the Buckeyes' national title hopes tumbling. Wisconsin returned the opening kickoff, which didn't help. But neither did the 179 rushing yards and three touchdowns that John Clay and James White ran for.
The week before, Ohio State was dealt a blow when "Star" Tyler Moeller suffered a torn pectoral muscle. Wisconsin's elimination of the Buckeyes' linebackers with a complex scheme that took them out of the game contributed to the Badgers' offensive onslaught. Without linebackers, stopping Wisconsin's vaunted rushing attack is all but hopeless.
"You have to have your weight up to tackle Montee Ball," sophomore linebacker Ryan Shazier said. "And they have one of the best lines in college football."
That's why the confidence surrounding linebacker Etienne Sabino's progress from a broken fibula in his lower right leg is so encouraging for Ohio State. The senior captain was injured in the first half against Nebraska on Oct. 6. Six weeks later, he is slated to not only play against the Badgers but start.
"He's had two good days (of practice)," head coach Urban Meyer said Wednesday. "He's still got a bit of a limp, but he's practicing. As a matter of fact, he's running with the first-team defense."
A lot has changed since the Sabino last played. The number of losses remains the same – zero – but the personnel on defense, specifically linebacker, may be unrecognizable.
Sabino, who celebrates his 22nd birthday Monday, has been used to hitting Zach Boren in practice. A fifth-year senior, Sabino has been around for Boren's entire career. Hitting one another with Boren as a lead blocker at fullback has been a daily ritual the past four seasons.
Not anymore. Now they are running mates.
"That's our plan," said Meyer, when asked if Boren would stay at linebacker. "If it's base (defense), those are our three top guys right now (Sabino, Boren and Ryan Shazier)."
Boren was moved to defense the Tuesday following Sabino's injury due to a lack of depth at linebacker. He started that week against Indiana and became an immediate impact player, leading the team with eight tackles. He has 29 tackles on the season, including 1.5 tackles for loss.
The Ohio State defensive woes this season have been well documented, and the root of the issue lay with the linebackers. The Buckeyes' struggles were so great at times that they went away from their base 4-3 defense and played in nickel.
Once attrition hit in the form of injuries – multiple freshmen are out and senior Storm Klein has a bulging disc in his back – there was no choice but to move Boren.
The performance from Boren at Indiana, while admirable, did not lead to an improved defense – at least not that night. Ohio State surrendered 481 yards and 49 points to the Hoosiers. It was the highest point total the Buckeyes had ever allowed in a win. Indiana scored on three plays of 25 yards or more and two of 50-plus yards.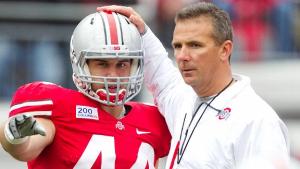 But that was rock bottom. The past three games have each seen rapid improvement, culminating in the best defensive effort of the season last week against Illinois. The Fighting Illini didn't have much fight, as they were limited to 170 total yards. In its past two games, Ohio State has held Penn State and Illinois without an offensive touchdown until the fourth quarter.
Shazier has been the catalyst in the defensive tsunami. He was named the Big Ten defensive player of the week after both the Penn State and Illinois games. His past three games have been as productive a stretch as any linebacker has had throughout the country all season: 34 tackles, 5.5 tackles for loss, two sacks, one interception return for a touchdown and one forced fumble.
Despite his tackles by the dozen, Shazier has felt a missing presence on the field without Sabino. He knows how much it pains Sabino not to be out there with his teammates. But Sabino has kept a positive attitude throughout the ordeal and was chatting with the defense on the sideline and still active in the meeting room.
"It's great to have him back out there," Shazier said. " He's got a lot of experience and it adds more to the linebacker corps.
"He's real excited. He's talking about it a lot. He's happy, you can tell. He's trying to get every rep he can take. He's a great linebacker. It's just good to have another dude out there we can trust."
Freshman defensive end Noah Spence has gained the trust of coaches and teammates as he's become more acclimated with the defense. It has led to senior defensive end Nathan Williams acting more freely and being able to rove and drop back in coverage as a hybrid linebacker.
"By having him learn a package and continuing to expand on that, that's what you have to do," defensive line coach Mike Vrabel explained of Spence. "You have to gain the confidence of your players and coaches to go out there and play. Every time he goes out there, we know he's going to play hard. We just hope that his development continues and that role can expand a little bit."
The cumulative effect with Spence's development hasn't only benefitted the linebackers, it has kept his fellow linemen more fresh due to substitutions and also led opposing offensive lines to try to contain Spence, along with Williams, John Simon, Johnathan Hankins and Garrett Goebel.
Ohio State has also gotten back to basics, as in fundamentals. Four to six seconds of relentless effort, finishing tackles and leveraging the football were pounded into the heads of each defensive player on the Buckeyes, from walk-ons all the way up to Simon.
"We have to keep playing to the final whistle," Shazier said.
In Madison, they'll first need to drag a running back to the ground.