After dispatching Illinois on Saturday, Ohio State became the first 10-0 team in the country this season. Without context, that hardly seems out of the ordinary for a football powerhouse, even if it's only happened nine times in school history.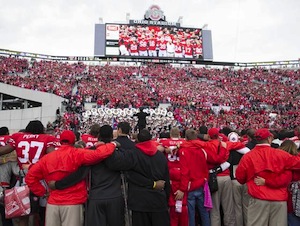 When Urban Meyer came aboard, undefeated records and Heisman Trophy candidates were anticipated even more than usual, though most fans expected those feats to wait until next year after the kinks of a new system had been ironed out and a national title was a tangible goal.
But here they are a year earlier with a perfect record and a top-five ranking in the month of November. Two rivals1—one more recent, one the ultimate—are what stand between Ohio State and a 12-0 record. So clearly, all is well and good in Buckeyeland.
Except, not quite. The team has had its share of screw ups and close calls; until the Illinois game and the win over Penn State a week before, Ohio State hadn't put together anything resembling a complete game. Even after their easiest victory of the season, Meyer wasn't satisfied:
"I've been fortunate to have a couple of top five teams," Meyer said. "This one probably has more holes than those other ones. However, there's also some great performances, so we are going to do dwell on the weaknesses because those weaknesses get exposed when you play two good teams like we have to finish the season."
The players seem to share that sentiment with their coach. According to Philly (né Corey) Brown, "He holds us to such high standards – and he should."
That's the kind of attitude people want their favorite teams to have, one where they're continuously focused on getting better. But as a fan, it can be exhausting to sweat the small stuff, always demand more, and not fully appreciate what makes a team special. 
This season, Ohio State does not fit the definition of elite, yet I'm proud of how much they've grown and the resolve they've shown to reach 10-0. As such, I've come up with ten reasons why, flaws and all, this team should be enjoyed.  
10. No Complacency
As stated above, fans don't want a team to settle for anything less than their best effort. With Urban Meyer, Ohio State has a coach who is quick to praise players who he feels have earned it, but he will also call out anyone who needs to improve, even a star quarterback whose passing game is not yet up to par. 
If the Buckeyes had been content with just making it through September undefeated, then they wouldn't have made it through October and into November unscathed. If they want to remain perfect, they have to keep trying to fix their imperfections. Fortunately, no one on the team seems willing to accept this is as good as they get. 
9. Work in Progress
And because they aren't complacent, the Buckeyes have made many strides, both from a year ago and during the season. The 2011 team won six games. The 2012 team has a chance to double that total.
In 2011, the offense scored 39 touchdowns and totaled 4,133 yards in 13 games. In 2012, the offense has scored 55 touchdowns and totaled 4,453 yards, and those numbers are only through 10 games.
Earlier in the season, Braxton Miller was the entire offense, and while he's still clearly the top playmaker, others have stepped up, most especially Carlos Hyde as his running partner in crime.
Meanwhile, the defense, particularly in the last few weeks after a poor outing against Indiana, has clamped down. The defense has had to deal with quite a few significant injuries and as such, has been a motley crew of sorts. Most notable is fullback Zach Boren making the switch to linebacker. But after a few games, the players have learned to play together and gotten into a bit of a groove.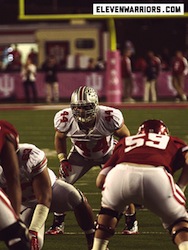 Although it should be noted that none of their last three opponents—Purdue, Penn State, and Illinois—could be considered offensive juggernauts, the defense has given up much fewer big plays, a sign that they've worked on fundamentals like tackling, a huge problem area not too long ago.
8. Senior Leadership
This is not a team loaded with seniors, but their leadership has been invaluable. Boren moving to the other side of the ball is just one instance of a veteran helping the team. During the offseason, John Simon set an example for his teammates with his draconian workout sessions, and then Simon, who most likely has played hurt all season, gave an uncharacteristically fiery speech after Ohio State held off Cal.
On the field, their production has increased recently, whether it's Boren accumulating tackles following his position change or Simon disrupting the opposing QB. Their unselfish attitudes not only benefit Ohio State now, but also for the future when the underclassmen who look up to them become seniors themselves.
7. Youth Movement
As important as the seniors are, Ohio State's most nationally recognized players could all potentially return next year2. Heisman candidate Miller is a sophomore, Thorpe Award semifinalist Bradley Roby is a redshirt sophomore, and future first-round draft pick Johnathan Hankins is a junior. 
The team's top tackler, linebacker Ryan Shazier, is also a sophomore and since he's been joined by Boren, Shazier has reemerged as a beast on defense.   On the DL, freshmen Adolphus Washington and Noah Spence have been the key contributors in their class, though others have shown eagerness to play and made their mark on kickoff and punt teams. 
Nearly all of the starting offense, currently ranked 36th in the country, will be back next season as well.
6. Line Play
As Meyer noted in his Illinois postgame press conference, he places a huge emphasis on controlling the line of scrimmage and Ohio State has been able to do it on both sides of the ball.
The offensive line has excelled under Meyer and position coach Ed Warinner, helping pave the way for the nation's ninth-ranked rushing offense.
The defensive line has not dominated as many expected, but against the run, it has been stout. Ranked 16th in the country in rushing defense, Ohio State is surrendering just 3.49 yards/carry and 107.9 yards/game.  
Most coaches will tell you that games are won in the trenches, and Ohio State's lines are a big reason why they're 10-0. 
5. The Running Men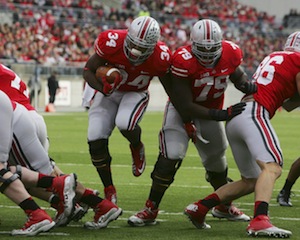 The guys that the OL blocks for have really come on strong lately. In the early part of the season, the running game wasn't very consistent outside of Miller, but after overcoming an injury, Hyde turned into a major running threat to complement his QB. Miller is averaging 116.6 yards/game compared to Hyde at 92.1, though it's Hyde who now leads the Big Ten in rushing touchdowns with 14, one more than Miller.
Rod Smith has shown promise as Hyde's backup with a robust 6.8 yards/carry. His reputation as a fumbler, however, remains the one glaring weakness to his game.
In garbage time against Illinois, freshman Bri'onte Dunn practically drove the length of the field all on his own. He totaled 73 yards on 13 attempts and scored his second career touchdown.
With versatile RB Jordan Hall injured most of the season, Ohio State has been able to prove that Urban Meyer knows how to use power backs and that Ohio State is a still a run-first team.
4. Spreading the Ball Around
Although everyone, even Miller himself, is aware that Ohio State's passing game needs to improve, the signs are there that it's slowly but surely starting to get better.
Leading receiver Brown, with 48 catches on the season, and Devin Smith, with a team-high six TD receptions, were the only two WRs targeted regularly at the beginning of the season. In the past month, Miller has gotten the ball to more teammates. Former tight end Jake Stoneburner has 15 catches while current tight ends Jeff Heuerman and Nick Vannett have combined for the same number. Rod Smith's 51-yard wheel route was a highlight against Illinois and WR Evan Spencer has accounted for over half of his catches in the past three games alone after not recording any stats in the four games prior.
Sometimes Miller struggles with accuracy and sometimes his receivers struggle with drops, but the passing offense is leaps and bounds from where it was last season and will continue to grow as the QB and WRs become more comfortable.
3. Winner's Mentality
This season, the Buckeyes have been able to make plays when they need to, most obviously in the thrilling comeback against Purdue. They have won four of their games by seven points or fewer. Last season, six of their seven losses came by the same margin.
This Ohio State team seems to believe in themselves, as represented by Roby declaring them the #1 team in the country and one that "can play with any team. We have the players to match up with any team."3
Part of their self-confidence can be chalked up to players gaining more experience and realizing what it takes to win, but some of it can also be attributed to the new coaching staff.
2. #YEAAHHHHH
Urban Meyer's staff appears to be a fun-loving, but intense group, and based on the team's production as well as their individual Twitter accounts, guys who know how to communicate with the players (and recruits).
Everyone knows about the exclamation-happy, Red Bull-loving Kerry Coombs and the juice-obsessed Mark Pantoni; there's also the less frequent zeal of Tim Hinton and Zach Smith and Tom Herman repeatedly mentioning how great it is to be a Buckeye:
Overall, the coaches come off as enthusiastic with an understanding of how to get the best out of their players.
1. The Greatest
Even though he will probably not take home the Heisman this season, for my money, there's no player more exciting in college football right now. I don't care what the QB rating of Kansas State's Collin Klein is or how many yards Oregon RB Kenjon Barner explodes for. When I noticed a headline about Texas A&M QB Johnny Manziel's "fantastic touchdown run", I watched the video and practically yawned. It was downright mundane compared to the elusive, practically computerized moves that GIF-worthy Braxton Miller displays on a weekly basis.
On Saturday, Miller conducted his postgame interviews wearing a Cassius Clay sweatshirt and while the QB is not the greatest in Ohio State history, he has the chance to become just that. He's already set both the single-game and single-season rushing records for an Ohio State quarterback. He's also Meyer's first-ever 1,000-yard rusher. 
And he hasn't even reached his potential. Barring any unforeseen circumstances and as long as his passing game continues to come along, Miller will only become more amazing to watch. Witnessing his evolution into a premier playmaker has almost been more entertaining than seeing this team get to 10-0. 
It's tough not to be impressed with how far this team has come. Although the season is nearing its end, this could just be the beginning of even better things for the Buckeyes. 
1Both hated. ↑
2 I'm not saying that, for example, Big Hank will be back next year, but it's at least possible. ↑
3 While I don't agree with Roby that Ohio State is the best team in the country, it's not like anyone can prove him definitively wrong right now. ↑