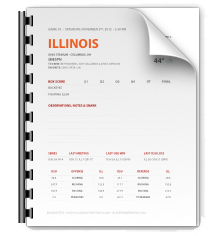 Bucknotes are your pocket guide for the game. Print them off and amaze your friends with your knowledge and insight.
Illibuck, the world's greatest wooden turtle is on the line Saturday, ladies and gentlemen. The actually tradition began with a live turtle in 1925, but college kids and their pets — it's no wonder the original trophy is no longer with us.
Incidentally, it's the second oldest trophy exchanged in the Big Ten, behind that hideous jug that Minnesota wins back from Michigan once every 15 years.
The line for this game opened at Ohio State -24, but since then has jumped to 27½ points, which should tell you a bit about the season the Illini have had under first year man Tim Beckman.
Enjoy the rare—for 2012, at least—3:30pm kick and remember, it's pronounced SHEEL-house SAKT by SHAY-zeer.