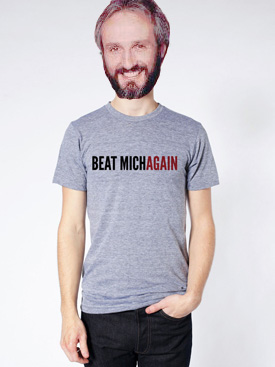 Here's what you need to know: Ohio State is currently favored by 24 over Illinois with an over/under of 51½.
You have to go all the way back to 2006 to find a line this big in the series, when that Ohio State team, led by Troy Smith and firing on all cylinders, entered the game as 25½ point favorites before eking out a 17-10 road win over the fighting Illini.
Got it? Good. Now it's time for you to submit a comment with your prediction for the final score of Saturday's tilt with Illinois. If you nail the score—or come closest—a new shirt from Eleven Warriors Dry Goods is yours. It will turn heads.
Last week, bassplayer7770 did the unthinkable by winning the contest with the first comment in the thread. So alpha.
The fine print:
Must be 18 years-old or older.
One entry/comment per person.
Duplicate predictions are ineligible — first come, first serve.
If Ohio State loses this game, there will be no contest winner. You're still free to enter a score, but there will be no shirt in sadness.
Deadline for entries is kickoff.
Good luck!