When Tim Hinton was hired as Ohio State's fullbacks and tight ends coach in January, he inherited two positions that were about to go under major makeovers. Zach Boren and Jake Stoneburner had played significant roles during their time in Columbus, but neither was a true offensive threat.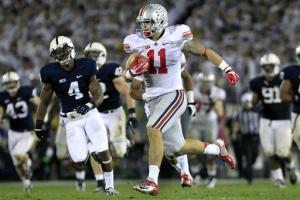 The fullback and tight ends position aren't glorified blockers in an Urban Meyer-coached offense, though. They are pass catchers and ball carriers, in addition to blockers.
Nine games into the season, Boren and Stoneburner have each seen an uptick in production. But Boren is starting at linebacker and Stoneburner is starting at wide receiver.
Who'da thunk it?
Boren's move was out of necessity. Ohio State had an emergency at linebacker when Etienne Sabino suffered a broken fibula against Nebraska and the replacements struggled to adapt. So in came Boren and tackles appeared. In his first game on defense since high school, Boren led the team with eight tackles at Indiana. He has 20 in three starts.
Stoneburner's shift to receiver was due to depth at his previous position. Jeff Heuerman and Nick Vannett are talented options at tight end, giving an opportunity for more offensive threats to be on the field at once. The goal of the coaching staff, after all, is to get the best 11 players on the field.
"That's an area of strength right now," Meyer said. "Those are two good tight ends who were kind of unknown commodities in the spring and certainly last year weren't very much involved."
But a once bright idea seemed to dim after Stoneburner's production dipped midway through the season. His size and athleticism were supposed to present matchup problems, and that's exactly what they did – for Stoneburner. Instead of facing linebackers, as he did when he played tight end, Stoneburner was going against cornerbacks.
After seven catches, including three touchdowns, in the season's first three games, Stoneburner went on a three-game stretch where he didn't have a single reception.
That's when he and Meyer had a heart-to-heart.
"There is nothing worse than false confidence," Meyer said. "Maybe people telling you you're better than you are. Deep down, Jake Stoneburner is a very, very smart guy. He watches a lot of film and sees himself. However, when I first got here, Jake Stoneburner was the greatest thing in the world, and he wasn't."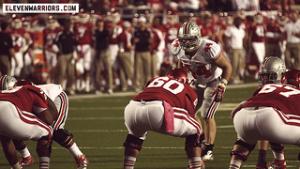 Before Ohio State's game with Indiana, the pair sat down to discuss Stoneburner's role in the offense.
"We had a little come-to-you-know-what meeting because he wasn't playing well," Meyer said. "He was playing OK, but I think one of the things that I love so much about our program is direct conversation and direct honesty.
"He wasn't playing very hard in East Lansing. He played OK, but OK is not good enough for a guy like that. The last couple of games he played lights out."
Said Stoneburner: "I wasn't playing bad. I just wasn't quite being the all-around player they thought I could be and should be. I was just getting confused out there, playing a little bit tentative."
Meyer's simple advice: who cares if you make mistakes?
Since the friendly chat, Stoneburner has ripped off seven receptions for 144 yards and a touchdown. A bulk of that came on a 72-yard touchdown pass at Penn State. Stoneburner said making plays and blocking better were part of the conversation.
"He's playing well," Meyer said. "You can watch the video – he's going after people and he's much more physical."
The move to wide receiver wasn't as easy as Stoneburner thought it would be. Wide receivers and tight ends may catch the ball, but the intricacies of each position are different. Stoneburner referenced the "atmosphere" at wide receiver and getting used to it.
"We're nine games in and I'm still learning," he said. "Coach Meyer kind of opened my eyes to some things I needed to do better, and that's why you've been seeing me out there a little bit more."
Stoneburner graded out a champion last week and told Meyer the past two weeks have been among the best in his career. The brutal honesty in assessing his players has been a hallmark of Meyer's coaching career. But the players welcome it. They would rather hear exactly how they are doing and not be handled with kid gloves.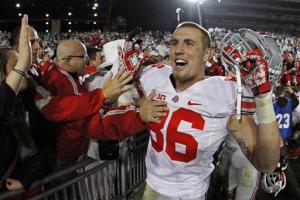 "He always says if he's not coaching you, they don't care," Stoneburner said about Meyer. "It really showed me he cared and he really wants me to better myself, so that's what I want to do."
Down the line, Stoneburner's old position mates have been churning out the production, whether it's catching passes or blocking for a stout run game that features Heisman Trophy candidate Braxton Miller and Carlos Hyde.
Meyer has referred to Heuerman as the best blocking tight end he's ever coached. Since Boren moved from fullback, Heuerman has occupied an H-back spot at times, becoming the lead blocker on run plays.
"He's given us a component we've really never had at that spot," Meyer said. "Jeff is a point guy who can really block a defensive end, and that's just great to have on your offense."
But the position has changed the most under Meyer based on pass catching. No offensive spot has undergone a more drastic turnaround. During his time at Florida, Meyer helped mold Aaron Hernandez into a pass-catching machine.
The receiving stats for Heuerman and Vannett aren't eye-popping – 12 catches, 159 yards and a touchdown – but they are proof of an existence beyond being a sixth down lineman.
"We're definitely used a lot in the receiving game," Vannett said. "We're being more versatile in the offense. We're put in the wing, in the slot, next to the tackle. They do a lot with us, and it's real exciting."
Stoneburner's touchdown catch at Penn State was the longest of his career and tied for the longest pass-play of Miller's career. Stoneburner's speed and athleticism were on full display as he caught the ball near midfield and outran the entire Penn State defense to reach the end zone.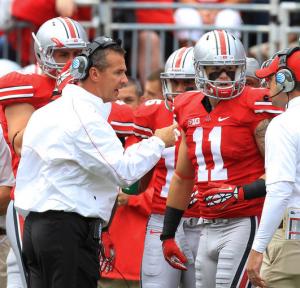 "It was surreal," he said. "I couldn't ask for anything better. To see my coaches' faces when I came off the sideline, making fun of me that they didn't think I could run like that, it was just a great feeling."
Despite going three games without a catch, Stoneburner still has his season output in receptions from a year ago, which also doubled as the team high – 14. He has 236 receiving yards and four touchdowns.
But he downplays his production and preaches the team-first mentality first and foremost.
"I could care less how I do as long as we win," Stoneburner said. "If I'm contributing, I'd like to win even more. But I'm pretty happy with where I'm at right now."
When the bowl ban was announced last December, it appeared as if the seniors would go out with a whimper. No postseason game and no chance at a conference championship. The possibility of winning the division wasn't known then.
But with three games to go, the Buckeyes are 9-0 and the seniors have an opportunity to be a part of only the sixth undefeated season in Ohio State history. It goes much deeper than that, though. The football program at Ohio State was at the lowest of lows a year ago and to come out the other side in the fashion it has done so speaks to the level of commitment from the players.
That includes the Stoneburners and Borens who have not only bought into a new coaching staff's philosophy, but also trusted in them that a position change would benefit their game.
"I wouldn't want a better way to start my senior year," Stoneburner said. "I think we're definitely one of the top teams in the country. There's something about this team. We have very good chemistry.
"We're playing for (a Leaders Division) championship, but besides that we're just playing to win every single game."