Injury – what injury? Braxton Miller showed his detour to the OSU Medical Center in the fourth quarter of the Purdue game was much ado about nothing. One week later, he was back to his usual self, embarrassing Penn State defenders en route to the Buckeyes' 35-23 victory.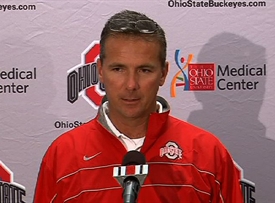 The Heisman campaign is back on.
But the Silver Bullets may be the bigger story. Penn State was limited to 32 yards rushing on 28 carries and didn't score an offensive touchdown until the fourth quarter. Two weeks ago, the sky was falling in Columbus, pizza deliverymen were getting fired and Luke Fickell was on the hot seat. Two weeks later, all is well.
The front seven was able to get penetration against the Penn State offensive line much of the night, sacking quarterback Matt McGloin four times and stuffing the run game. McGloin had only been sacked eight times in seven games before Saturday.
Running backs Zach Zwinak, Bill Belton and Michael Zordich gained a combined 71 yards on 23 carries with zero touchdowns. The longest Penn State run went for nine yards.
Ryan Shazier, Nathan Williams, CJ Barnett and John Simon ganged up to make 20 tackles, including five tackles for loss and four sacks. Shazier added an interception return for a touchdown. Bradley Roby was a machine in the defensive backfield, breaking up four passes, including one that would have been a touchdown.
There were only two defensive champions, but they were co-players of the game: Shazier and Roby.
Meyer said Saturday was the best team win of the season. He commented on defensive improvements – tackling and leverage – and Zach Boren getting better.
Meyer is happy with Boren's level of play at linebacker, but still wants him to grade out a champion.
The defense is better fundamentally, according to Meyer. He said the improvement is evident on the field, but they still aren't great.
Roby got his hand on seven balls. Meyer said he doesn't believe a player has done that in his coaching career.
Offensive champions: Braxton Miller (player of the game), Andrew Norwell, Jack Mewhort, Reid Fragel, Jake Stoneburner, Evan Spencer, Carlos Hyde.
91 percent of Hyde's yards came after contact.
Special Teams champions: Devin Smith (player of the game), Ron Tanner, Adam Griffin and Roby.
Smith was on the punt coverage unit because he's the fastest player on the team, according to Meyer. Smith had three tackles.
Meyer said Griffin was the recipient of a scarlet shirt, which goes to the player who makes a great effort.
For the first time all season, Meyer said Miller is a Heisman candidate.
Miller still has room to improve, as Meyer said. But it's hard to be too picky with his performance thus far.
Stoneburner told Meyer the past three weeks have been the best of his career. The two had a heart-to-heart a few weeks ago. Meyer said Stoneburner had been told he was great by fans and he wasn't. Meyer told Stoneburner he wasn't living up to his potential. It's changed dramatically the past three weeks.
"This is a special team. They refuse to lose. They fight for each other. It's a bunch of guys who show up each week and work hard." -Meyer
At 9-0, Meyer believes Ohio State has the "special" team potential. Buckeyes have answered every call so far. Team is working hard.
Ohio State can't go to the title game, but winning is still important because it builds momentum inside the program, Meyer said.
Recruiting is the area where momentum is most seized. Being undefeated is a great way to start phone conversations with recruits tonight, Meyer said.
Meyer makes a correct to statement about Illinois having more recent first-round draft picks than Ohio State and the fact that the Illini have won 7 of 11 in Columbus.
Meyer calls himself a huge Notre Dame fan. Says he's happy they are playing well, calls it good for college football.
Etienne Sabino is questionable this week. But the trainers told Meyer this is the healthiest the team has been all season.
Defensive line coach Mike Vrabel is happy with Noah Spence's progression. He said Spence is still not there yet, but it doesn't happen overnight.
During his NFL career, Vrabel, like Boren, moved from defense to offense. He said he appreciates Boren's effort and said Boren gets better with every rep on defense.
Boren has been an inspiration for the team, according to Vrabel.
Vrabel joked that the offensive snaps he took didn't include any blocking and there were only two plays he had to learn.
Nathan Williams was active dropping down in coverage and blitzing Saturday. Vrabel said no one on the defense works harder.
Michael Bennett had his best game of the season Saturday. It could really add a lot to the defense if that continues, Vrabel said.
Wide receivers coach Zach Smith referenced something that Meyer talked about a few weeks ago - Stoneburner was matched up against linebackers before, now it's defensive backs.
Once Stoneburner fully understood the position, the coaches realized they needed to get him the ball more the past three weeks.
Smith said he never thought 9-0 was possible when he saw the offense during spring practice.
"Don't call it punt return; we block." –Smith, who oversees the punt return/block unit.
Smith said Stoneburner's move to wide receiver was made to better the team. Ohio State has three talented tight ends, so if Stoneburner was at tight end and the other two – Jeff Heuerman and Nick Vannett – were on the bench, the best 11 players might not be on the field.