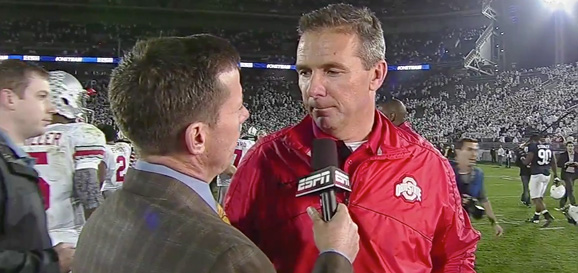 From the blocked punt that lead to an Urbaning, to Braxton Miller going Xbox on the Penn State defense from the one, we have you covered with the GIFs you need from Ohio State's 35-23 win over Penn State.
[Warning: This page is bandwidth intensive. If you're on a cellular network or slow connection, turn back! Turn back!]
Q2|7:25 Penn State's Mike Hull arrives untouched to block a Ben Buchanan punt, leading to a recovery in the end zone by Michael Yancich.
The blocked punt, naturally, produces an Urbaning.
Q2|1:23 Braxton Miller keeps it for 33 yards, putting Ohio State into position to tie the game before the half.
Let's look at that run from another angle.
Q3|13:49 Ryan Shazier adds his name to the long list of Buckeyes to have victimized a Penn State quarterback with a pick six when he takes a Matt McGloin pass back 17 yards to put the Buckeyes up 14-7 early in the 3rd quarter.
Q3|3:36 Braxton Miller goes Xbox on the Penn State defense to put the Buckeyes up 21-10.
From another angle. DAT STEP.
Q4|6:21 Miller connects with Jake Stoneburner on a 72-yard touchdown to ice the game.