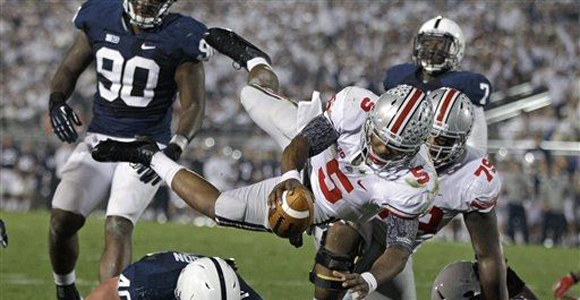 This team is 9-0 and you're considering naming your child Braxton. Let's do this. It's your Penn State Debriefing.
Water Cooler Prep (Everything You Need to Know…in More Than One Paragraph)
The first quarter in a nutshell: two missed home runs by both teams, and a couple missed pick-sixes by Penn State as the Nittany Lions continued their season-long streak of giving up zero points in the first quarter.
Heading into the second…PUNT PUNT PUNT before McGloin hit Allen Robinson for 37 yards. The Penn State offense then stalled in Buckeye territory and with no faith whatsoever in their kicking game, PSU went for it on 4th and 12 from the OSU 25 and came up empty.
Later, with roughly 7 minutes to play in the second quarter, Ben Buchanan had his third punt of the season blocked, which Penn State promptly recovered for a TD, putting them up 7-0.
On the ensuing drive, Braxton and company put together an impressive 75-yard drive for a score finished off by a Carlos Hyde punch in for a TD to make it 7-7. That's where it stood heading into the locker room at the half.
Starting things off right in the beginning of the third, Ryan Shazier (wearing #48 in honor of a HS friend who passed away) bull-rushed McMoxie on a sack, then followed that play up with a pick-six to put the Buckeyes up 14-7.
Penn State followed that drive up with a Sam Ficken 27-yard FG making it 14-10.
A poorly thrown Braxton Miller interception gave the bad guys the ball at the OSU 44. But the Buckeye defense held.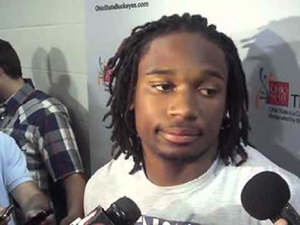 Then Braxton went off. Scoring two touchdowns in less than three minutes to put the Buckeyes up 28-10.
A long drive by Penn State ended in six but a failed two-point conversion kept it at 28-16.
Braxton answered almost immediately with a 72-yard strike to Jake Stoneburner making it 35-16. Happy Valley was unhappy and you were the opposite.
Penn State scored late, but a recovered onside kick put the game away. 9-0 feels good.
Heard at the Tailgate (The talk Before the Game)
Guy One: "How is Matt McGloin a good quarterback now?"
Guy Two: "Bill O'Brien, bro. McMoxie scares me a little."
"First sell-out in 2012 for Penn State. Gotta quiet that crowd early"
"This one could have a bowl-game atmosphere. The two best teams in the Big Ten going at it."
"Do you think Braxton will be wearing his snakeskin undershirt?"
Heard at the Afterparty (The Deets at the End of the Game)
"This team is 9-0. God Bless America."
"The defense stepped up tonight. Can't believe the effort I saw out there."
"Bradley Roby folks. See ya in the NFL, kid."
Give That Man a Buckeye Leaf (Player of the Game)
Bradley Roby is headed towards an All-American nod and eventually will be playing on Sundays. The dude had an unbelievable game, largely shutting down PSU WR Allen Robinson in the 2nd half, particularly on an amazing pass break-up in the endzone.
Just listen to former Buckeye Malcolm Jenkins:
My boy @bradroby_1 is building a lil island out there. Roby Island !!! Those wr's gotta wash off all that sand after this game lol

— Malcolm Jenkins (@MalcolmJenkins) October 28, 2012
Weekly Snot Knocker
Devin Smith smacked himself out of the game briefly with a big hit on punt returner Jesse Della Valle in the first quarter (he was a beast on special teams all game). Urban Meyer is dancing with the devil on personnel decisions like this, but I'm down with it if these are the kinds of results we're going to see.
Did You See That?! (Play(s) of the Game)
What does this kid eat for breakfast? The game had to be stopped to collect ankle bones.
AND WE HAVE A JAKE STONEBURNER SIGHTING!!! On a 3rd and 4, Braxton Miller put the ball in the only place he could. Stoney took it untouched for a 72-yard reception, and you hand slapped your friends in ecstasy.
When You Sank into Your Chair (The Moment Buckeye Football Disgraced Your Family)
Cue Ben Buchanan one-liners:
Ben Buchanan. It took me less time to understand Inception than it did for you to get a punt off.
Ben Buchanan. My dial-up Internet had me surfing the World Wide Web faster than you got a punt off.
Ben Buchanan. I once had a slow-cooker that…..ahhh you get the point.
Jim Tressel's Least Favorite Moment of the Game
While flipping through his "Historic Railroads and Covered Bridges of 1957" coffee table hardcover, JT looked up to see Ben Buchanan's punt blocked for a TD. He threw on his double-twill duck hunting sweater to combat the familiar mild-chill they used to call "The Tressel's" during the entire 2002 season.
Complete Game Coverage
What You Texted Your Friend at the End of Each Quarter
First Quarter: You get a punt. And you get a punt!
Second Quarter: Braxton needs to take off the snakeskin undershirt and start balling like the Braxton of old.
Third Quarter: Do you know where I can find a snakeskin undershirt? #BraxOnBraxOnBrax
Fourth Quarter: This team is really fun to watch. Can you believe this?
It Was Over When
Braxton Miller hit No. 11 for a 72-yard TD, silencing the 106k+ crowd and making 12-0 less a possibility and more a reality.
Bonus Stat
Bet you didn't know this:
Braxton Miller became the third different Big Ten QB and the first OSU QB to rush for 1,000 yards in a season. IU's Antwaan Randle El & UM's Denard Robinson (2x) are the other two.
This has been your Penn State Debriefing…end transmission.