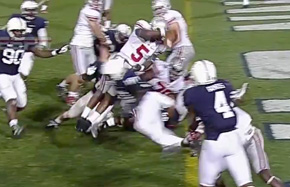 | | | | | | |
| --- | --- | --- | --- | --- | --- |
| | 0 | 7 | 21 | 7 | 35 |
| | 0 | 7 | 3 | 13 | 23 |
Michael Mauti's expression said it all. After Braxton Miller juked his way into the end zone in the third quarter, Mauti, Penn State's star linebacker, flung his arms up as to say, "What more can we do?"
The answer was nothing.
A week after he was hit violently and taken to the hospital by ambulance, Miller was his sensational self, running for 134 yards, two touchdowns and throwing for another score in leading Ohio State to a 35-23 win at Penn State.
The play that left Mauti so flummoxed only covered one yard in the box score. But Miller covered at least 10 yards with his backward and forward-churning legs.
"I think a guy just came in and tried to tackle Carlos and I pulled it," Miller said. "I didn't know who was around me. My instincts just took over after that."
Said Meyer: "All I heard in my headset was, 'Oh my God!'"
However, it was a defensive sequence that provided the turning point. On Penn State's first possession of the second half, Ryan Shazier sacked Matt McGloin on the second play and followed it up with a 17-yard interception return for a touchdown on the next play. It gave Ohio State a 14-7 lead, an advantage it would never relinquish.
Shazier, wearing No. 48 to honor a high school friend who succumbed to muscular dystrophy, had seven tackles, two sacks and an interception.
Passing
|   | Cmp/Att | Pct | Yds | TD | Int | Rat |
| --- | --- | --- | --- | --- | --- | --- |
| Braxton Miller | 7/19 | 36.8 | 143 | 1 | 1 | 106.9 |
Rushing
|   | Att | Yds | Avg | Lng | TD | Fum |
| --- | --- | --- | --- | --- | --- | --- |
| Braxton Miller | 25 | 134 | 5.4 | 33 | 2 | 0 |
| Carlos Hyde | 22 | 55 | 2.5 | 7 | 1 | 0 |
| Rod Smith | 4 | 48 | 12.0 | 28 | 0 | 0 |
Receiving
|   | Rec | Yds | Avg | Lng | TD | Fum |
| --- | --- | --- | --- | --- | --- | --- |
| Jake Stoneburner | 2 | 86 | 43.0 | 72 | 1 | 0 |
| Evan Spencer | 3 | 33 | 11.0 | 13 | 0 | 0 |
| Nick Vannett | 1 | 22 | 22.0 | 22 | 0 | 0 |
| Carlos Hyde | 1 | 2 | 2.0 | 2 | 0 | 0 |
The Buckeyes have made pick-sixes an almost yearly occurrence against the Nittany Lions. In the past 11 seasons, Ohio State has eight interception returns for touchdowns against Penn State.
Miller's injury was the topic du jour this week, but he showed no ill effects from a sore neck. He has now rushed for 100 yards or more in six games this season and reached the 1,000-yard mark for the season, becoming the first player to rush for more than 1,000 yards in a season under Urban Meyer.
Despite 25 carries – four sacks – from the sophomore quarterback, or about 10 more than Meyer would like, Miller was fresher than usual. He's usually not one to shy away from contact, but after his first brush with a serious injury and a stern talking to from the coaches, Miller decided sliding and running out of bounds was a smart option.
Ohio State ran for 235 yards against a defense that was considered one of the best in the country. Through seven games, Penn State was only giving up 113 rushing yards per game. Carlos Hyde and Rod Smith combined for 103 yards and a touchdown.
Miller completed 7 of 19 passes for 143 yards with one touchdown and an interception.
The two scandal-ridden programs gave themselves and their fans something to look forward to. Ohio State is almost a year removed from the tattoos-for-memorabilia case that cost the football program its head coach and the 2012 postseason. The wounds in State College are still open. With a scandal that not only shook State College but the entire country, Penn State's football program has risen up and given Penn Staters hope.
After a nightmarish start to the season, losses to Ohio and Virginia, the Nittany Lions entered Saturday night's tilt on a five-game winning streak. Head coach Bill O'Brien and McGloin reenergized a fan base that was left reeling with unprecedented NCAA sanctions.
The atmosphere on campus and in Beaver Stadium on Saturday offered a return to normalcy. There was excitement and a level of anticipation that is regarded as the norm when an undefeated team visits Happy Valley late in the season. The 107,818 in attendance represented Penn State's first sellout of the season.
But Ohio State's defense didn't allow Penn State's productive NASCAR offense to get up to speed. McGloin completed 27 of 45 passes for a career-high 327 yards with two touchdowns and one interception. But his pick-six was a backbreaker and he was also sacked four times. Entering the game, McGloin had only been sacked eight times in seven games.
The Nittany Lions' rushing attack had no bite, gaining just 35 yards. Bill Belton and Zach Zwinak were each held below the 50-yard mark.
"We're getting more comfortable together as a staff and a defensive unit," defensive coordinator Luke Fickell said. "Everything is starting to click."
Ohio State's season of redemption was the story, however. In the aftermath of the NCAA prohibiting Ohio State from the postseason, many were left asking what the season would even mean. How would Meyer motivate his team? Is it a lost season?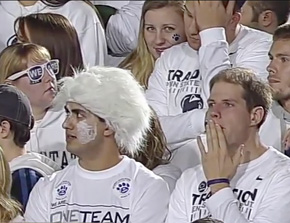 All summer the team had to answer questions on the topic. And each time, players insisted that there would be no lack of fire. Still, skeptics remained. When the team lost, there is no way Meyer can keep them focused, critics said.
Ohio State might not even find out. The Buckeyes' victory improves their record to 9-0 just one season after finishing with the most losses in school history – seven. Standing in the way of an undefeated season are Illinois, Wisconsin and Michigan. Ohio State is still eligible to win the Leaders Division trophy, but it's the crystal football that everyone covets, and the Buckeyes would be in the discussion as the calendar flips to November.
The Associated Press national championship remains a possibility, but a slight one. Ohio State entered the Penn State game ranked ninth. Only one team on probation has won the national title – Oklahoma in 1974.
In the buildup to the game, Penn State became a popular pick to win the game, partly due to its resurgence and also because of the uncertainty surrounding Miller. When the teams went to the locker room at halftime tied at seven, the upset predictions remained. But it was clear from the first possession on that Miller was fully healthy.
"I was so excited to come back on the field from my injury," he said. "The crowd was energetic."
Complete Game Coverage
The game was scoreless at the end of the first quarter, as the teams traded punts and near-misses. Penn State wide receiver Allen Robinson beat Travis Howard badly up the sideline, but McGloin underthrew his target and Robinson dropped the ball. Miller also missed an open receiver for a touchdown, overthrowing Corey Brown as he streaked down the middle of the field uninhibited.
The first points came midway through the second quarter when Penn State blocked a punt and Michael Yancich fell on the ball in the end zone. It's the third punt-block against the Buckeyes this season and the sixth in 23 games. All but one has led to a touchdown for the opponent.
It looked like Penn State would have an opportunity to go up two scores when they forced Ohio State to punt on the next possession. But a holding call on the punt gave the Buckeyes a first down, and they took advantage. Miller engineered a 12-play scoring drive just before halftime to tie the game at seven.
The second half began with Shazier's heroics, taking the crowd out of the game. Some noise returned to Beaver Stadium after Sam Ficken's 27-yard field goal cut Ohio State's lead to 14-10. Again, Penn State had an opportunity to build and seize momentum by intercepting a poorly thrown deep ball by Miller. When the Nittany Lions' ensuing drive stalled, they went for the fake punt. Ohio State special teams coordinator Zach Smith snuffed it out, though, and Penn State turned the ball over on downs.
"I think that was the turning point of the game," Meyer said.
The Buckeyes came right back, though, with Miller's dance from the one-yard line to give them a 21-10 lead. It would grow to 28-10 after another Miller touchdown in the third quarter.
Ohio State's final touchdown was a 72-yard catch-and-run from Miller to Jake Stoneburner.