At one point in time, this award was known as the Buckeye NFLer of the Week. Thanks to a typo and the ensuing LOLsession from the commentariat, it was renamed as the Houndie. Same intent, but now with a better name.
After taking a couple of weeks off for real life, it was a good weekend for me to get back in touch with the realities of both the college and NFL seasons. The current Buckeyes gave us a thrilling victory on Saturday, my Bears won their Monday night battle and I snagged a road win in fantasy.
It's only the second time all season I have been able to pull off the weekend trifecta and since OSU is 8-0 and the Bears are 5-1, that tells you how bad my fantasy skills are.
However, week seven is the only week in which six teams are off for a bye, so there wasn't a whole lot to choose from. But in the end, it was a wily old veteran who set a Houndie mark with this week's honor.
Once again, Thursday night football was lackluster, as the 49ers fought off the Seahawks for a 13-6 home win. San Francisco took a one game lead over Arizona and Seattle in the NFC West and will travel to Phoenix this weekend.
Donte Whitner and the defense held Seattle to 251 yards, including Russell Wilson's 9/23 for 112 yards and an INT. Whitner chipped in with three total tackles, as the defense bounced back from previous week's debacle.
On offense, Alex Boone and the Niners O-Line paved the way for Frank Gore's 131 yards, while Ted Ginn remains a return specialist. Ginn ran back two kickoffs for a total of 41 yards and three punts for 70 yards, including a 38-yarder to midfield and a 16-yarder to Seattle's 49 in the fourth quarter, which led to the final three points.
The Rams remain just two games out in the NFC West after hanging tough with Green Bay, before falling 30-20 at home. The Packers defense lost Charles Woodson for a month with a broken collarbone, but managed to hold St. Louis to 354 total yards. A.J. Hawk was third on the team with five total tackles, while Ryan Pickett contributed three solo tackles, including a TFL.
Though they came out ahead on the scoreboard, Hawk and Pickett watched James Laurinaitis lead the way once again for St. Louis, notching 14 total tackles, which included 13 solo stops. Little Animal has 69 tackles on the year, which puts him three behind Jared Mayo for tops in the league.
Down in Tampa, the Saints came away with their second straight win, battling back from a 14-0 hole to win, 35-28. Will Smith continues to play as Bountygate unravels around him, notching two solo tackles, including one for a loss and a PBU. Malcolm Jenkins led the way for NO, going for nine total tackles, including six solo stops and one TFL.
Perhaps the worst team in the league, Carolina fired their GM on Monday, falling to 1-6 after a 19-14 home loss to Dallas. That wasn't the only bad news the Panthers received Monday: starting CB Chris Gamble was put on injured reserve for his hurt shoulder. Gamble joins fellow Buckeyes Santonio Holmes and Beanie Wells on the IR.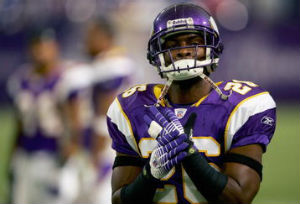 In New England, Nate Ebner is still the starting safety with injuries to Patrick Chung and Steve Gregory, but he didn't register any stats in the Patriots' 26-23 OT victory over the Jets.
In Sunday night's game, the Steelers continued the bad stretch for Cincy sports fans, handing the Bengals their third straight loss, 24-17.
For Pittsburgh, Will Allen started at safety once again, getting a couple of assists and Cam Heyward showed up in the box score with a tackle. Nate Clements had two tackles for Cincy, while NUUUUGE hit a 48-yarder and two XPs.
The Monday night tilt completed my weekend, as Da Bears took down Detroit, 13-7, to remain a half game ahead of the Vikings for the NFC North lead. Dane Sanzenbacher didn't hear his named called, but Rob Sims continues to hold down the LG spot for Detroit.
As you can see, there wasn't much to choose from this week, as byes and injuries limited the selection, but one dude who has always stepped up takes home an unprecedented back-to-back Houndie.
Antoine Winfield saw action in just five games last year, shutting him out from the Houndie, but it is evident he has returned to full strength, leading the Vikings to a 21-14 win over Arizona. The Vikings were horrible on offense, gaining just 209 yards, helping explain Michael Jenkins' one catch for seven yards.
'Toine led the team in tackles, posting 11 total, including 10 solo stops and his first sack on the season. It was just the eighth sack in Winfield's career, but his 55 tackles on the season paces all defensive backs in the league.