What looked to be a serious injury has turned out to only be a slight bump in the road for Ohio State quarterback Braxton Miller. The Buckeyes' signal-caller passed several strenuous exams Saturday at the OSU Medical Center and was released shortly thereafter.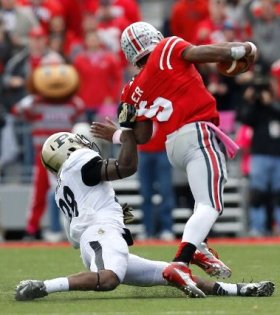 On Tuesday, the day reserved for the toughest practice of the week, Miller is expected to be on the field.
"I went with him to the hospital afterwards to see him, along with (Mickey Marotti) and Tom Herman," Meyer said. "All the test results came back, I guess the term is negative, which is positive. He's very sore – sore neck. We expect him to practice tomorrow."
Meyer characterized Miller's injury as "whiplash" someone might experience in a serious car accident.
"I had a long talk with him about it," Meyer said. "He's just rattled, and once he settled down, he seemed to be fine. He made a comment to me he's never really been hurt."
Ohio State may have survived Purdue without Miller's dual-threat skills, but winning at Penn State without the Heisman Trophy contender is a tall order for an already injury-riddled team.
Miller's prognosis is encouraging for Ohio State, but whether Miller can play with the same speed and flair remains unknown. Reid Fragel said Miller was getting around slowly on Sunday at the Woody Hayes Athletic Center.
Despite Miller possibly being less than 100 percent, Ohio State will not change its play calls to limit his running. Through the first eight games, Miller gained nearly 1,000 rushing yards. He carries the ball 18 times per game.
Miller's biggest criticism has been his disdain for running out of bounds. His injury against Purdue could have been avoided had he shifted two yards to the right and run out of bounds. But Miller has also been the victim of two late hits out of bounds this season.
"I think you let him be him and coach him," Meyer said. "If you have the opportunity to step out of bounds after a big play, step out of bounds. To be a classic drop back passer in his career now, I'm not sure how efficient we would be. The thing is I think more guys need to step up and take some heat off of him, which we did at times this year, not near where we need to be."
Saturday was a prime example. Against a defense that had been shredded the previous two weeks, the Ohio State offense was held in check for 59 minutes. Even with Guiton's heroics, there were no players on offense that graded out as champions.
"You can tell there's a little inconsistency right now with our team," Meyer said.
At the Sunday Victory Meal, Meyer sat with Guiton to re-watch the final drive. It caused quite a stir at the traditional dinner that comes after each Ohio State win.
"I just kept yelling Kenny Guiton, Kenny G.," Meyer said. "The players are all laughing, and we're watching him. The television did a great job of showing him on the sideline when the defense is out there playing. Imagine being Kenny's mom and dad sitting there watching that. 
"I'm so proud of that guy right now."
The past two weeks Meyer has hinted at inserting Guiton into the game in the first quarter. It hasn't completely materialized yet due to the circumstances surrounding the game. But after Guiton's performance Saturday, he's earned whatever trust the coaches didn't already have in him.
"Has he earned the confidence to go in the game and perform?" Meyer said. "He has."