Few wins have ever matched the excitement Ohio Stadium presented to fans on Saturday in Ohio State's dramatic 29-22 come-from-behind win over Purdue. Last season's last-minute win over Wisconsin comes to mind, but the stakes yesterday were much higher – the Buckeyes are in the midst of a dream undefeated season.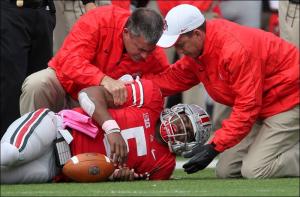 When you factor in Braxton Miller's injury, Kenny Guiton's heroics and the details of Ohio State's final-minute drive, the likelihood of a win was miniscule.
But Guiton inserted his name into the Ohio State history books.
"I said, 'You're going to win us a game,'" said head coach Urban Meyer, retelling his conversation with Guiton prior to the Buckeyes' last possession in regulation.
Ohio State scored a touchdown, converted the two-point conversation and then played a flawless overtime period to up its record to 8-0. The Buckeyes received more good news in the hours following the game, when it was reported Miller was symptom-free of a concussion and other major injuries.
 
Meyer was as amped up as you'll ever see a head coach after the game. He celebrated with players on the field and gave the fans in South Stands a hearty 'Get on your field,' motion prior to Carmen Ohio.
"Some of the efforts I saw tonight were legendary," Meyer said. "That was a moment that I'll certainly never forget."
The biggest play of the game – and the season so far – was Ohio State's two-point conversion play. Offensive coordinator Tom Herman made the call, though Meyer and the offensive line thought something different should be run.
"I asked (Herman) before we got the ball, I said, 'What's our two-point play,'" Meyer said. "The offensive line was screaming at me to run the ball. I mean, screaming, and same with Carlos Hyde. And I almost changed that play. I said, 'Tom, let's pound it at them.' He said, 'No, let's go with this.' So he won that battle."
"We practice it every Thursday, so I have had tons and tons of reps at it," Heuerman said. "When they called it, you take a few deep breaths and it's here we go. I just had to catch it."
The euphoria inside Ohio Stadium was something usually only seen for a Michigan win. But the circumstances surrounding the game allowed for fans to share in an extremely joyful moment. 
"I'm still trying to figure this bad boy out," Meyer said. "We won, right?"
 

"It's the greatest team win I've ever been a part of," Herman said. "That's from the defense stepping up when they needed to, to guys getting hurt and other guys filling in for them on offense, to us really struggling to find momentum, to find rhythm.

"When all hope seemed lost, the guys never gave up. Even with 47 seconds left, we thought we had the chance to go and put the game into overtime."
"It's amazing to have a win like this because you only get these once in a lifetime," linebacker Ryan Shazier said.
"I've never been a part of a comeback like that," linebacker Zach Boren said. "Everything was against us – fans leaving, injuries, field position – and we managed to pull it out. We clicked at the right time."
"Right now it's No. 1," defensive end Nathan Williams said about the win. "It was a great win and I'm proud of the guys."
The Buckeyes were happy with a win, obviously. But an already injury-riddled team lost more impact players yesterday.
"Right now we're on fumes as far as special teams and certain positions," Meyer said. "We've got to regroup fast and have to get a lot better."
Few backup quarterbacks are thrust into the role Guiton stepped into on Saturday.
"A lot of nerves came through my mind," he said. "The people around calmed me down, got me ready to go and just went out and had fun with it. This is what I play football for. I have always wanted to start."
Despite his inexperience, Guiton has been in the program for four years, and when needed he played with a calmness and poise that was more reserved for a three-year starter.
"I was too happy (after Fields' touchdown)," Guiton said. "I wanted to tell my team to calm down because I knew it wasn't over. I was happy, but at the same time I was ready to go again."
The players and coaches may have been down about Miller's injury, but that doesn't mean they didn't have confidence in Guiton.
"He's not nearly the dynamic runner that Braxton is," Herman said. "He's got a little less zip on his ball, but he does a really good job managing the game."
"You guys don't see him at practice," defensive end John Simon told the media. "He gets every mental rep possible. He's coaching people all the time. Every time he gets in the game the team gets excited. You never want a starter to go down, but anytime you get to see Kenny go out there and perform and get everything he deserves, it is awesome to see. Everyone on the team had full faith in him at that point."
In the middle of the fourth quarter, Guiton threw an interception that, at the time, many thought sealed the loss.
"I felt like I had let my team down," Guiton said. "I'm a backup coming off the bench, and I just want to do well for my team. That's when it took the offense to pick me up and let me know that the game wasn't over and we were going to get the ball again."
Chris Fields' touchdown with three seconds left in regulation was close to being an incomplete pass. Fields was wide open, but Guiton underthrew him, causing Fields to dive for the ball.
"Thirteen years of baseball paid off," Fields said. "I used to be a centerfielder. I used to dive all over the place. I'm used to it. I knew it was a great catch, no question. They didn't even need to review it."
"Chris Fields is a product of our program," Meyer said. "Three weeks ago he wouldn't have been on the field. But he just changed his whole dynamic, the way he works, his practice habits and his performance."
On the first play of the game, the Ohio State defense showed its ugly side once again, allowing Purdue to go 83 yards, untouched, on a pass play for a touchdown.
"It was a trick play," Boren said. "They showed something similar on film, but not exactly the way they ran it and we just got mixed up. I thought after that we executed well and played a really solid defensive game."
"After the first play of the game, we just needed to remember we have a lot of game left," Shazier said. "We were down, but everyone had each other's back. We knew they would score. We just kept pushing and no one had their head down."
Complete Game Coverage
Purdue head coach Danny Hope spent some time after the game criticizing officials, saying Ohio State was holding on its final drive of regulation. He did lay some blame on his own team, though, and gave Ohio State credit.
"We didn't manufacture enough pass rush, and Ohio State was able to get better protection than I thought they should have been able to get," Hope said. "They made the plays they needed to and we didn't."
Purdue's star defensive lineman, Kawann Short, said Purdue's troubles were not playing 60 minutes.
"We hope that Braxton is all right," Short said. "When Kenny came in, we knew he was going to be good. As a defense, we had to continue to be disruptive. We were confident the whole game, but we needed to finish at the end."