It was known from day one of Urban Meyer stepping through the doors at the Woody Hayes Athletic Center that the Ohio State Buckeyes would be actively recruiting playmakers on the offensive side of the football.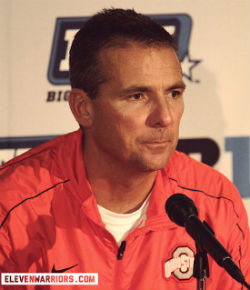 The OSU coaching staff did just that, getting early commitments from players like Jalin Marshall, Ezekiel Elliott, and Marcus Baugh, and later a commitment from Taivon Jacobs.
On the defensive side of the ball, all was thought to be ultimately set. The Bucks hauled in an outstanding group of 2013 defensive linemen to follow the outstanding group brought in with the 2012 class, and the secondary players committed were among the best in the nation. All that was really needed were a couple of linebackers to fill out the class, and it seemed that was all but a formality.
Of course, we sit here in mid-October and know that things have completely changed. While the staff is still looking for a few more offensive weapons to add to the class, the focus before Signing Day in February may actually be on the defensive side of the football, where nobody could have predicted the Buckeyes would be struggling so mightily, especially at the linebacker position.
In this edition of the 11W Recruiting Notebook, we dive into what players are trending when it comes to filling out OSU's 2013 class, as well as how the outcome of the Buckeyes' season thus far has impacted recruiting. Of course, we will also give you your High School Football Recap and talk about the weekend's visitors.
Join us after the jump to hear the latest on the recruiting trail when it comes to Ohio State with this week's 11W Recruiting Notebook.
The Buzz
As mentioned above, there has been lots of moving and shaking when it comes to Ohio State recruiting. Due to some unforeseen departures, there is now more room for the Bucks to add players to the 2013 class and due to the aforementioned struggles on the field, there has been a focus shift when it comes to where those spots may land.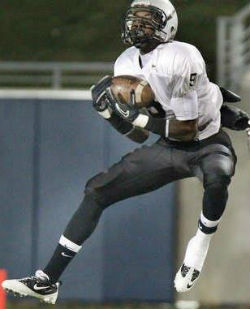 An old name with some new news is WR Corey Smith, currently of East Mississippi Community College and formerly of Akron Buchtel High School. We spoke to Corey following his spring game visit and he was high on the Buckeyes then, but did not hold an offer and was told one may be coming if his grades checked out.
It turns out the OSU coaches have liked what they've seen from Smith in the classroom and have decided to extend an offer to the receiver. Smith says he will definitely make a visit to Ohio State, either later this season or in the winter, and will make a decision around Signing Day, enrolling at the school of his choice after East Mississippi's semester ends in May. He will have three years remaining to play two.
It looks like it could be a battle between OSU and Tennessee, where Smith originally committed out of high school, for the Akron native's services, but a lot can change between now and his decision time, so keep an eye on this one.
A new name out of the junior college ranks is that of LB Auston Johnson. Johnson, 6-1/235, is currently playing the MIKE position at El Camino Community College in Torrance, California, after making the transition from defensive end, where he played in high school.
Johnson currently holds an offer from Texas A&M, but says Ohio State is his favorite right now and if they offer it is likely he will commit. The JuCo star is set to visit Columbus in late November for The Game, so be sure to see how that visit plays out, as Johnson could be the answer to the OSU linebacker woes next season.
Outside of the junior college world, the Buckeyes are expecting a long list of the top prospects in the nation to visit for the Michigan game. Two of those players coming in are committed to other schools, but it hasn't stopped Urban Meyer from recruiting WR Sebastian LaRue and LB Trey Johnson.
LaRue, 5-11/195, is being recruited for the slot position at Ohio State and has been told by the staff he would be used like Percy Harvin. He is currently committed to USC, but seems open to checking out some of his options and the Buckeyes are a team he is genuinely interested in. It will be tough to pull the speedster out of California, but the fact that he is flying across the country to at least hear Meyer out is a great sign.
Johnson, 6-2/220, has been committed to Auburn since August of 2011, but recently has said he wants to make a couple of visits to ensure that is the right decision. Ohio State will be the first of those visits in November, followed by a trip to USC in mid-January, and possibly trips to Florida and Penn State (as a favor to former Auburn DC Ted Roof) as well. I think Johnson is a bigger long shot than LaRue is, but the four-star prospect knows the Buckeyes need linebackers and that could be appealing to him, as well as the chance to play for Urban Meyer.
Finally, Tim Kimbrough is another linebacker that was mentioned way back when by many OSU fans, as the Indiana native was in Columbus very frequently in the winter and spring. The Buckeye coaching staff never gave him an offer despite his heavy interest, so the Warren Central star decided to accept a scholarship offer from Georgia in July.
Fast forward to today, when the OSU linebacking corps is clearly struggling, and interest in Kimbrough has been renewed by the staff. While an offer was reported yesterday, we have not been able to confirm that just yet, but we did confirm that Ohio State has definitely reached out to the Kimbrough party to see if there is still interest.
At one point it was thought that if an offer came for one of the nation's top 10 inside linebackers that he would accept on the spot. Now, with OSU giving him the cold shoulder this spring, that may not be the case. Stay tuned for more on this story as it develops.
High School Football Recap
Another week has gone by in the world of high school football and like usual, Ohio State commits and prospects went at it hard on the gridiron.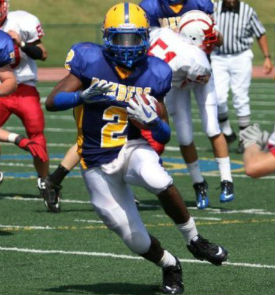 After scoring three times on the ground, Ezekiel Elliott now has an eye-popping 28 rushing scores on the season. The John Burroughs product also found paydirt once through the air in helping his team to a 56-14 win over St. Louis (MO) Clayton.
The other big time playmaker in the class, Jalin Marshall, didn't have as much luck as Elliott. His Middletown team fell to 2-6 on the year with a 27-14 loss to West Chester (OH) Lakota West. Marshall finished the game 4/18 passing for 39 yards and a score, but threw two costly interceptions. The five-star prospect did better on the ground, running 24 times for 165 yards with a touchdown, but fumbled late in the game when the Middies were driving.
Taivon Jacobs and his Suitland team beat Beltsville (MD) High Point, 46-6, last week. Jacobs contributed to the cause by racking up 215 all-purpose yards to go along with touchdowns through the air and via punt return.
Darron Lee and New Albany rose to the occasion, taking down Sunbury (OH) Big Walnut, 17-6. Lee rushed for 92 yards in the game from his quarterback spot, but it was a late interception he had while playing safety that sealed the win for his team.
Jayme Thompson and Toledo Central Catholic had a cross-town victory against Toledo St. John's, 49-21, last weekend. Thompson played a big part in the win with 11 tackles and 2 pass breakups.
Tracy Sprinkle continued his tear on opposing offensive lines, recording 6 tackles (2 for loss) and a sack in a 49-14 win over Stow-Munroe Falls. Sprinkle has been a pleasant surprise this year and it looks like he could be the diamond in the rough for OSU's 2013 class.
Outside of verbally committed players, Vonn Bell had a great game, as his team beat Southeast Whitfield (GA) last week. Bell notched three touchdowns and kept it interesting, scoring via a rush, a reception, and a punt return.
MarQuez North, who will visit Columbus later this season, had a fine game in his team's win against Hopewell (NC). The big receiver caught a touchdown and ran for a score in the victory.
Finally, TE Jeb Blazevich was Mr. Clutch for his team. The big tight end in the class of 2014 saw his squad trailing late against Country Day (NC), but came up with a 44-yard catch on 4th-and-18 with just 1:33 remaining in the game and took it to the house to put his Charlotte (NC) Christian squad ahead for the win.
Week 9 Games to take note of:
Cleveland (OH) St. Ignatius at Cincinnati (OH) St. Xavier (Jimmy Byrne, Tim McVey, Michael Siragusa Trey Kilgore)
Lakewood (OH) St. Edward at Cincinnati (OH) Archbishop Moeller (Solomon Warfield, Shane Jones, Alex Gall)
Akron (OH) St. Vincent-St. Mary at Massillon Washington (Dante Booker Jr., Gareon Conley, Marcus Whitfield, Nathaniel Devers)
Hudson at Elyria (Ben Gedeon, Tracy Sprinkle)
Cherokee at Vorhees (NJ) Eastern Regional (Eli Woodard)
WEEK 9 OHSAA Football Rankings
Weekend Visitors
The Michigan game appears to be the "big kahuna" on the schedule when it comes to visitors, so the next couple of home games against Purdue and Illinois will most likely include more local products, rather than national standouts.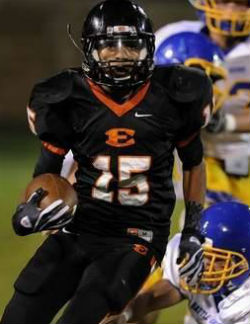 One exception to that rule comes this weekend, when Cornelius Elder visits Columbus on an unofficial visit. Elder is a tremendous prospect from Ensworth High School in Tennessee and can play running back, wide receiver, or defensive back at the college level.
Rumor has it Vanderbilt leads for Elder's services, but word lately is that he is wide open. Ohio State has been a program in touch with the four-star athlete for a while and he seems to be a perfect fit on either offense or defense for the Buckeyes. Keep an eye on this one as it could be a big weekend for Elder's interest heating up in OSU and an official visit may come later this year.
While we are still catching word on who the visitors will be this weekend, the list we have gathered as "possibles" include OSU commit Cam Burrows, 2014 OL Quenton Nelson, 2014 LB William White, 2014 DE Dante Sawyer, and 2014 ATH Myles Autry.
We will continue to update you throughout the week once we hear more about this weekend's visitors, so be sure to continue to check our Season Visitor Tracker in the forums for news as it comes.