In the season following one in which you win a national championship, it is fair to say that every team is out to get you in a big way. And so, every game is a struggle against players who are straining themselves to their absolute limit of effort. In many cases, this can lead to an unexpected loss, as a team rises above their normal performance to almost super-human levels. But if the defending champ is every bit as determined as the challenger, it can lead to some classic battles of endurance.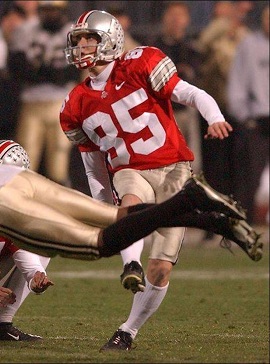 One such struggle occurred at Ohio Stadium on November 15, 2003. In that game, the Ohio State Buckeyes held off a determined Purdue Boilermakers team in overtime, 16-13. This result was achieved despite the fact that the Buckeye offense made only 15 first downs, was 4/17 in converting 3rd downs, and averaged only 3.2 yards per rushing attempt.
It was the type of defensive battle that fans should have expected to see after what transpired the previous season. In 2002, the OSU offense struggled in a similar fashion, but they came to life when it mattered most, and converted a desperate 4th down into one of the most memorable touchdown plays in school history. The 10-6 win preserved Ohio State's perfect season, and they went on to finish 14-0 for the first time in school history on their way to a BCS championship.
Going 14-0 will create a lot of revenge games for Big Ten teams in the following season, but winning like that on the opponent's home field, giving them a taste of a possible victory before snatching it away from them at the last minute, is something that really sticks with a team during the off-season. Many Purdue workouts and team meetings were undoubtedly devoted to getting back at the hated Buckeye team the next season in Columbus.
The 2003 season began like many OSU seasons begin, with high expectations. In this case, the expectations were higher because of the perfect season and because of the presence of so many key players from that team. Returning were quarterback Craig Krenzel, top receiver Michael Jenkins, most of the offensive line, three out of four defensive line starters, outstanding kicker Mike Nugent, and OSU's do-it-all threat Chris Gamble. In 2002, receiver Gamble had become cornerback Gamble as well, and when his kick-returning duties were added in he rarely left the field.
One important player who would apparently not be returning was star running back Maurice Clarett. Clarett was suspended for the season after it came out that he had accepted thousands of dollars in improper benefits and lied about it to the school and the NCAA. Despite the loss, most fans were not concerned because of the presence of highly-regarded juniors Lydell Ross and Maurice Hall at running back. Along with fullbacks Brandon Schnittker and Brandon Joe, the Buckeyes were counting on Hall and Ross to carry the load and help the team to another championship season.
The season began in rousing fashion as the Buckeyes took care of business against Washington in a rare night game to start the season. Clarett's suspension at the time was thought to be only a few games; the news of losing him for the entire season would not come until after game two. Ross and Hall were adequate as feature backs, but it was Krenzel scrambling for big yardage from passing formation that gave the Huskies the most trouble. It was a surprise to UW to see him run so much, but it was also a sign of future struggles to come.
The entire offense struggled in week two against lightly-regarded San Diego State. A Krenzel interception on OSU's first possession led to the Aztecs taking an early 7-0 lead. SDSU would drive deep into OSU territory again later that quarter, but a tipped pass led to an interception for OSU safety Will Allen at the goal line and Allen took it 100 yards the other way for Ohio State's only touchdown on the day. The defense held on for a 16-13 win, but fans and observers scratched their heads over the sudden impotence of the offense.
Krenzel and company seemed to come back to life as OSU defeated Phillip Rivers and NC State in triple-overtime on national television, 44-38, in week 3. Allen and sophomore linebacker A.J. Hawk stopped Wolfpack running back T.A. McLendon inches from the goal line to preserve the win. But the overtime was necessary due to an impotent 2nd half offensive display, punctuated by Krenzel's late interception that set up the tying score. 
There was little relief the next few weeks as the team struggled to win against Bowling Green and Northwestern. The team was consistently able to get a lead, but the lack of any running game made it difficult to hold. Finally, in week 6 against Wisconsin, it all fell apart in a 17-10 loss. The team's 19-game winning streak came to an end in ignominious fashion as linebacker Robert Reynolds was suspended for trying to choke Wisconsin quarterback Jim Sorgi. Even Gamble faltered, as his fumble set up the tying field goal and he was burned by Lee Evans on a deep ball for the winning score.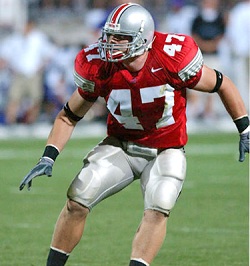 The team rebounded to grind out wins over conference foes Iowa, Indiana, Penn State, and Michigan State. Meanwhile Purdue had begun the season with a close loss to Bowling Green, but then had rattled off 8 wins in 9 games, with the only loss a 31-3 humbling at Michigan.
The Boilers were led by quarterback Kyle Orton, a junior who had shared time with Brandon Kirsch against the Buckeyes the previous season. In 2003 he had claimed the job as his own and was on his way to a 2800-yard season at the helm of Joe Tiller's "basketball on grass" spread attack. Orton was a patient passer, more apt to stand in the pocket and go through his progressions than Kirsch, who was more of a runner.
Orton did not have much luck against the Buckeyes on this day. OSU's stiff defense forced him to dink and dunk his way down the field. Orton would complete 27/47 for 249 yards on the day, but for zero touchdowns and for an average of only 5.3 yards per attempt. Orton's fumble inside of his own 5-yard line led to Ohio State's only touchdown on the day. As Orton dropped back to pass, he was hit by OSU defensive end Will Smith. Reserve lineman Mike Kudla jumped on the ball in the end zone for the touchdown that broke a 6-6 tie and gave the Buckeyes a 13-6 lead.
Orton would get his revenge later, ironically on a running play. Joe Tiller's teams rarely ran the ball, and so it came as a surprise to the OSU defensive players when Orton dropped back and handed the ball to Jerod Void on a modified statue-of-liberty play. Void ran into the end zone untouched for an 11-yard TD to tie the score with only 4:36 remaining. The crowd at Ohio Stadium was shocked, but the drama was only beginning.
OSU was forced to punt on their next possession, and Purdue got the ball back with 1:45 remaining. But Orton fumbled a snap from the shotgun and in a wild scramble Buckeye lineman Tim Anderson ended up with the ball. As Ohio State moved into position for the winning field goal, it looked like they had escaped the Boilers at last. But the field goal was blocked and the game went into overtime. 
In the extra session, the Buckeyes could not move the ball and set up for another field goal attempt. The ball was partially blocked again, but this time the 36-yarder had enough on it to go through. As Purdue took over for their turn in the first overtime, the crowd roared to make things difficult for their offense. Orton gained a first down with a 13-yard completion to Taylor Stubblefield to the OSU 14. But afterwards he threw 3 incompletions and with a false start penalty the Boilers were faced with a 4th and 15 from the OSU 19.
They lined up a 37-yard field goal, which should have been a piece of cake for a guy who had nailed a 47-yarder and a 45-yarder earlier in the game. But the kick was no good, and the Buckeye crowd shook the stadium with approval. The Buckeyes, sarcastically nicknamed "Luckeyes" by their many critics, had pulled out another close one. 
Ohio State went on to lose the next week in their season finale at Michigan, despite getting plenty of offensive production for a change. It would be their only loss to the Wolverines in the Jim Tressel era. The loss cost them a trip to the Rose Bowl, but they took their newfound offensive confidence to Tempe, AZ, the scene of their ultimate triumph the previous season, and drilled Kansas State, 35-28. Purdue would rebound with a win over Indiana in their rivalry game, but they then dropped a close one to Georgia in the Citrus Bowl, 34-27.