The last two football seasons Luke Fickell has been a part of have brought a great deal of scrutiny, not that the Ohio State defensive coordinator is listening.
He dove headfirst into an almost unwinnable situation a year ago, a one-year head coaching deal to follow Jim Tressel. The 6-7 season didn't go according to plan, nor did the plethora of suspensions and outside influences. Now seven games into his second stint as an Ohio State assistant, Fickell is being criticized all over again. Even pizza deliverymen have gotten into the act, and that was before Saturday's 52-49 win at Indiana.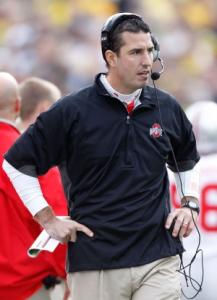 "If you can put more pressure on me than I put on myself, I don't know how you could," Fickell said Monday. "So the outside pressures, I don't know. I don't feel it. If they're harder or stronger than what I put on myself, then maybe I should read about it."
Fickell said giving up 14 points leads to sleepless nights, so it's safe to say in the wake of his defense allowing a combined 87 points the past two games to Nebraska and Indiana, he is fatigued. It's the most points Ohio State has ever allowed in back-to-back games. The Buckeyes also surrendered nearly 900 yards to the two teams.
One of the best wrestlers in Ohio high school history, Fickell still carries that mentality with him as a coach. There is never room for satisfaction, only improvement. At the end of the season, then you can reflect and be appreciative of the final product.
If things continue like they have so far, that finished product could be a masterpiece. Ohio State is undefeated and ranked in the top 10 of the Associated Press poll in a year many considered the Buckeyes as an afterthought.
But to keep that unbeaten streak alive, it will take a better defensive effort. Like the team, Ohio State's defense ranks in the top 10. The only problem is it's in the Big Ten, not the country. The vaunted Silver Bullets are 10th in the league, ahead of just two teams. 
"We're never satisfied with what we've got," Fickell said. "But we can't lose sight of the No. 1 most important – to win and get better.
"Is there a pit (in my stomach)? Yes. Does it make it hard to sleep? Yes. But what do you do? You can whine, you can fold up your tent, start to complain, or you can go back to work and find a way to get better."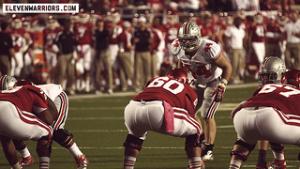 Boren Again
It's not often that a four-year starter moves to a different position in the middle of his senior season. But teams also don't usually face the prospect of having just three healthy linebackers. That's what Ohio State dealt with last Tuesday when Boren made the switch from fullback to linebacker.
The "temporarily permanent" move, as Meyer termed it, came after the linebacker corps was beaten down against Nebraska and in the ensuing week's practice. Comfortable with the progression of tight ends Jeff Heuerman and Nick Vannett, Meyer approached Boren about the move, and the senior captain didn't think twice.
A week later, more changes could be in store, namely Nathan Williams trying his hat at linebacker.
"The options are very limited right now," Meyer said. "The guy that played very well is Noah Spence. So the thing you have to ask yourself, OK, Noah Spence and Nate Williams play the same position, so let's have a conversation about that and we are. How do you get them both on the field at the same time is the conversation. If your best 11, three four, four three, whatever, get them on the field.  We've got enough coaches to figure that out."
The only plausible way to get Spence and Williams on the field together is shifting Williams to linebacker. It's a position he's played in the past. When he suffered a season-ending knee injury in the 2011 season-opener versus Akron, Williams was playing linebacker.
"I'm not saying that's happening," Meyer said. "We're just identifying who the best 11 players are and putting that puzzle together."
It appears Curtis Grant, who began the season at middle linebacker, is not part of the equation anymore – at least this season. He has dropped to third on the depth chart behind Boren and Storm Klein.
"I think you'll see more and more of Curtis Grant," Meyer said. "He's only a sophomore. Didn't play much at all at linebacker last year. He took a little longer.
"Sometimes guys go through that learning curve, whether it be the style of defense or whether it be overall system of play. But I still think Curtis Grant's got a fine career."
Grant's lack of progression has hamstrung the linebacker position and, in turn, the entire defense. He was thought to be the missing link from last season's defense. The linebackers experienced season-long struggles in 2011 and some believed a large part was due to the play in the middle. Grant came to Ohio State as the No. 2 recruit in the nation, but he never got his feet off the ground in Year 1, playing mostly on special teams.
In the spring and fall, Grant was listed as the starter and he spoke of how much he had grown as a person and player through his turbulent first season. The coaches shared the same outlook, but after a lackluster showing against the non-conference opponents, Grant was passed over by Klein, someone that wasn't even on the team during fall camp.
Said Fickell: "(Grant's) been here a year and a half, and he's still trying to figure it out."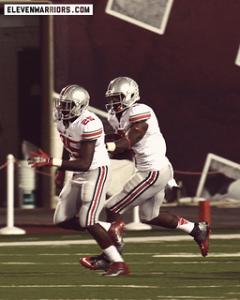 Hot Rod
Braxton Miller and Carlos Hyde have given the Buckeyes a boost in the running game. But don't think that means Rod Smith has been forgotten. With Jordan Hall's injured knee not healing as quickly as previously thought, Smith is making the most of his opportunity at being the backup.
Smith had 40 yards on six carries in a return to his home state of Indiana. But there were other not so good things that happened. A penalty on a punt return and – what else – a fumble.
"Keep coaching him hard," Meyer said. "Bad penalty, but he's going as hard as he can and we can coach through that. It's the ones that don't go hard."
Smith averaged nearly seven yards per carry and also returned three kicks for 85 yards, a 28-yard average. His longest return was 33 yards.
"He's got good confidence going on right now," running backs coach Stan Drayton said. "He's improved a lot. He's a physical runner and has great vision and feet. He's a very talented running back, and I think he's in the right place right now. He's having success on special teams and the last thing you want to do is diminish the confidence he's developed to this point."