Fundamentals are the foundation of sports, the first set of details one learns when starting out a new athletic activity. The past two weeks – and much of the season – the Ohio State defense apparently forgot some of those lessons learned in the Pop Warner league.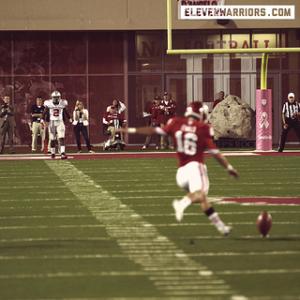 The Buckeyes have given up 38 and 49 points, respectively, to Nebraska and Indiana the past two weeks. Not what you'd expect from a 7-0 team that's ranked in the top 10.
On Monday, Meyer said the issue boils down to a handful of things.
"Eliminate the big play," he said. "Instead of just complaining and whining and making noise, we have to put a plan together. That's eliminating big plays. How do you eliminate big plays? No. 1, four to six seconds of relentless effort, No. 2, missed tackles and No. 3, leverage on the ball.
"It's been absurd how many big plays we give up."
There are a multitude of excuses the Buckeyes could use to shed light on their nightmarish outing, some of which Meyer rattled off – injuries, lack of depth, staying an hour from Bloomington and busing in, etc. But he refused to blame outside influences on Ohio State's struggles. 
"We're not into that, and I won't accept that here with our staff or players," Meyer said. "So we have a long way to go. The good thing is, when you coach a team that's 7-0, you have their attention."
Criticism of the defensive coaching staff, especially defensive coordinator Luke Fickell and defensive line coach Mike Vrabel, has been loud since Saturday night's 52-49 win at Indiana.
Ohio State allowed 481 total yards, six touchdowns and its most points in 18 seasons – when Fickell and Vrabel were teammates. To no one's surprise, Saturday's performance earned the defense zero game champions.
But despite the downtick on that side of the football, Meyer remains confident in his staff.
"I'm not happy at all with what's going on on defense," Meyer said. "That includes players, coaches, and I think we can all get better. It's a team effort. We've got good coaches, good players and we'll move forward and get better.
"It takes time. It's not the same staff it was a year ago. There are new guys in that room. But I feel good. They're [a] good team and great coaches. We just need to see more production on that side of the ball."
The formula Ohio State has used its past two games – outscore its opponent – is not something Meyer wants to make a trend. He's coached in four different conferences and it's the same everywhere: defenses win out in the end.
"At some point, you have to play some really good defense," Meyer said. "The top two right now is Alabama and Florida, the two best defenses in America. And that's not by accident that they're 1-2. The great teams we've had over the years – yeah, we scored some points, but at the end of the day, defense wins games."
As poorly as the defense played, the offense was just as good. For the second straight week, Ohio State had two 100-yard rushers. The high rushing total – 353 yards – contributed to a season-high 578 total yards. Three different positions represented the tri-offensive players of the week – quarterback, running back and offensive line.
Braxton Miller and Carlos Hyde gained more than 300 rushing yards combined, and left tackle Jack Mewhort was largely responsible.
"We gave three players of the week, and that was my decision," Meyer said. "I just felt that all three of these guys had a major impact in the game."
Mewhort graded out 91 percent, which, in Meyer's words is "extremely high for an offensive lineman." He opened running lanes, didn't allow a sack and put his defender on the turf 12 times. Unofficially, that might be the most times that has happened since Orlando Pace was making more pancakes than IHOP.
Hyde, meanwhile, had another game where the majority of his yards came after contact. Miller earned a grade of 86 percent, high for him even though he's in the thick of the Heisman race. 
"A lot of times he doesn't grade high because he gets tired and doesn't finish on fakes," Meyer said. "His action without the ball was tremendous in this game. That opened up a lot because one thing about having a player like Braxton Miller, you've got to defend him whether he's got the ball or not."
A major headline surrounding the team was Zach Boren's shift to linebacker. But Meyer said it couldn't have happened without two other Buckeyes.
"That move could not have been made if you didn't have Jeff Heuerman and Nick Vannett," he said. "Just can't do it." 
Heuerman had two catches against Nebraska, including a touchdown, and played H-Back at Indiana with Boren on defense. Heuerman graded out a champion, with Meyer calling it his best games as a Buckeye.
On the injury front, Nathan Williams should be back this week, while Jordan Hall is doubtful. Williams suffered a concussion last week that failed to improve as the week continued. Hall is still suffering the effects of a torn PCL. Meyer and running backs coach Stan Drayton said Hall hasn't healed as quickly as they expected.
Ohio State and Purdue kick off at noon Saturday in Ohio Stadium.