When John Hughes wrote, "You see us as you want to see us—in the simplest terms, in the most convenient definitions", he pinpointed what any teenager knows to be true: people like using labels.
For some, Ohio State is a football school; it doesn't matter how much success the basketball team has had both historically and in recent years because to them, football is all that defines Ohio State1.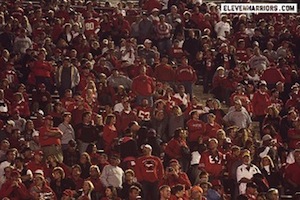 Indiana, on the other hand, is a basketball school. Their football team might be a year or two away from earning a bowl bid and that would qualify as a huge accomplishment for Indiana, which is why they are a basketball school.
So when Ohio State beat Indiana by the score of 52-49 in football, confusion and panic and outrage set in. How could Ohio State, known for a stingy Silver Bullet defense, yield 49 points to lowly is-it-basketball-season-yet Indiana? Never mind that the Hoosiers gave the Buckeyes a fight last season, or that their offense was ranked 26th in the country coming into the game, or that they run the kind of spread offense that gives Ohio State fits. 
Indiana was going to score points in the game, but their defense is terrible, so they were going to surrender a lot, too. If not for a fluky last few minutes, which included the mangled Ohio State defense mentally checking out and IU recovering an onside kick2, the Hoosiers' point total would have been slightly more acceptable, though still not very palatable. 
After the game, the defensive players were as embarrassed as the fans, who couldn't understand how an Ohio State D could allow anyone, let alone Indiana, to put up almost 50 points and nearly 500 yards. 
But we've witnessed it all season long: this defense gives up big plays, often has difficulty tackling, and unless the opponent plays more of a traditional offense á la Michigan State, it won't shut teams down. That's who this defense is, and it doesn't fit the description of what people consider Ohio State football to be.
And fans are having trouble coming to terms with the Buckeyes defying their label.
When Urban Meyer was hired, change was expected, even giddily anticipated. Although an "Urban Meyer offense" is not the Woody Hayes or Jim Tressel-type of conservative, smash-mouth football often associated with Ohio State, the idea of the Buckeyes scoring in droves was exciting, and the turnaround from last season's comatose offense has been fairly swift and mostly satisfying3. 
While the offense is a flawed and sometimes inconsistent unit, it continues to improve, unlike the defense. Braxton Miller, ever the dynamic beating heart of the offense, is steadily getting more help from his running backs. The passing game remains a work in progress, but Philly Brown has proven to be a reliable target and Devin Smith, despite the occasional drop, is a dangerous home run threat.
The defense, though, was not expected to struggle as much as it has.
Part of the problem can be attributed to injuries. Against Indiana, Ohio State was without two senior leaders—linebacker Etienne Sabino and defensive end Nathan Williams—and their absence was noticeable. But even when those two are healthy, this defense does not resemble what fans, or the coaches, want it to be. 
In total defense, Ohio State is currently ranked 69th in the country, which is statistically just below average. For Ohio State, however, that's regarded as abominable even if the numbers show that only their 103rd-ranked passing defense is actually what most would refer to as awful.
That's not to say that mediocre defensive performances from Ohio State should be readily accepted, but the unit also can't magically change who it is this season. Still, it's not too much to ask for improvement, which is why in his postgame press conference, Meyer promised to get more involved on that side of the ball.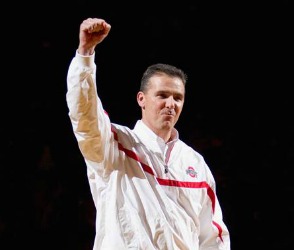 It's that kind of attitude—a refusal to be complacent—that should ease fans' minds.
Meyer won two national championships with top-10 defenses, and as much as he longs to hit triple digits in the scoring department, he also places a high value on fielding an impenetrable defense.
But because people like uncomplicated labels, even if it means being intellectually lazy, comparisons to Rich Rod's Michigan teams, West Virginia, and most of the Pac-12 crept up following the Indiana game.
Two weeks removed from an old-fashioned, Big Ten-tastic 17-16 victory over Michigan State and suddenly Ohio State was the same as every all-offense, no-defense team, simply because they won back-to-back high-scoring games.
Keep in mind, Michigan during the Rodriguez years was, at best, a paper tiger who folded like a cheap suit against any team with a pulse. Ohio State has faced one top-ten defense this season and came away with the win.
The most "successful" Wolverine team Rodriguez coached was in 2010, his final season with the program. That defense, replete with Eastern Michigan-caliber players who wouldn't have been tall enough to go on half the rides at Cedar Point, was ranked 110th in the nation. 
While outcomes like 63-38 and 52-49 are not typical Ohio State football scores on either side of the ball, it's infinitely easier to deal with the transformation on offense. Yet, it's not like the defense has been irrevocably turned into a joke; this is not a permanent change in Ohio State's identity.
For all the criticism surrounding the Buckeye defense—some of it valid, some of it hyperbolic—there is still talent and playmaking ability, which will continue to be the case with Meyer at the helm because he will keep targeting recruits who fit that criteria. 
So far this season, Ohio State, undefeated at 7-0, has been able to make up for their deficiencies one way or another. As Meyer said after the Indiana game, "There have been times when the offense has been in reverse and the defense wins, so we're a team. That's the cool thing about this; it's a team."
And maybe that's the only label that really matters.