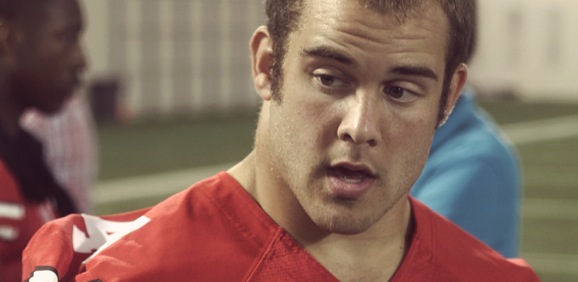 Last night, the internet, or at least the Buckeye corner of it, was buzzing with rumors of fullback Zach Boren, playing—perhaps even starting—at linebacker against Indiana.
Quite the stunner. If true, Boren will become the first real two-way contributor for Ohio State since Chris Gamble played extensively at cornerback and wide receiver in 2003.
We reached out to a couple of sources and were told that Boren will indeed see playing time at middle linebacker tonight. How much? That's hard to say.
Ohio State will counter Indiana's pass-first offense with a heavy diet of nickel packages, which means the Buckeyes won't even have a middle linebacker on the field for most of the game. Further, we don't know if Boren will be the man in the middle for OSU's base defense or whether the staff is looking to start him off in short yardage or similar situations with an expanded role as the season progresses.
Despite being a three year starter on offense, Boren did enter the program as a linebacker, so this isn't like asking Johnathan Hankins to play quarterback (though he could, and he'd go 28-33). It does put an exclamation point on the state of OSU's linebackers, however. The unit has been criticized for its tackling—or rather, the lack thereof—and the group took another blow when Etienne Sabino broke his fibula against Nebraska.
Storm Klein and Curtis Grant, the starter and backup, respectively, on Monday's depth chart, have each fumbled opportunities to seize the spot. With Sabino out, that leaves Ryan Shazier as the only linebacker of consequence, really.
This should be fun to watch. While he was seeing reps with the defense in practice this week, Urban Meyer went out of his way to heap praise on his leadership. If Boren at linebacker makes this team a better team, then that's good enough for me.
---
The battle to determine who will represent the Leaders Division in the Big Ten Championship Game will take place today in West Lafayette, Indiana.
Welcome to B1gzarro world.
With division leaders Ohio State and Penn State ineligible and Indiana and Illinois winless, the high noon clash between Wisconsin and Purdue will go a long way towards settling which team will make the trip to Indianapolis.
I've been bearish on the Badgers since Bret Bielema's entire staff peaced out on him in January, but the drubbing Purdue suffered at home against Michigan last week leaves me feeling less than confident in the Boilermakers to deliver the kill shot.
Here's your full slate of Big Ten action today:
| Time | GAME | TV | INTERNET | FAVORITE |
| --- | --- | --- | --- | --- |
| 12:00pm | Iowa at Michigan State | ESPN | WatchESPN | IOWA (-7.5) |
| 12:00pm | Northwestern at Minnesota | ESPN2 | WatchESPN | NU (-3.5) |
| 12:00pm | Wisconsin at Purdue | BTN | BTN2GO | PUR (-1) |
| 3:30pm | Illinois at Michigan | ABC | WatchESPN | UM (-25) |
| 8:00pm | #8 Ohio State at Indiana | BTN | BTN2GO | OSU (-17.5) |